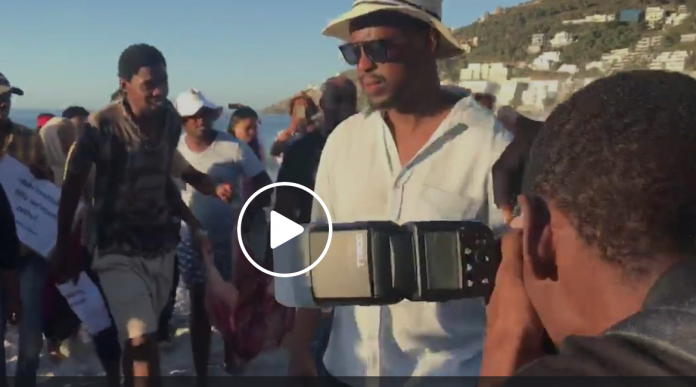 The Cape of Good Hope SPCA has issued a statement in response to the slaughtering of a sheep on Clifton's 4th Beach in Cape Town. The slaughter took place during an #OccupyClifton protest on Friday, which was organised by activists after a private security company apparently instructed beachgoers to leave Clifton Fourth Beach on Christmas Eve.
The SPCA said:
The SPCA is a non-political, non-discriminatory movement and we have the greatest respect for everyone's cultural and religious beliefs but we will not stand idly by when these beliefs cause unnecessary suffering to an animal.

Our mandate is first and foremost the prevention of cruelty to animals and this mandate is carried out within the ambit of the Animals Protection Act No.71 of 1963.

We acted as soon as we became aware of the intended slaughter of a sheep at Clifton's 4th beach and we had the assurance of The City that the public slaughtering would not be allowed as no permit had been issued in terms of The City By-laws.

We attended a meeting during which we were told by SAPS not to go to the beach but rather to wait for them to take possession of the sheep which would then be handed over to the SPCA.

We respect the law and operate within the parameters of the law at all times. Sadly neither Law Enforcement, Metro Police or SAPS whose mandate it is to enforce the laws regarding public slaughter extended the same courtesy to us… leaving the SPCA unable to prevent this act of cruelty.

We are extremely disheartened not only by the lack of support from our law enforcers but also by their lack of compassion.
The SPCA has requested that South Africans please direct all questions and complaints to:
Captain October 0837933352, Srg Okkers 0835414007 and Col Brand 0827787354
The SPCA asks any eye witnesses to this incident to please:
Contact the SPCA on 0833261604 A/H or 0217004158/9 during office hours. It is only with the support of those willing to come forward with evidence of cruelty that we will be able to take this matter further. Any comments of a racist nature will not be tolerated.
Warning: The following video may be upsetting for some viewersThe body of the sheep being carried on #CliftonFourthBeach.#PPA #Clifton #ProtestBraai

Posted by Radio 786 on Friday, December 28, 2018
The SPCA is a non-political, non-discriminatory movement and we have the greatest respect for everyone's cultural and religious beliefs but we will not stand idly by when these beliefs cause unnecessary suffering to an animal. Our mandate is first and foremost the prevention of cruelty to animals and this mandate is carried out within the ambit of the Animals Protection Act No.71 of 1963. We acted as soon as we became aware of the intended slaughter of a sheep at Clifton's 4th beach and we had the assurance of The City that the public slaughtering would not be allowed as no permit had been issued in terms of The City By-laws. We attended a meeting during which we were told by SAPS not to go to beach but rather to wait for them to take possession of the sheep which would then be handed over to the SPCA. We respect the law and operate within the parameters of the law at all times. Sadly neither Law Enforcement, Metro Police or SAPS whose mandate it is to enforce the laws regarding public slaughter extended the same courtesy to us leaving the SPCA unable to prevent this act of cruelty. We are extremely disheartened not only by the lack of support from our law enforcers but also by their lack of compassion. We request that questions and complaints be directed to Captain October 0837933352, Srg Okkers 0835414007 and Col Brand 0827787354 and we call on any eye witnesses to this incident to please contact the SPCA on 0833261604 A/H or 0217004158/9 during office hours. It is only with the support of those willing to come forward with evidence of cruelty that we will be able to take this matter further. Any comments of a racist nature will not be tolerated.

Posted by Cape of Good Hope SPCA on Friday, December 28, 2018
Ncedisa Jargon Mpemnyama of the BLF providing utmost clarity and exposing the arrogance of the 1652s about the ritual performed at clifton beach to cleanse the racist spirits.#ReclaimClifton#OccupyClifton

Posted by Jabu Afrika Gaddafi-Tshabalala on Friday, December 28, 2018
I do slaughter at home whenever there's a need, however, taking a living sheep to #Cliftonbeach and actually slaughtering it there is madness in its worst form. It has no meaning in terms of traditions and rituals of black South Africans. #Clifton pic.twitter.com/nnqUlCmG0D

— Mthetheleli (@Nxuba_Rhudulu) December 28, 2018
Who's ignorant? Ask any traditionalist/sangoma who understands the significance of slaughtering next to rivers, he/she will tell you that what's happening at #Cliftonbeach is madness, it has absolutely nothing to do with any African ritual, just crazy people. #OccupyCliftonBeach

— Mthetheleli (@Nxuba_Rhudulu) December 28, 2018
The cleansing ceremony is definitely the highlight of 2018. The spirit of racism being exorcised in view of Inyanya zethu. I love it!!! #OccupyCliftonBeach pic.twitter.com/0gFqF34BTO

— neo Mda (@neozaneozaMda) December 28, 2018