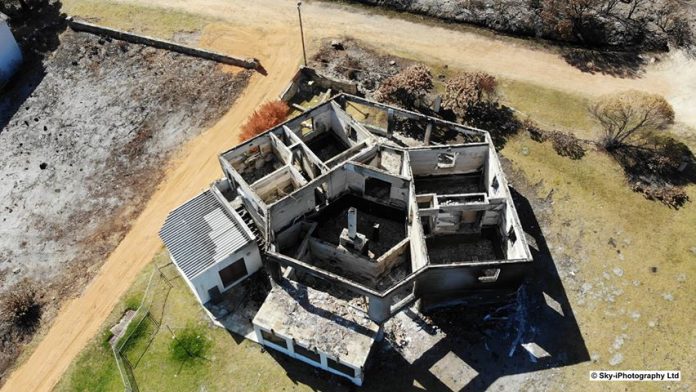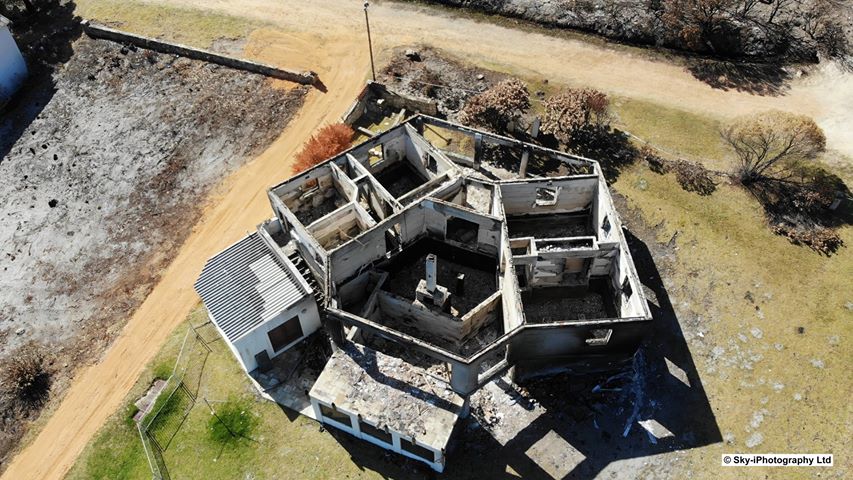 What would you pack in a suitcase if you suddenly had to abandon your home because of fire? Pat had chosen a blue suitcase with wheels. She packed 3 sets of clothes for her husband, a pair of knickers and a top for herself; 2 books from her Book Club; their passports and ID documents; her jewellery; their medicines; a brown packet containing their euros; her iPad and their wallets… writes South African expat and author Jenny Wallace.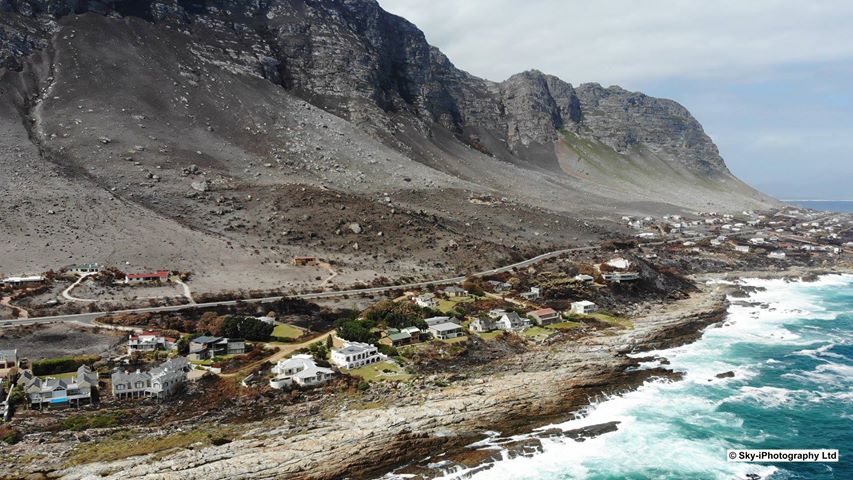 Pat and George were our kind hosts as we sipped G&Ts on the front verandah of their most beautiful Betty's Bay home in the Western Cape, South Africa.
A green lawn stretched out past a beautiful infinity pool. The surrounding decking, which boasted an open view of the Indian Ocean, cascaded onto more lawn and rolled forwards until it met an abrupt end.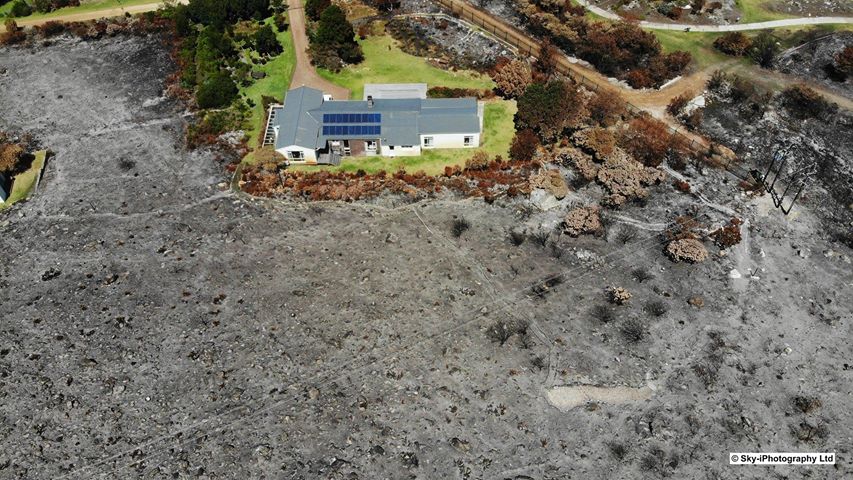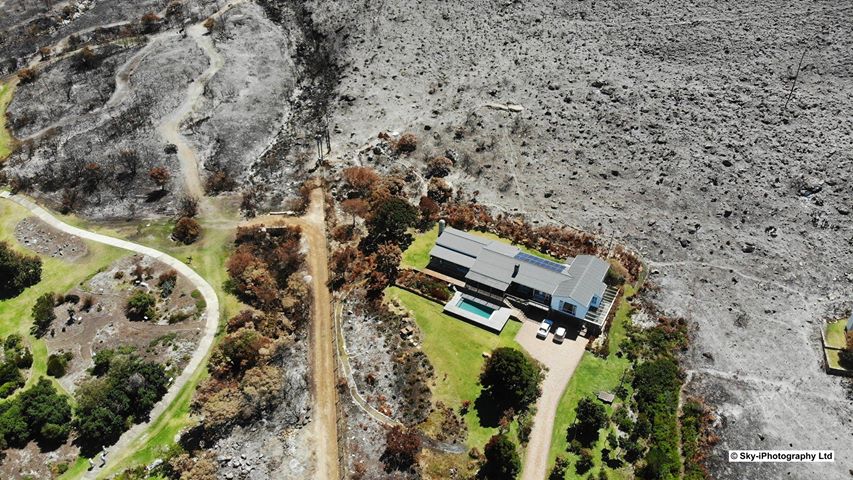 Instead of the sways of long sword-leafed Wachendorfia with their showy spikes of yellow flowers; the deep red bracts of the Conebush and the commanding blue of the erect Aristea, before our eyes were just their charred remains.
A floral graveyard, headstones removed, in grey ashen soil. This was a scene of intense destruction.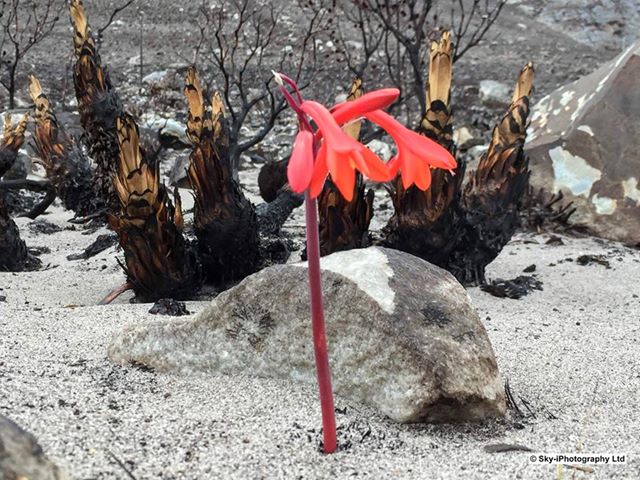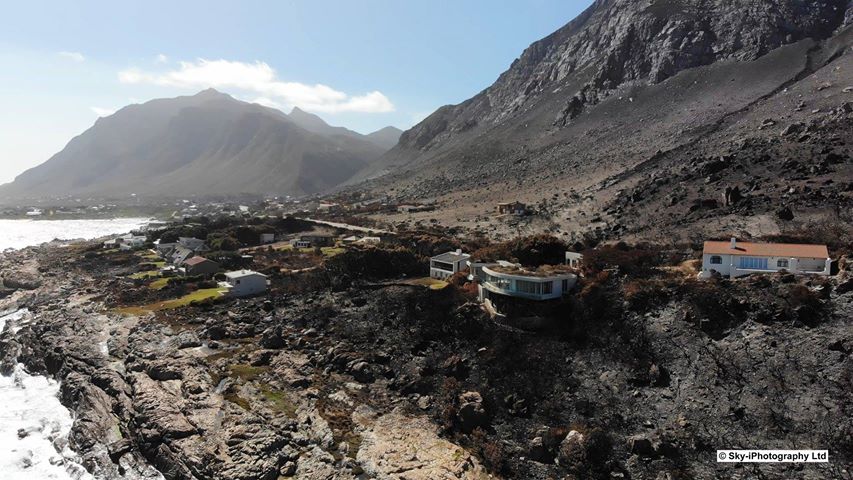 The Overstrand fires started on New Year's Day on the edge of the beautiful coastal town of Betty's Bay.
It rushed towards Pringle Bay, driven by a powerful South Easter, resulting in the death of a well-loved local due to smoke inhalation.
It skipped Rooi Els and headed inland across the mountains towards Gordon's Bay.
Ten days later it returned to Betty's Bay, roaring on the wind, stripping vegetation of all colour and vitality.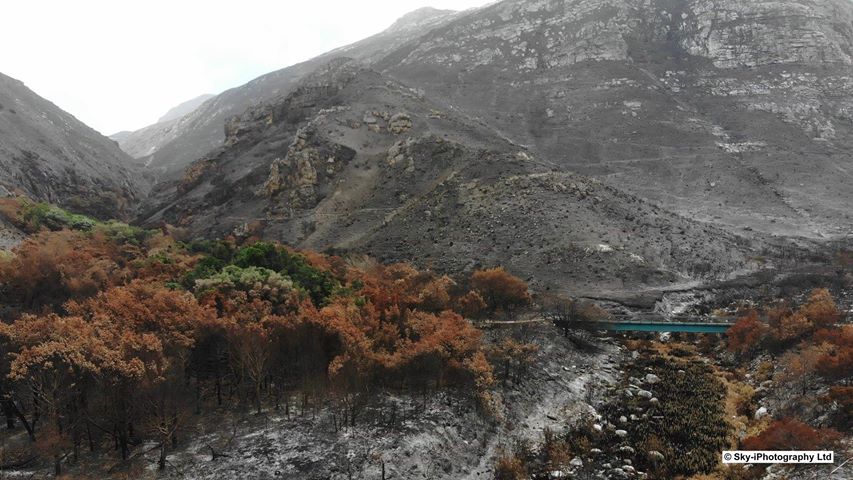 Sides of rocks shattered in the heat as flames the height of double story buildings raged and roared constantly changing direction. Thick riverine Palmiet Reeds were reduced to skeletal worms pushing and writhing out of the leaden grey ash sheet.
The fire galloped down the slopes of Leopards Kloof, devouring vegetation and animals in its path.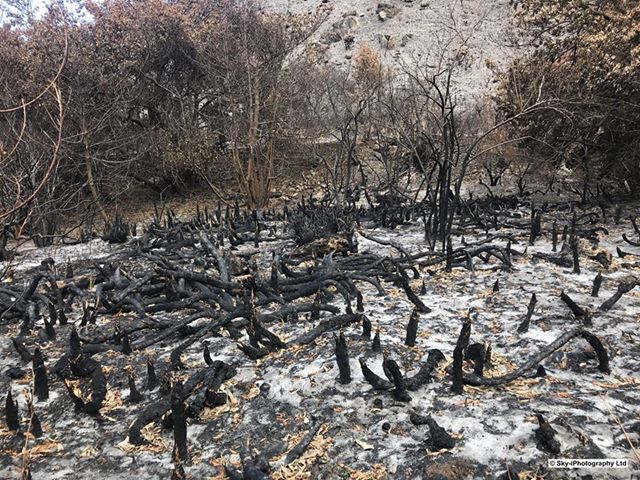 A furious North Wester whipped smouldering fynbos stumps into raging sheets of crackling embers which showered anything green and brown, exploding the vegetation into angry reds and oranges. Intense smoke swirled and billowed around the houses, cars and down the streets.
Fire leapfrogged roads up into the frightened trees, already bent over in the tumultuous wind. Gas cyclinders outside homes exploded; cars smoked and boiled their petrol tanks, releasing an atomic torrent of furious fire to further engulf anything flammable – both the living and the inanimate.
Smouldering embers fell ahead of the walls of flame onto a patio couch, then licked away at its wooden frames.
It gained momentum and soon the outside verandah fell prey to the insatiable fire. As glass windows exploded from the heat, the wind rushed into the cool furnished homes bringing with it more agents of red hot destruction. Metal windows twisted, trying to release themselves from the tortuous heat.
Carpets and couches, photographs and books – generations of memories became engulfed in a fireball which was rapidly reduced to ashen piles and dark smears on concrete floors.
Once consumed, the roaring fire exited the houses through the gaping roof and door frames to spread its venom elsewhere.
Pat fled from her house as their property was surrounded by fire. Their house was first in line from the towering mountain inferno.
Two dogs, a suitcase, a red Italian designer handbag and a grey security box (the size of a small cat) were flung into her car.
Pat sped off to Mary's house on the edge of the large rocky coastline that meets the Indian Ocean. These rocks were the last refuge for those trapped by the fire. But the fire followed Pat!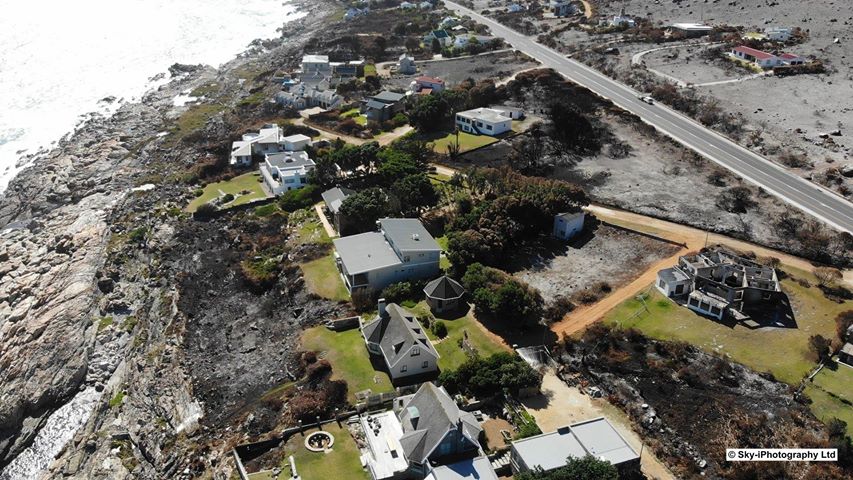 Mary was watering the wood piles at the side of their property.
Already a house nearby had succumbed to the fire. Once the decision was made that Mary's house was no longer safe, Pat dragged her blue suitcase with its useless wheels on the rough ground, her 2 dogs, her security box and her recently recovered broken shoulder towards the rocks.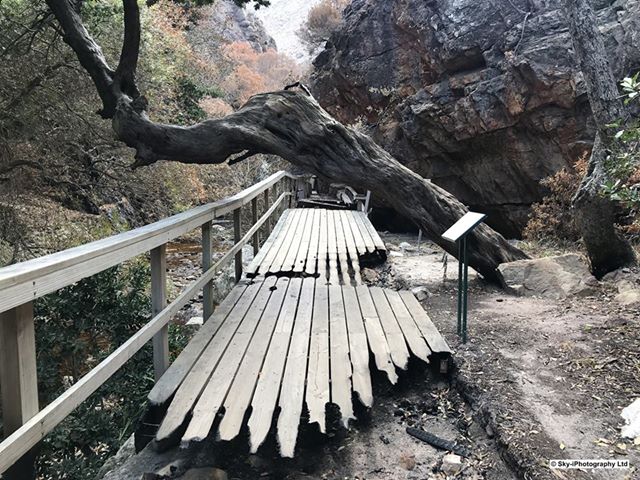 Mary carried Jasmin and Phoebe in their cat box and pulled their golden retriever Herbie on his leash in a swirl of smoke. Their bodies crouched against the tearing storm force winds, eyes streaming and bodies in full flight and fright.
The uneven rocky ledges and poor visibility made their path extremely difficult. Mary looked back as Pat cried out. She saw her disappear suddenly into a dark space. Then nothing. Had Pat survived the fall?
Pat's head popped up as she continued to haul her blue suitcase up the rocky ledge.
Leave the damn suitcase and just bring the money
"Leave the damn suitcase and just bring the money", Mary screamed as a large explosion filled the air.
A wave of intense heat reached out across the rocks to them whilst the angry sea fizzed and slammed into the wall of stone on the other side.
The handle of the cat box broke and 2 cats were flung down, rolling over in their confined space as they bumped and skidded to their resting place.  Thankfully they were unharmed.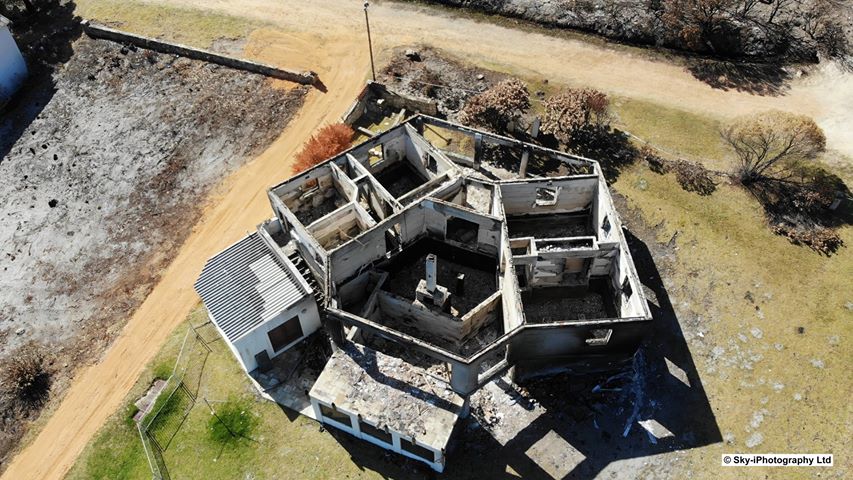 Two weeks later we walk and drive along this scarred landscape. Thirty one houses lost; 28 damaged; a man with 70 percent burns fighting for his life; snake skeletons; charred dassies; a flattened tortoise. A burnt down church.
The previously vibrant Kogelberg Mountains reduced to desolate slaty rocks amongst the ashen soil and blackened sticks and skeletal trees.
But this community have pulled together. Kind neighbours have poured out love, sympathy, hugs and cups of tea. Generators have been shared; loads of washing have been returned. Tears have been exchanged; new friendships forged.
Lucy explains how she had to take her "pikswart Cheeky met blou oe" (her blackened Maltese Poodle called Cheeky) for an emergency doggie parlour wash. And this morning's Park Run went ahead.
In the Harold Porter National Botanical Gardens, a hundred people met dressed up in red, orange or yellow in tribute to those brave firefighters who fought for days to bring this fire under control until a heaven-sent downpour finally slated its intense desire to consume.
Gasping, the fire finally gave in with the last hiss, releasing tendrils of coiling smoke from burnt stumps. The last whisp and then it was all gone.
The 5km run route went past burnt trees and fynbos – the crackled bark of the yellowwood peeled back to reveal the smooth texture of the wood below, bringing small smudges of colour in the sooty black forest.
Already the fire lilies have pushed through the grey sand, adding vibrant splashes of coral reds. Spikes of green shoots emerge from deadened stems and carpets of small seedlings are scattering hope across the forest floor.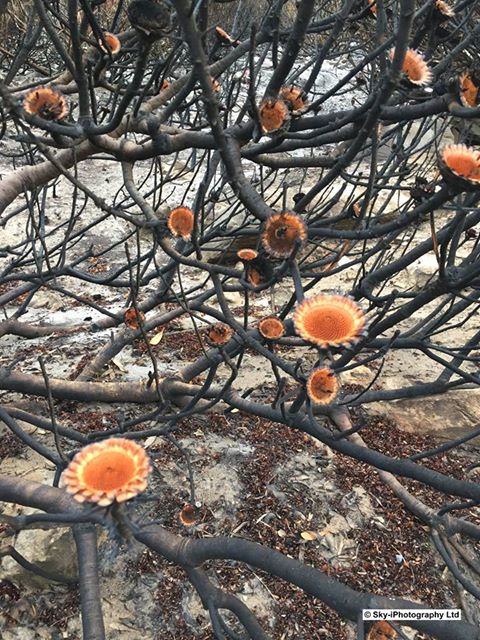 Life and colour return slowly, leaf by leaf, reclaiming the monochrome landscape. Soon the insects and birds will punctuate the air with their sounds.
In the meantime, blackened vegetation is removed, more lawn will be encouraged to provide a better fire barrier and a mental list (at the very least!) will be made of what to pack in your suitcase if you have to flee your house.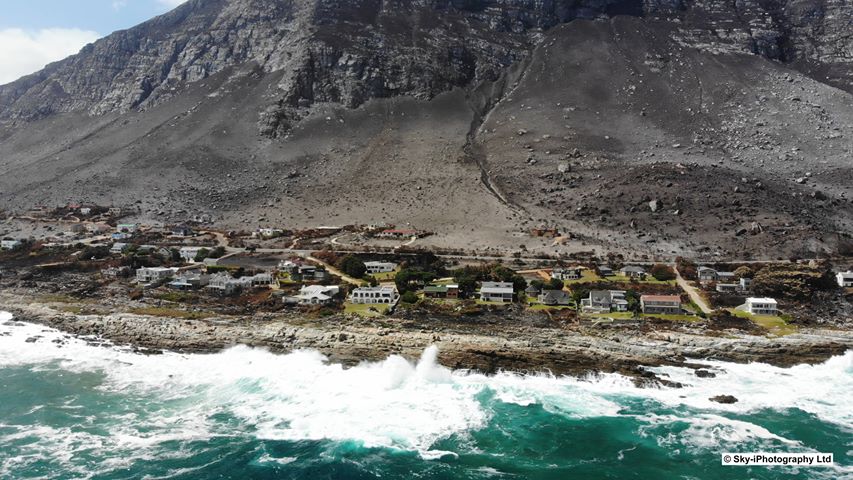 With hindsight, Pat adds, she would have chosen a rucksack!
By Jenny Wallace
JENNY WALLACE is an avid South African, living mostly in the UK, and author of a photo-journal book about her travels – " Nearly-A-Year Gap Year" – illustrated with her husband's stunning photography of South Africa.