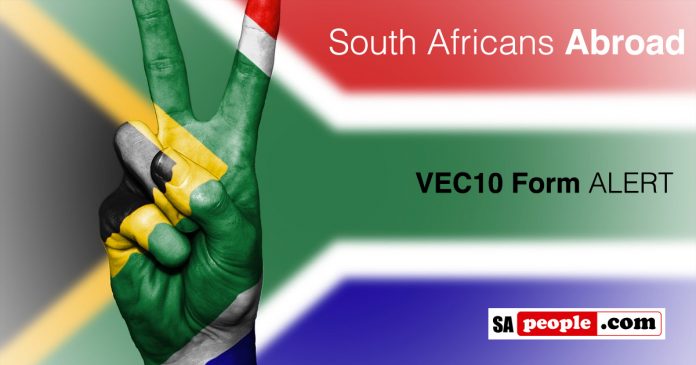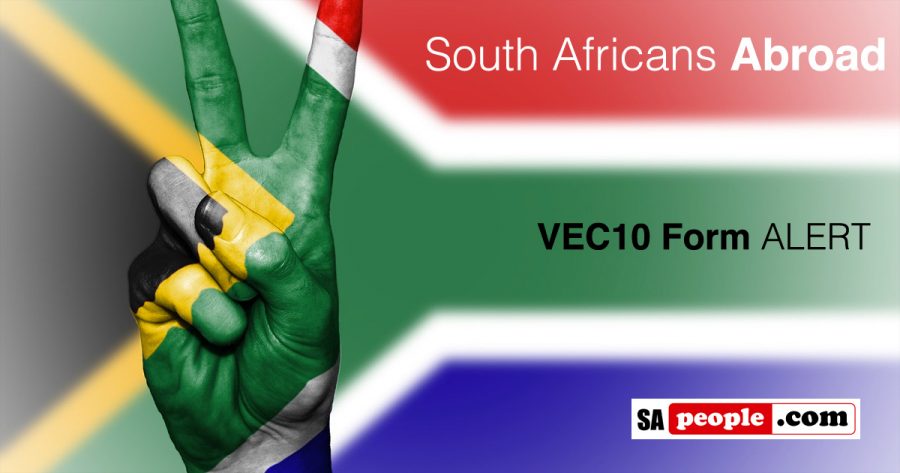 Calling all South African citizens living abroad or who will be travelling abroad on SA's Election Day! If you wish to vote in the 2019 SA National Elections, and you're registered to vote – the VEC10 form is now available and you MUST fill it in and submit it if you'd like to make your voice heard.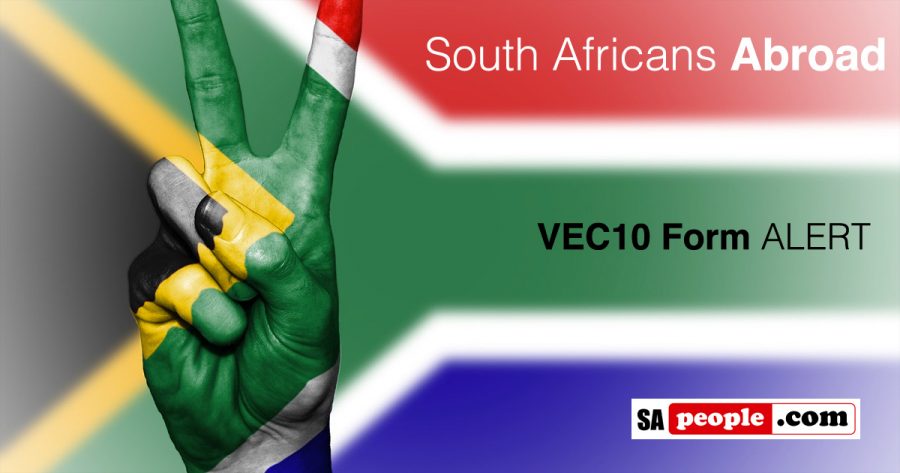 President Cyril Ramaphosa and the provincial Premiers have – on 26 February 2019 – proclaimed 8 May 2019 as the South African elections date, with notices in the Government Gazette.
Voting abroad will take place on Saturday 27 April 2019. (Awesome news that it's a weekend date this time, making it a little easier for expats!)
As the election date has been proclaimed, that means that from today, registered voters who intend to vote abroad have until 13 March 2019 to notify the CEO of the Electoral Commission of their intention to vote outside of SA, and at which foreign mission they intend to vote.
In order to do this – you must submit the VEC 10 application form.
Voter registration is now closed. Check if you are registered on the IEC's My Voter Registration Details page.
For South African citizens to Vote Abroad in the 2019 National Election:
A South African citizen needs to be registered to vote, and
Registered voters need to complete an online VEC10 template on www.elections.org.za by no later than 13 March 2019.
On voting day abroad, which is Saturday 27 April 2019:
voters will need to take their South African identity document (ID) – either a green barcoded ID book, smart ID card, or valid temporary ID certificate;
AND their valid South African passport to the same mission mentioned in their online VEC10 template.
Voting hours are from 07:00 to 21:00.
And just to be totally clear, here are all your questions answered…
When is voting day for the 2019 National Elections for South Africans abroad?
Saturday, 27 April 2019.
What if you don't want to submit the VEC 10 form online?
You can also download the VEC 10 form and submit it via hand delivery to the IEC's national office in Pretoria at:
Election House
Riverside Office Park
1303 Heuwel Avenue
Centurion
0157
What documentation do you need to take with you to your mission to vote?
Please take BOTH your South African ID (green, bar-coded South African ID book, smart ID card, or valid Temporary Identity Certificate) AND your valid South African passport with you to the mission that you indicated you would be voting at in your VEC 10 application. Both documents are essential. Only original documents can be accepted – no copies.
What address will appear on the voters' roll for you?
Once you have submitted your VEC 10 application, the address of the mission at which you will be voting will appear as your address at www.elections.org.za/MyIEC.
What if you registered to vote but your name is not on the voters' roll?
If you registered to vote at your mission in recent months, but you are not listed as being a registered voter, then please email info@elections.org.za with a scan of your identity document AND passport and proof that you registered, so that the Electoral Commission can investigate the matter. Unfortunately there is a chance that you will not be able to vote in the 2019 National Elections.
What if my ID and passport have different surnames, for example, one still has my maiden name?
The Electoral Commission uses your identity number and checks it against the National Population Register (NPR). The IEC then get your name as it's reflected on the NPR (the Department of Home Affairs automatically changes your name when you get married), and that is the name that appears on the voters' roll. You can apply for a new ID/passport reflecting your changed name if you want to. These new documents can be applied for at any South African mission abroad or at the Department of Home Affairs in South Africa.
What happens when you cast a special vote abroad?
If your application for a special vote is successful, you will vote as follows:
Your thumbnail is marked with indelible ink.
Your ID book or Temporary Identity Certificate is stamped (if you're voting with a smart ID card this will not be stamped)
You receive a national election ballot paper.
You mark the ballot in secret, place and seal the ballot in an unmarked envelope
The unmarked envelope is placed in another envelope that is marked with your name, ID number and the name of the mission where you voted. The use of two envelopes is to ensure the secrecy of your ballot (the outer envelope is discarded before counting).
Election officials take the envelope and place it in a secure ballot box for special votes.
Your name is marked off the voters' roll for your mission to indicate that you have cast a special vote.
Where can you find a list of South Africa's foreign missions, including high commissions, embassies and consulates, worldwide?
A full list of South Africa's missions is available on the website of the Department of International Relations and Cooperation (DIRCO) at www.dirco.gov.za/webmissions/index.html
And here's that link again… if you're a registered voter who would like to vote abroad, please fill in the VEC 10 form here. 
If you have any queries, please call the IEC's call centre on 0800 11 8000 (+27 10 449-5172 for calls from outside South Africa) from 08h00 to 17h00 (UTC+02:00).
***
P.S. If you live abroad, you can stay connected with everything you love in South Africa by subscribing to Showmax International – for thousands of movies and TV shows (including Carte Blanche every week). Free 14-day trial.