Professional golfer Tiger Woods won the Masters on Sunday, his first major in 11 years, in what is being hailed as one of the greatest and unexpected comebacks ever in sports history. And Nike immediately launched the perfect ad reminding viewers to never stop chasing your crazy dream.
Tiger's 15th major win at the age of 43 proved that you're never too old to chase those dreams you had as a child.
Tiger told journalists afterwards that this win is "something I will never, ever forget".
WATCH Nike – Tiger Woods: Same Dream
With this win, Tiger has broken Gary Player's record (which was 13 years) for the longest gap between Masters wins. (Tiger's last Masters win was in 2005.)
As he finally put on the winner's Green Jacket on Sunday, his fifth in his life, he said simply: "It fits."
After reflecting on the comeback most of the world thought would never happen, South African TV and radio journalist Redi Tlhabi said: "Phenomenal. Being written off is TRULY insignificant… setbacks ultimately yield to patience, tenacity & grit!
"What a metaphor for life… a confirmation that we write our own script. We decide when WE are done. Strength as you climb YOUR ladder…"
Here's the redemptive moment on the 18th green at Augusta National in Georgia, USA, when Tiger putted his final stroke to victory after a long battle to get there:
Congratulations to #TigerWoods on winning #TheMasters pic.twitter.com/iIUTuJZ4k7

— CrowdailyNG (@Crowdailyng) April 14, 2019
After Tiger's personal problems and years of painful surgeries on his knees and back, nobody thought the 43-year-old would ever be a contender again.
Just a couple of years ago he was barely able to hit 60-yard shots after spinal fusion surgery… but today he "turned back the clock to deliver the sporting world a tale of redemption unlike any other", in the words of Reuters.
Tiger himself admitted he had "serious doubts after what transpired a couple years ago. I could barely walk. I couldn't sit. Couldn't lay down. I really couldn't do much of anything.
"Luckily I had the procedure on my back, which gave me a chance at having a normal life. But then all of a sudden, I realised I could actually swing a golf club again.
"I felt if I could somehow piece this together that I still had the hands to do it. The body's not the same as it was a long time ago, but I still have good hands."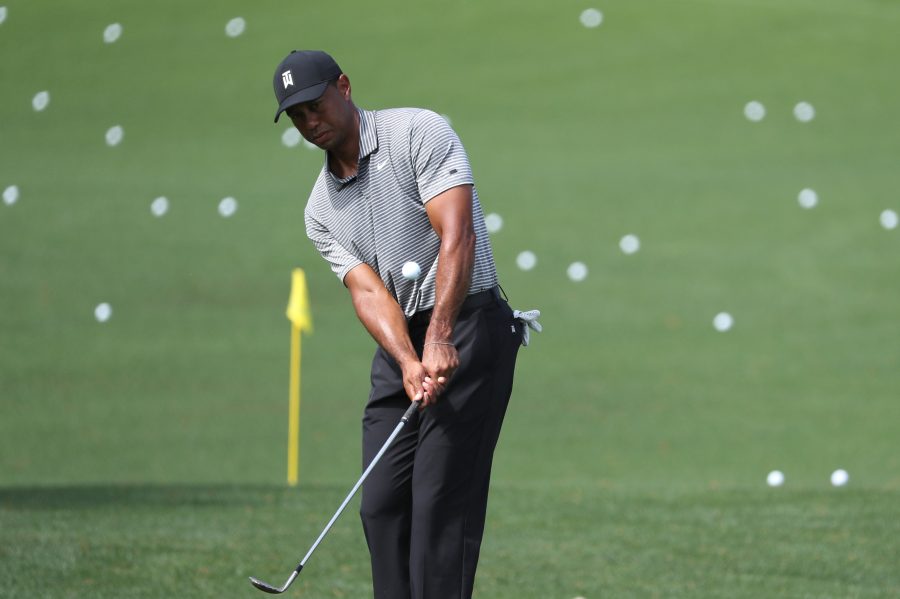 The crowd chanted "Tiger Tiger" after that victorious putt, as Tiger rushed to hug his mom, two children and girlfriend.
He was delighted that his children witnessed his win, after watching him suffer injuries for so long.
"The kids are starting to understand how much this game means to me, and some of the things I've done in the game; prior to comeback, they only knew that golf caused me a lot of pain," he said.
"If I tried to swing a club I would be on the ground and I struggled for years, and that's basically all they remember."
His last major success was at the 2008 US Open when his eldest – daughter Sam – was just an infant.
Since then, Tiger's divorce and marital infidelities made world headlines in 2010, leading to his self-imposed hiatus from professional golf. He also made news in 2017 for a DUI (driving under the influence) arrest.
Tiger's passion for golf has been lifelong. He was just two when he first appeared on a TV show with Bob Hope, showing off his sporting skills back then:
Tiger has achieved a lot since the age of two, but today he admitted that this is one of the most special and "would be up there" with his major ranks.
He said it was "one of the hardest I have ever had to win just because what has transpired the last couple years with trying to come back to playing."
Congratulatory messages have poured in from around the world:
Congratulations to @TigerWoods., a truly Great Champion!

— Donald J. Trump (@realDonaldTrump) April 14, 2019
I am literally in tears watching @TigerWoods this is Greatness like no other. Knowing all you have been through physically to come back and do what you just did today? Wow Congrats a million times! I am so inspired thank you buddy.

— Serena Williams (@serenawilliams) April 14, 2019
Reflecting on @TigerWoods comeback. Phenomenal. Being written off is TRULY insignificant..setbacks ultimately yield to patience, tenacity & grit!What a metaphor for life…a confirmation that we write our own script. We decide when WE are done. Strength as you climb YOUR ladder

— Redi Tlhabi (@RediTlhabi) April 14, 2019
43-year-old Tiger Woods claimed a 15th major title that many thought would never come, renewing talk of whether he can beat Jack Nicklaus' record of 18 https://t.co/7BPf0RaaM3 pic.twitter.com/yaQnqVOsGl

— Reuters Top News (@Reuters) April 14, 2019
Never stop chasing your crazy dream. #justdoit @TigerWoods pic.twitter.com/q9OV6oGLDN

— Nike (@Nike) April 14, 2019
Whoa! Way to feel the flow, @TigerWoods! Huge congrats!
Love,
Happy Gilmore

— Adam Sandler (@AdamSandler) April 14, 2019