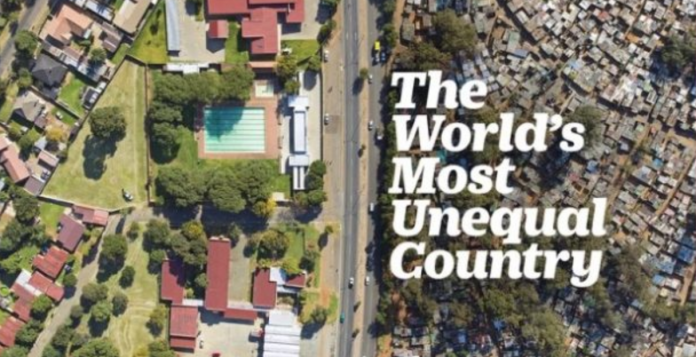 South Africa, as the old tourism slogan used to boast, is a world in one country: a land made remarkable by the diversity of its people, its cultures, its landscapes, its fauna and flora… writes Gus Silber.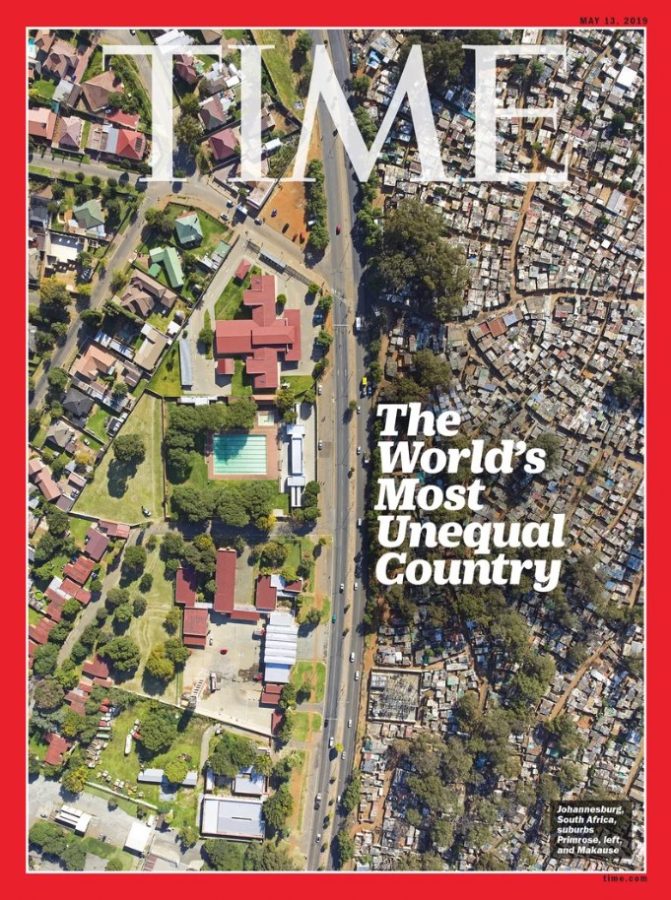 But away from the glossy brochures, the ad campaigns, the YouTube influencer videos, the truth is a little more binary, a little more starkly etched in black and white.
We are "two South Africas", as Thabo Mbeki once put it, and you don't need to travel too far to put that theory to the test.
From Sandton to Alex, from Dainfern to Diepsloot, from Hout Bay to Imizamo Yethu, the scars of the divide are deep and entrenched, leaving their mark on the mind-maps of memory.
It is a fallacy to say that we are haunted by the past in South Africa when the past is alive and ever-present and all around us. But as this cover of the latest edition of Time Magazine shows, sometimes the best way to confront history, is to rise above it.
The photograph is by Johnny Miller, an American documentarian and multimedia producer who moved from Seattle to Cape Town on a Rotary scholarship in 2012.
One day, during his studies for a Master's in Anthropology at UCT, grappling to visualise the scale, the meaning, and the impact of apartheid on South Africa, he had an epiphany that took flight on the wings of a drone.
While he stood his ground, expertly manipulating the controls, his machine looked down on a world in two countries: the shoulder-by-shoulder neighbourhoods of Masiphumelele and Lake Michelle, near Noordhoek in Cape Town.
The resulting image (http://bit.ly/2vC5rLT) showed a bird's-eye-view of small homes crammed into crowded blocks in the township, just across from large properties fringed by greenery on the shores of the suburban lake. In-between was the buffer zone of a wetland, with an electric fence on its boundary.
Johnny posted the image to Facebook, sparking a heated debate over the politics of inequality, and leading to a documentary project that has since taken him across South Africa and as far afield as Nairobi, Mexico City, and Mumbai in search of similar "unequal scenes".
I happened to meet Johnny a few years ago, at a fascinating and enlightening "drone camp", run by Chris Roper for Code for Africa in Cape Town. I subsequently interviewed Johnny for a Journalism MA assignment on aspects of the future of journalism.
I was curious to know whether he saw himself as a journalist, given that his eye-opening, perfectly-composed images, albeit shot by remote control, were proving so effective at stirring debate and persuading audiences to look at South Africa from a whole new height.
He thought about it for a few moments, and said, "I don't consider myself a journalist, because I haven't gone through the rigorous checks and balances that journalists need to. I prefer artist, storyteller, or photojournalist."
Referring to his ongoing project, Unequal Scenes, which you can see over here – http://bit.ly/2PHRyor – he told me how it had transformed from pure documentary into a form of activism: "I'm adding commentary and I'm trying to use verifiable sources," he said. "I'm giving people a voice. I don't know how to deeply define it, but I don't know if I would call it journalism."
And yet, here on the cover of Time, this time in an image that depicts the great divide between the informal settlement of Makause and the suburb of Primrose in Ekurhuleni, Gauteng, is a powerful reminder of what journalism is really all about.
Finding a way of telling stories about the world, and showing it to us from a brand-new angle.
***
GUS SILBER is a fantastic South African journalist, author, scriptwriter, speechwriter and tweeter. He "plays with words and sometimes works with them too".
Follow Gus on Twitter: @gussilber or on Facebook: Gus Silber