This week US (and international) audiences of Trevor Noah's The Daily Show were treated to more South African news than usual. There was the Caster Semenya decision (watch Trevor's reaction

here

) and the SA National Elections.
In one video, Trevor exposed Americans to the anti-immigration sentiment in South Africa. Sharing footage from South Africa, Trevor shows one woman who says "We are not xenophobes. We just don't want them here."
Introducing Trump's new head of ICE: Lady Gugu. pic.twitter.com/O8XWbbtqxX

— The Daily Show (@TheDailyShow) May 10, 2019
In another, he introduces viewers to the Economic Freedom Fighter (EFF) Leader Julius Malema. The Daily Show said: "if you think Trump is bad, meet South Africa's anti-establishment politician."
Footage shows Malema being rude to journalists over the past few years, before shocking audiences with Malema's infamous comment: "We have not called for the killing of white people, at least for now. I cannot guarantee the future."
Trevor jokes that Malema "talks about genocide like he's remodelling his kitchen."
"Julius Malema talks about genocide like he's remodeling his kitchen."

If you think Trump is bad, meet South Africa's anti-establishment politician. Full piece: https://t.co/vGpwtWoaZb pic.twitter.com/A8SRsRSLAR

— The Daily Show (@TheDailyShow) May 10, 2019
The EFF's Floyd Shivambu responded soon afterwards with an attempt to make a mockery of Trevor. He wrote on Twitter: "Americans are historically known for puppeteering black people, and this one has fallen right into their doings. He's a clown, and doesn't deserve to be dignified. Genocide in SA? He must be called Trevor Missing, the puppet of the establishment!"
Late last night politician Zindzi Mandela, daughter of Nelson Mandela and Winnie Madikizela-Mandela and SA's ambassador to Denmark, jumped in on the side of Malema.
She posted a link from 2015 that attempted to discredit Trevor when he had just begun on the Daily Show, calling him a plagiarist.
"Enough said. Mnxm!" said Mandela. Malema, who was very close to her mother Winnie, retweeted it.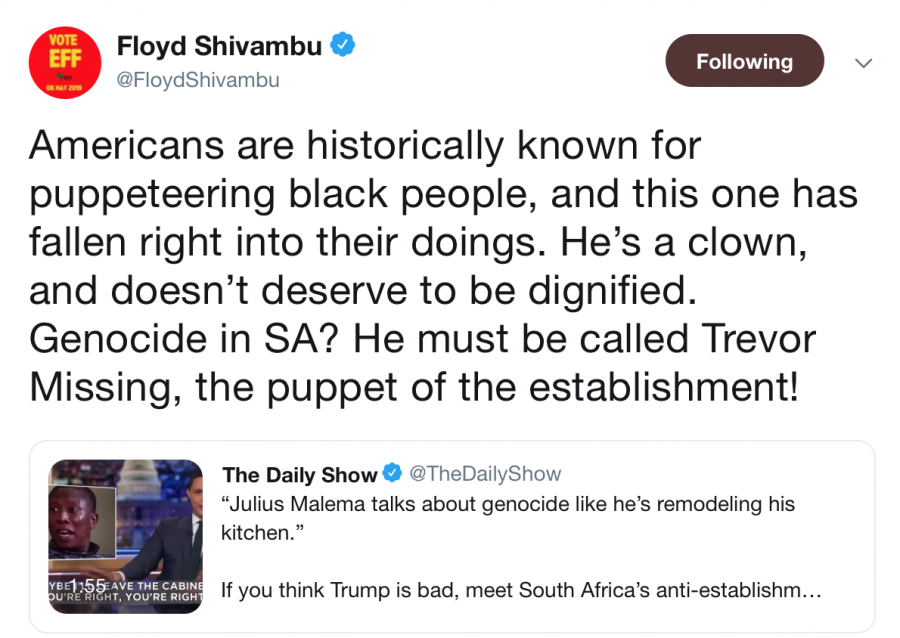 It's a rather harsh reaction to a comedian whose job it is to make fun of all politicians.
Fortunately South Africa's President Cyril Ramaphosa has the opposite reaction and has not only enlisted Trevor Noah to be present at the next investment conference in October, but also said in March that Trevor was in South Africa on an assignment, "to come and look at me, and all of you – and make fun of me. He has promised he is going to make fun of me…"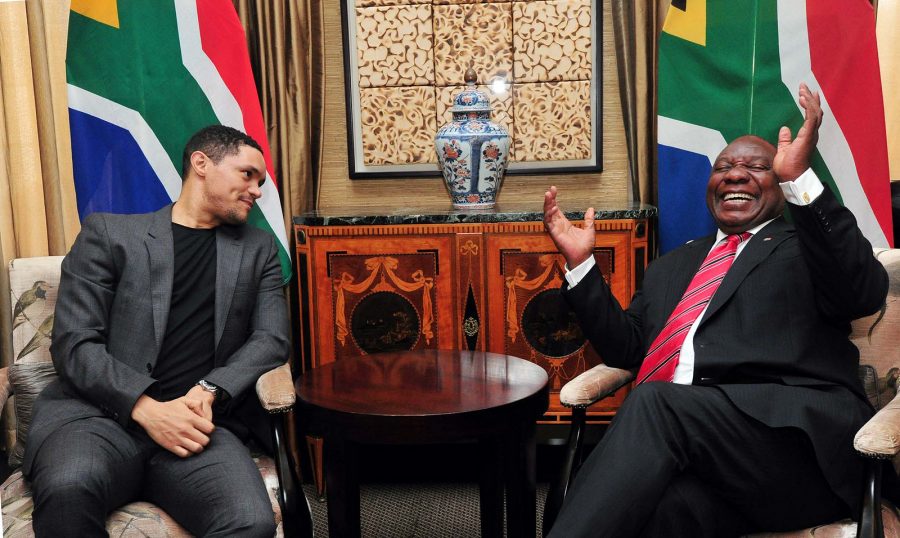 Malema tweeted yesterday that Trevor Noah "was part of their (the ANC's) campaign plan". If he was, it worked!