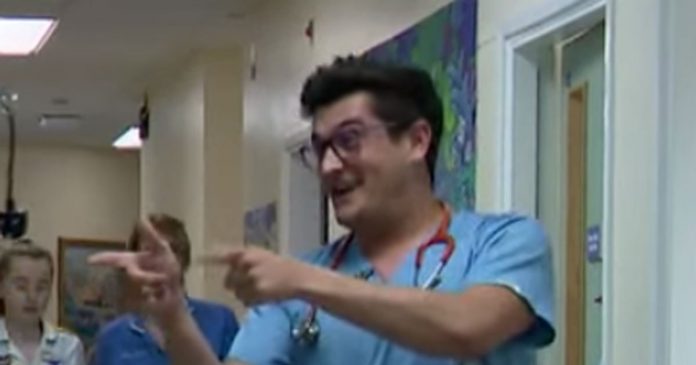 An awesome South African doctor – Dr Ryan Coetzee – is bringing smiles to children in hospital in Northern Ireland, and to social media users around the world as a video capturing him singing as he goes about his work has gone viral.
UTV Northern Ireland said: "Dr Ryan is the Singing Doctor and the Causeway Hospital's children's ward is his stage.
"He was filmed performing Shotgun by George Ezra for a young patient – and it became a viral hit."
Watch below as one thrilled 8-year-old patient explains how he thought he could hear George Ezra singing, and "then when I woke up it was actually Ryan".
Dr Ryan told the TV crew that while singing may not cure your pain, "it has a music therapy element to it", and said of the young patient: "I think I brought him some joy in a miserable environment and gave him some happiness, and a laugh if anything…"
According to Dr Ryan's Facebook profile (where he aptly calls himself 'Ryan Smiley Coetzee'), he's originally from Boksburg and studied at Stellenbosch and in Pretoria. It also mentions that he worked at Duerell's School of Music at one time.
WATCH South African singing doctor Ryan Coetzee bringing cheer to hospital patients in Northern Ireland:
Dr Ryan is the Singing Doctor and the Causeway Hospital's children's ward is his stage.He was filmed performing Shotgun by George Ezra for a young patient – and it became a viral hit.

Posted by UTV Northern Ireland on Wednesday, June 19, 2019