Watch the Johnny Clegg memorial service – being held at the Sandton Convention Centre in Sandton, Johannesburg – live below. (Update: the service is now over but you can still watch it below. It's very moving…)
Dr John Kani opened the proceedings. He said: "Today we pay tribute to an incredible human being, a cultural reservoir, a man who broke all the barriers, a man who took on a culture."
Dr John Kani now reading a eulogy for music icon Johnny Clegg #JohnnyCleggMemorial @IOL pic.twitter.com/ecG7LzCes7

— Sam Naik (@SamNaik01) July 26, 2019
Minister of Sports, Arts and Culture Nathi Mthethwa has thanked Johnny Clegg's family for sharing the late icon with the world. The musician passed away last Tuesday 16 July after a four-year battle with pancreatic cancer.
The Minister said: "The people of our country and cultural workers across the globe, have been in mourning since that fateful day, when our towering African giant, Johnny Clegg ceased to breathe. Today we have all gathered to celebrate the life of this patriot."
He said Johnny championed the agenda for social cohesion and "I wish we could have more people like him in our society".
Mtethwa said: "He was a symbol of reconciliation. A true African that understood African culture."
Johnny's son Jesse performed a song that he had written together with his father (watch below).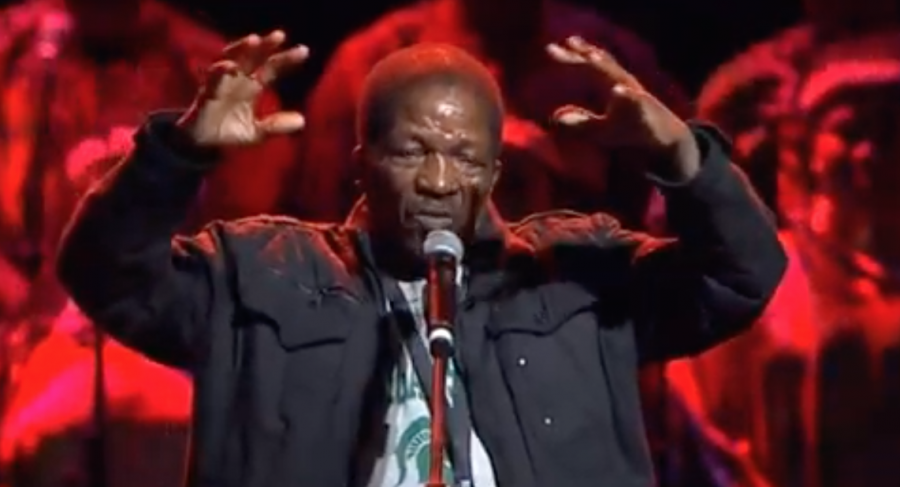 Johnny's former Juluka partner Sipho Mchunu (above) delivered his tribute in Zulu, remembering their lives together and saying how in the beginning it was difficult to visit the township with a white man (who became known as the White Zulu) because they would get into trouble.
Writer Max du Preez said Johnny was one of the most fantastic human beings to ever live, in the likes of Nelson Mandela, as well as a genius poet like John Lennon and Bob Dylan. On top of that, he said – bringing a lighter moment to the memorial, Johnny was one of the "few white men in South Africa who could really dance".
Johnny's music, he said, represented "what we could become, and what we should have become, on the southern tip of the African continent. If only we had."
Du Preez said: "He went where others were too scared and ignorant to go. And he did it with courage and joy."
Johnny's two sons thanked several people for their support and dedication to looking after their dad during his illness, and mentioned what a huge pillar of support their mom Jenny had been to her husband and son. They said that unsurprisingly one of her Zulu praise names is Power Steering. They also thanked Roddy Quinn for being their family's rock, their father's manager and for going with him to every hospital and doctor's visit. (Read more beautiful tributes written on the day Johnny died.)
WATCH Johnny Clegg's Memorial Service Live
#JohnnyCleggMemorial Dr. John Kani opening the proceedings pic.twitter.com/Z9EeoRLo6E

— Real Concerts (@RealConcerts) July 26, 2019
Jesse Clegg is now on stage to perform a song that he wrote together with his dad#JohnnyCleggMemorial @IOL pic.twitter.com/8EUud875s2

— Sam Naik (@SamNaik01) July 26, 2019
Minister Nathi Mthethwa @ArtsCultureSA addressing the crowd at #JohnnyCleggMemorial pic.twitter.com/RKrElT5iRY

— Real Concerts (@RealConcerts) July 26, 2019