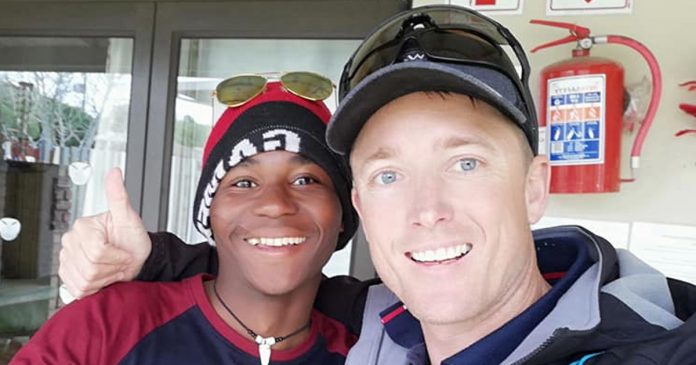 A young 20-year-old, who has sadly lost both his parents, is walking solo across South Africa – from Ermelo in Mpumalanga to Cape Town in the Western Cape – and blessing all the farmers whose land he passes on the way.
He's been walking since March and plans to arrive in Cape Town at the end of August.
Two days ago he happened to be making his way along a gravel road between Stilbaai and Witsand, when Stilbaai (Still Bay) resident Eugene van der Walt spotted him carrying his backback.
In a post that's gone viral on Facebook, Eugene said: "Being so far from anywhere I decided to stop and offer a lift. Coming closer I saw it was a young black guy… I must admit it was then that I had second thoughts, but I decided to pick him up."
It was the best thing he could've done. Eugene says that the next half hour spent with Siya was "truly amazing", learning about how he lost his parents and was adopted by another family, and how he's been walking across the country for months.
Eugene says: "Every night he sleeps next to the road, in the rain or wind. He has been robbed a couple of times."
When Eugene asked him why he's on this mission, Siya said "it is to clear his head of past experience, as each step he takes he takes it with Jesus.
"He goes on to explain that on his journey, he prays for every farmer whom he passes, he prays for rain and healing."
Eugene says "it was such a blessing to meet him and to find a young man of 20 years old living a life of adventure, and blessing people all along the way!"
According to social media user Rian van Wyk, who spoke to Siya before he left Ermelo, the young man's purpose of his journey "is not to reach Cape Town but to learn perseverance."
Rian says: "I salute this young man and also the parents that adopted him. May they be blessed!"
Many South Africans have been touched by the story and left comments for Siya and Eugene like: "God bless both of you. You were meant to meet."
#ThankYouSiya #ThankYouEugene #InspiringSouthAfricans