JOHANNESBURG – The death of three people on the weekend during a fire in a hijacked building in Jeppestown, east of downtown, triggered looting in the area that on Monday spread into the city centre and Turffontein, with many on social media saying it was a backlash against foreigners.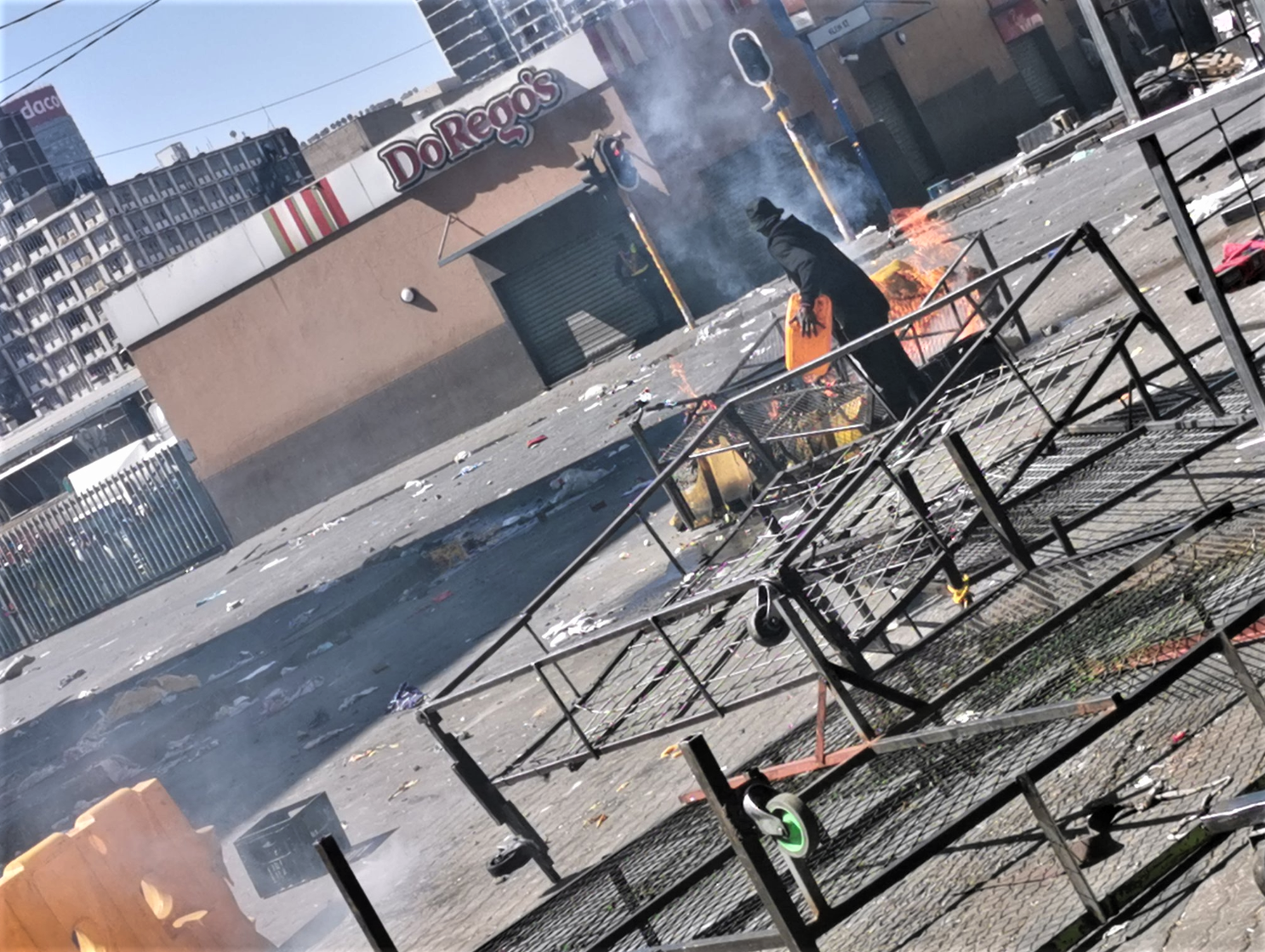 Police were reportedly in heavy presence but vastly outnumbered. News24 reported that looters were targeting shops believed to be owned by foreigners.
Video footage on Twitter showed people looting small shops, a panel beater with all the cars inside burnt out, and police arresting people found looting.
In one video, several police cars cordoned off at least 30 looters but managed to catch few of them, with one of the policemen throwing orange traffic cones at the fleeing men.
Reports were coming in of people evacuating and shops closing and hawkers stopping trade in the CBD, Hillbrow and Braamfontein. SAfm reported that looters were headed to Mayfair and Fordsburg and that 50 people had been arrested so far.
He banna!! 😂🤣🤣 . #JoburgCBD pic.twitter.com/bbiAWnXLQ9

— certified hoe (@FutureUncleBae) September 2, 2019
The cause of the looting and rolling marchers is not clear yet, although people on Twitter say members of the public are taking the law into their own hands to deal with the surge of drug selling and other crimes allegedly committed by Nigerians and Zimbabweans. Last week in the Pretoria CBD, taxi drivers protested after one of their colleagues was killed in an apparent clash with drug dealers.
Police said today that at least 30 people had been arrested for the weekend looting in Jeppestown and Malvern.
This was the second outbreak of urban rioting in a week.
Last week, hundreds of protesters in Pretoria set fire to buildings, looted mostly foreign-owned businesses and clashed with police, who fired rubber bullets at the crowds, according to Reuters.
"We've stabilised the situation and arrested a few dozen people already," Johannesburg police spokesman Wayne Minaar said today.
"We can't confirm the final figure right now but they will be charged for public violence … There's also a charge of attempted murder being investigated."
Reuters said Minaar could not confirm media reports that police had fired rubber bullets at the rioters, or say whether most of the businesses that had been attacked were foreign-owned.
In 2015, at least seven people were killed in a spasm of attacks on immigrants in South Africa.