One of Cape Town's local baboons made itself totally at home at a restaurant in a South African vineyard last weekend, tucking into not just one, but two large bowls of spaghetti bolognese… with some garlic bread to top it off!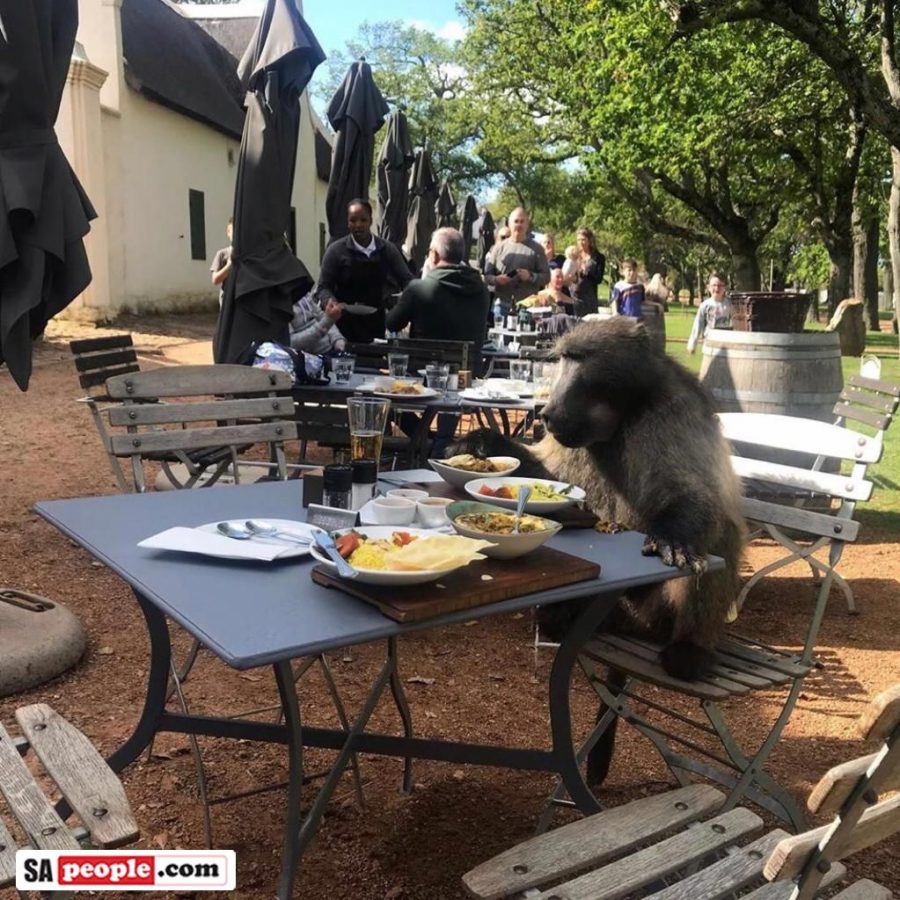 According to witnesses, the baboon strolled up to a table at the restaurant last Saturday, hopped onto a chair and began enjoying its dining experience… helping itself to what some jokes was spaghetti baboonaise or spaghetti carbaboonara.
It was "pasta joke" for the diners who had just ordered their meals at Groot Constantia's upmarket Jonkershuis Kitchen, but had to flee their table as the huge alpha male rocked up to enjoy their lunch.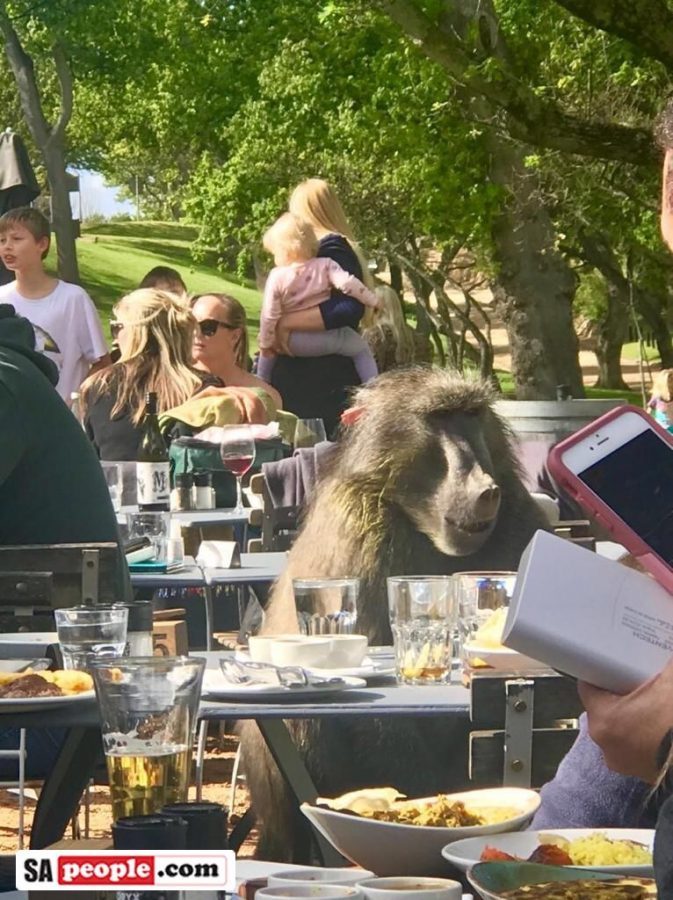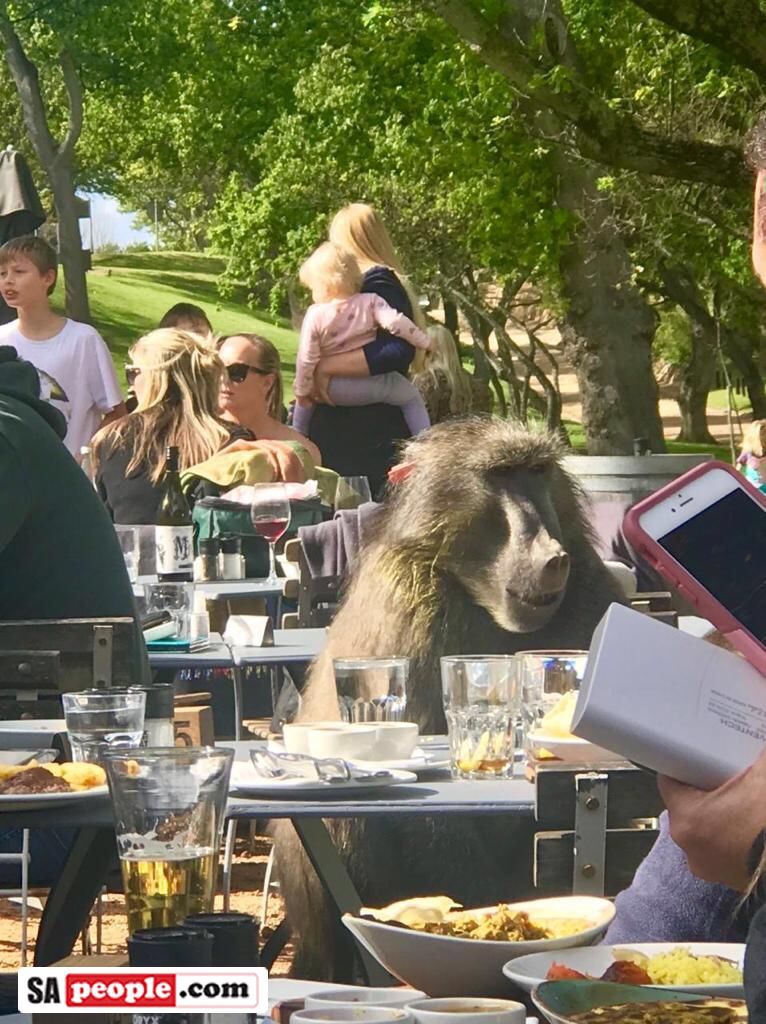 The three foot tall Cape baboon appeared almost human, blending in with the other diners who paid him little attention.
He then behaved like a real monkey by moving onto a second dish at the next table… where he wolfed down ANOTHER bowl of spaghetti.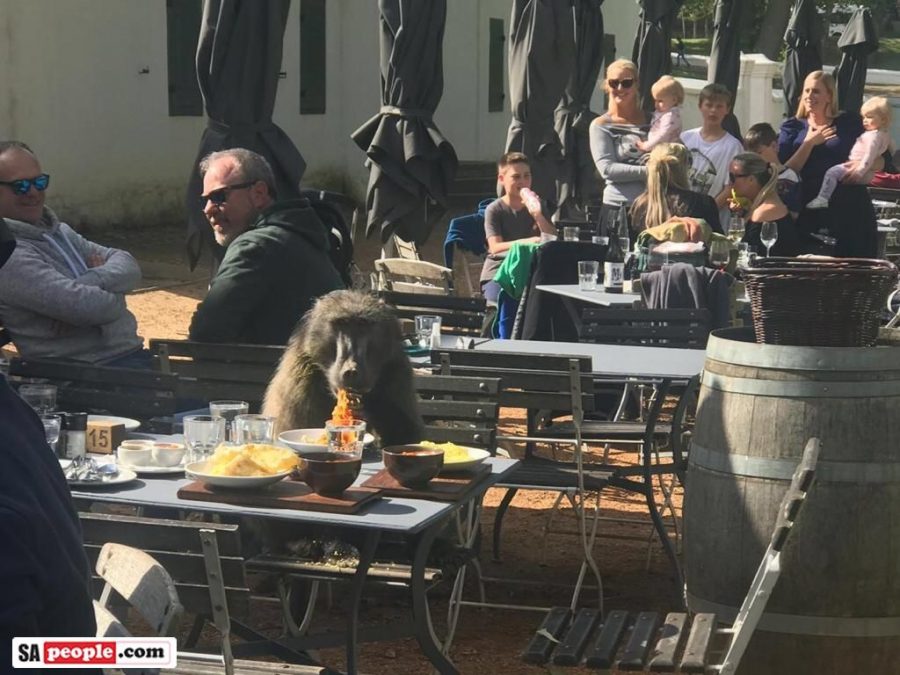 The pasta-loving primate was totally chilled, taking 15 minutes to finish off the two dishes at SA's oldest wine producing vineyard (which has been producing wine since 1685).
When the baboon was nearly full he hopped up onto the table in the shaded courtyard restaurant and finished off the garlic bread, then wandered off into the vines and back to the mountains… perhaps for a post-feast siesta.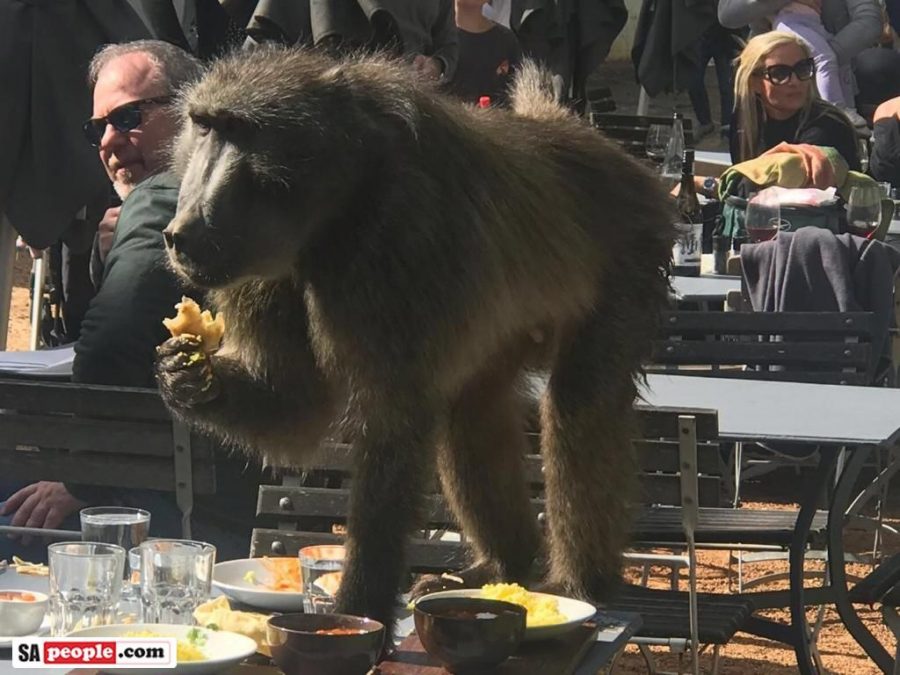 Eye witness Tanya May, 50, said: "The incredible thing is the baboon looked like he was perfectly at home sitting at the dinner table and showed no signs of any nervousness.
"It was as if he had booked for lunch and turned up for his table and he was perfectly well behaved and although he was eating with his paws did not cause any damage at all.
"When he finished his first spaghetti dish he moved to a second table but the diner picked up her bottle of wine and said the baboon could have her meal but not her vino!
"He ate her pasta and then had a pick at her husband's burger then ate her garlic bread.
"When he had eaten his fill he jumped down from the table and ambled back towards the mountain which is a part of the Table Mountain National Park and he was gone."
Staff at the Groot Constantia vineyard were apparently unsure how to deal with their furry guest.
"The staff had no idea how to move the baboon on but promised the diners they would replace their meals when he was gone," said May.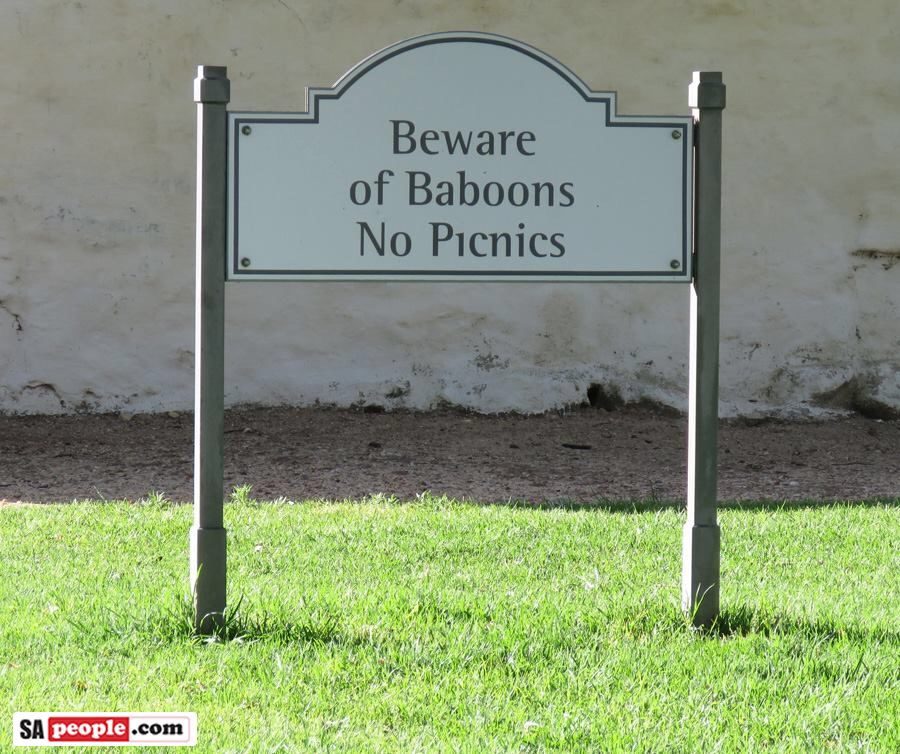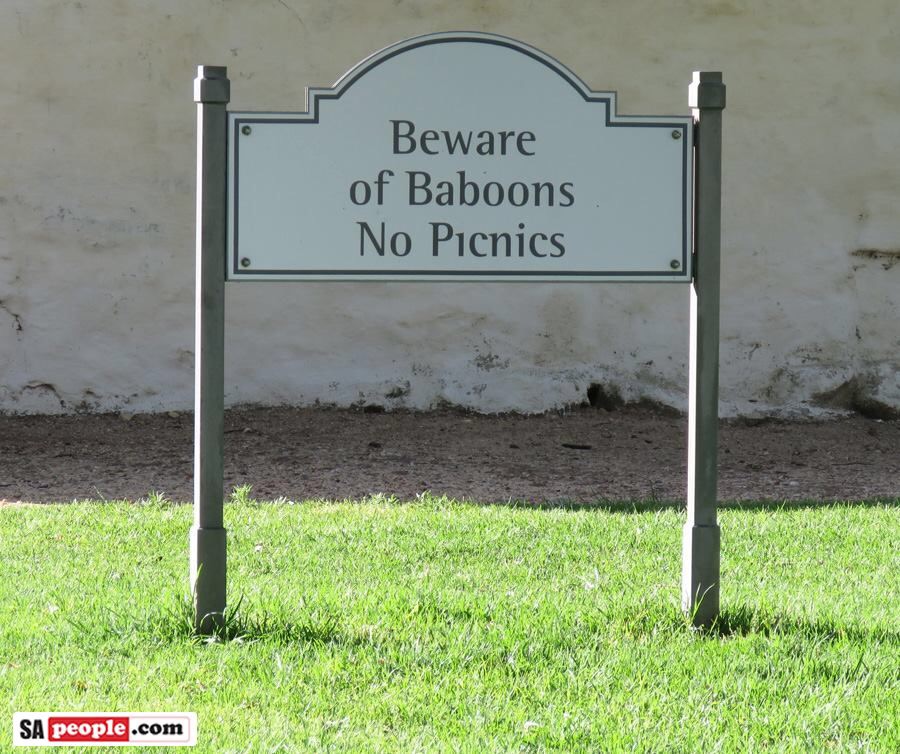 The vineyard has spent around R900,000 on a special fence to keep the baboons out and has a team of baboon monitors who shoo away those who breach the perimeter to look for food.
But this one beat their security and enjoyed a slap up Italian meal on the house.
"The thing that made it so nuts was that he really looked so human tucking into his lunch," said May. "The only thing he forgot to do was pay for his meal and give the waitress a tip!"
Groot Constantia which is in the Constantia Valley, nestled in the shadow of Table Mountain, is famous for having its wines exported to Frederick the Great of Prussia, King Louis Phillipe when he was monarch of France, and Napoleon Bonaparte when he was exiled to St Helena. And now for its culinary delights being enjoyed by a friendly Cape baboon.
The alpha male baboon showed no aggression at all towards any of his fellow diners and made his way home afterwards, deciding to skip dessert.
Groot Constantia vineyard said that none of their managers was available for comment.
WATCH VIDEO: Who ate all my dinner? Baboon tucks into Spaghetti Baboonaise in Cape Town, South Africa
WATCH #VIDEO of a #CapeBaboon enjoying some yummy pasta – 'Spaghetti Carbaboonara' – at #GrootConstantia in #SouthAfrica. More #photos here: https://t.co/lpw2ffrdwa pic.twitter.com/dtLCv9QotZ

— South Africa People (@sapeople) September 8, 2019
Please Note. This is copyright material. If you would like to use these pictures or text, please contact admin@sapeople.com