Demonstrators in South Africa are joining millions of young people from around the world who are skipping school or work today to demand urgent measures to stop environmental catastrophe, as world leaders are about to gather in New York for a UN Climate Action Summit next week.
A march is currently underway in Johannesburg, on its way to the Constitutional Court. Climate Justice Campaigner Alex Lenferna said: "Johannesburg #climatestrike is being led by the powerful voices of young people calling for climate justice. We have no choice but to act now if we are to protect our future. We must stand together with the youth to fight carbon capitalism."
A couple of other strikes planned in SA today include #ClimateStrike in Cape Town at 12h00, meeting near the greens near the corner of Cambridge and Keizersgracht Street, Zonnebloem (near district six guest house); and in Newcastle, KZN on Allen Street at 12h00.
This week – between 20 and 27 September will be historic – with people in over 150 countries stepping up to support young climate strikers and demand an end to the age of fossil fuels. "The climate crisis won't wait, so neither will we," says ClimateStrike.com.
Demonstrators in Plettenberg Bay plan to dance next Friday on the beach in a celebratory pledge to protect their natural heritage (rather than the "usual protests that plague our town"). Plett Heritage Dance for Climate Change is being held on 27 Sep in collaboration with 350Africa.org. The entire community is invited to join in. (See details here.)
Today in Melbourne tens of thousands of people took to the streets. (See video below.) Similar scenes have been seen from India to Kenya.
The protests in the 150 countries are inspired by the 16-year-old Swedish activist Greta Thunberg. The aim is for students and others from around the world to speak in one voice about the impending effects of climate change on the planet.
Thunberg has galvanized young people around the world since she started protesting alone with a sign outside the Swedish parliament building in August 2018. Over the past year, young people in other communities have staged scattered strikes in solidarity with her Fridays for Future movement.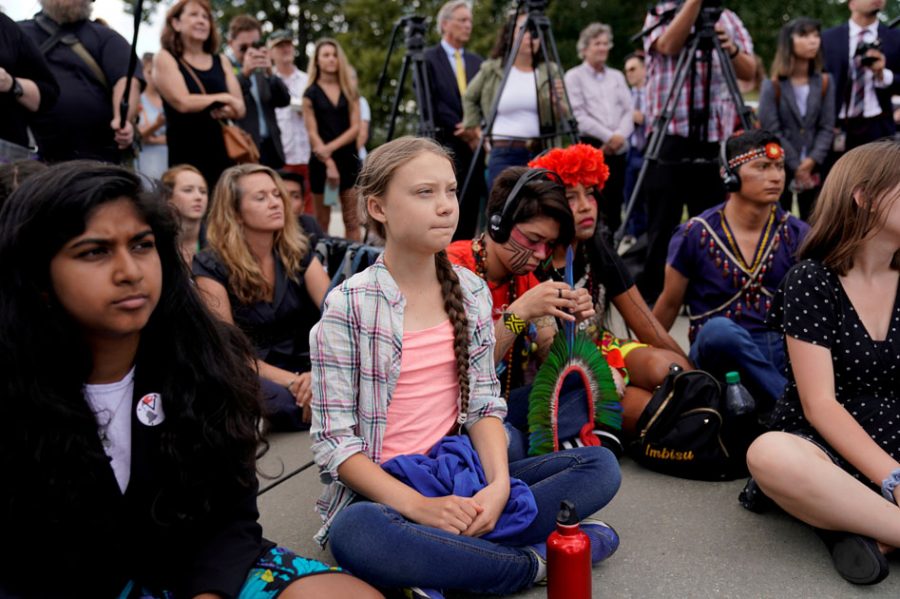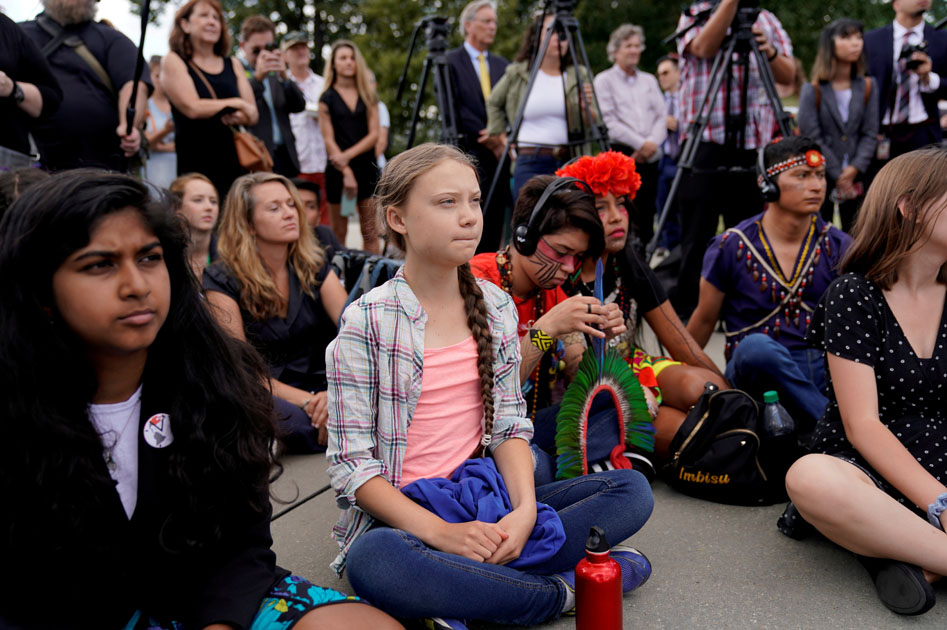 In conjunction with the UN summit this week, organizers on Friday will hold coordinated strikes around the world for a third time, with Thunberg spearheading a march and rally in New York, home of the United Nations headquarters.
In a show of support, New York City education officials will excuse the absences of any of its 1.1 million public school students who want to participate.
Thunberg, who was nominated for the Nobel Peace Prize in March, sailed to New York from England aboard a zero-carbon emissions vessel to partake in the UN summit.
It brings together world leaders to discuss climate change mitigation strategies, such as transitioning to renewable energy sources from fossil fuels.
Global warming caused by heat-trapping greenhouse gases from burning fossil fuels has already led to droughts and heatwaves, melting glaciers, rising sea levels and floods, scientists say.
Carbon emissions climbed a record high last year, despite a warning from the U.N.-backed Intergovernmental Panel on Climate Change in October that output of the gases must be slashed over the next 12 years to stabilize the climate.
Organizers said the demonstrations would take different forms, but all aim to promote awareness of climate change and demand political action to curb contributing factors to climate change, namely carbon emissions.
On Wednesday, Thunberg appeared before several committees of U.S. Congress to testify to the next generation's view on climate change. In lieu of testimony, she submitted a 2018 report by the Intergovernmental Panel on Climate Change that urged rapid, unprecedented changes in the way people live to keep temperatures from rising 1.5C by 2030.
"I want you to unite behind the science. And then I want you to take action," she said.
(Reporting by Jenni Baxter/SAPeople and Gabriella Borter in New York; Editing by Frank McGurty and David Gregorio/Reuters and Jenni Baxter)
Johannesburg #climatestrike is being led by the powerful voices of young people calling for climate justice.

We have no choice but to act now if we are to protect our future. We must stand together with the youth to fight carbon capitalism. pic.twitter.com/SGqjZxGSRk

— Alex Lenferna (@AlexLenferna) September 20, 2019
The global climate strike has begun! In #Africa, 1000s of people are expected to descend to streets to demand climate justice.

There's still time to find an event near you: https://t.co/vTj9OZICrH

This is going to be BIG. Don't miss it 🌏. #ClimateStrike #AfrikaVuka pic.twitter.com/48diMbDTbe

— 350 Africa (@350Africa) September 20, 2019
The future of the country is speaking out! Are decisionmakers listening? We want #ClimateAction now! #GlobalClimateStrike #ClimateStrike #Fridays4Future #ClimateAction @GretaThunberg @ExtinctionR @fridays_india @Fridays4future @IndiaRebellion pic.twitter.com/nk4kJaD2F2

— Haiyya (@Haiyya_Act) September 20, 2019
Tens of thousands of students have walked out of class around Melbourne and across the country, to call on governments to do more to address climate change. Joining them are hundreds of adults taking time off work to protest. #ClimateStrike #9News pic.twitter.com/uBJROcOvzY

— Nine News Melbourne (@9NewsMelb) September 20, 2019
Aerial footage shows the sheer size of the strike, which the acting prime minister has called "a disruption". #ClimateStrike #7NEWS https://t.co/smCs4T20vJ

— 7NEWS Melbourne (@7NewsMelbourne) September 20, 2019
#climatestrike #Jakarta #Indonesia

System Change not Climate change!@walhinasional @FoEint @AmigosTierraEsp @foeeurope @GretaThunberg @friends_earth pic.twitter.com/hpPbMN91im

— FoE Asia Pacific (@FoEAsiaPacific) September 20, 2019