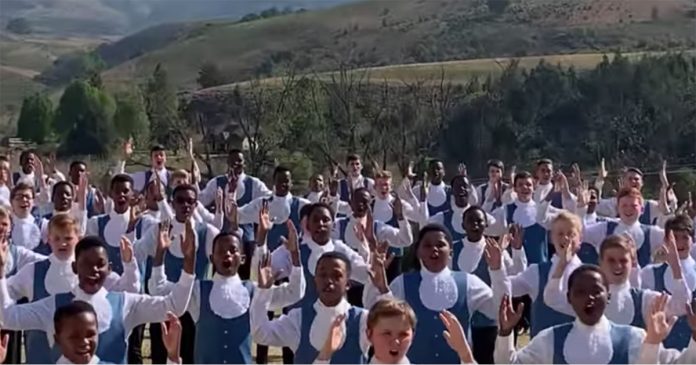 South Africa's famous Drakensberg Boys Choir has produced a stunning performance of 'World in Union' in honour of the Springboks who kick off the Rugby World Cup 2019 campaign on Saturday, against the All Blacks.
The Drakensberg Boys Choir said: "We are proud to present this video in support of our National Rugby Team, the Springboks. We wish them all the best for the upcoming Rugby World Cup. ??????"
The video was filmed and edited at the Drakensberg Boys Choir School using an iPhoneXR.
South Africans around the world have fallen in love with the video. One expat, Nicky Duve, said: "I'm completely homesick watching this over and over again! It's just so beautiful! I can't help but cry. You guys are simply amazing!! So proud to be South African with this stunning performance! Well done to all involved. So amazing!"
The Choir responded: "Thank you for your kind words! South Africa stays in your heart, no matter where you are in the world…"
WATCH VIDEO: Drakensberg Boys Choir performs World in Union (Rugby World Cup Anthem)
Credits: Music (Gustav Holst), Lyrics (Charlie Skarbek), Arrangement (DBCS), Vocal Solo (Lutho Ngaleka, Grade 7), Zulu Dance Choreography (Neo Ramalitse, Grade 9), Audio Recording (DBCS), Filmed and Edited at the Drakensberg Boys Choir School using iPhoneXR.
Ways to Stay Up to Date with the RWC: http://bit.ly/watchrwc