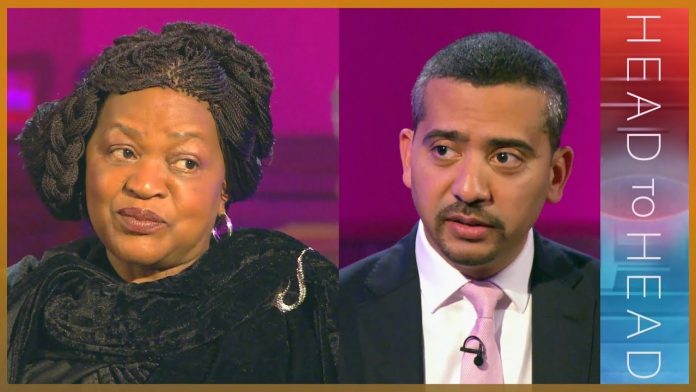 For anyone hiding under a rock this week, never fear. The interview that former Speaker of Parliament in South Africa Baleka Mbete did on Al Jazeera over the weekend with Head to Head's Mehdi Hasan is one of those gifts that keeps on giving. It has already been watched almost 300,000 times on YouTube.
Called many things on social media – "embarrassing" and "painful" and "excruciating" mostly – classic moments keep being posted online. We offer a few morsels from this meal of embarrassment. During the 50 (excrutiatingly long) minute interview, there was plenty of laughter, from Hasan and the audience.
The entire interview, if you have the strength, is at the end.
On how the ANC does things differently to everyone else:
Baleka Mbete says she did not believe that Tony Yengeni did what the Court found him guilty for.

When pressed for clarity she indicated that in the ANC they do not see things the same way other people see things.

Crime is NOT crime in the ANC the way we see crime. pic.twitter.com/mJLndVS6xS

— Boitumelo Madiba???? (@bmadiba7) October 21, 2019
On the World Bank:
Baleka Mbete caused us such an embarrassment on world stage.

Interviewer: "The World Bank says South Africa is the most unequal nation on the earth.

Mbete: "The World Bank is NOT God.

Such foolishness! Such arrogance! Can such people empower us economically???

???? pic.twitter.com/M0otu9ECPV

— Boitumelo Madiba???? (@bmadiba7) October 20, 2019
On knowing nothing about what has happened to bring to justice those who killed 34 miners at Marikana 7 years ago:
#BalekaMbete https://t.co/jPV8DZTlH1

— Ndebele is ??? ?? (@Lduga2) October 22, 2019
On Nkandla:
PREVIEW: Has the African National Congress failed South Africa? @mehdirhasan goes Head to Head with former ANC Chair and Deputy President Ms Baleka Mbete. Full episode 18th Oct 20:00GMT @AJEnglish | YouTube and https://t.co/fmiJsDGCVV pic.twitter.com/U4CZqJycTW

— Head to Head (@AJHeadtoHead) October 18, 2019
On her involvement in Thabo Mbeki's "weird" theories about HIV/AIDS that have been said by doctors to have directly led to the deaths of over 300,000 people:
Mehdi Hasan
Mbeki's AIDS/HIV denialism not allowing AntiRetrovirals leading to 330k deaths. You're Complicit?

Baleka Mbete:
You're saying as if we plotted that people must die, we didn't. Health Committee worked

Mehdi:
Did you talk to Mbeki?

Mbete:
It wasn't for me, I was busy pic.twitter.com/Ha8NtDWWii

— Izwe Lethu (@LandNoli) October 21, 2019
On how the ANC is not responsible for crime, it came from Europe 3 centuries ago:
She should have listened to her name and Baleka'd (run away) that interview! #BalekaMbete https://t.co/D68q8bIsKR

— Noxie (@GumedeShirley) October 22, 2019
Here is the entire interview