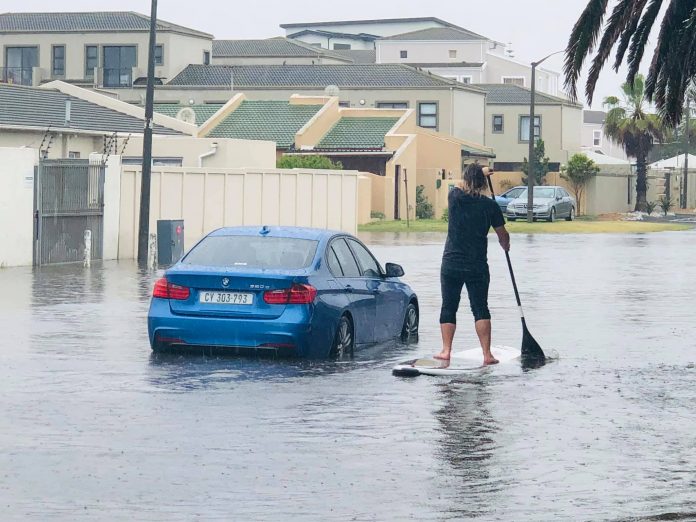 With all the rain in Cape Town yesterday – over 50mm in Kuilsriver according to SAPeople contributor Stan Sanetra – some local residents grabbed their boards and got into a little stand-up paddle (SUP) boarding down the streets of South Africa's Mother City.
Mitch Wagstaff called it "urban supping".
Kyle Errald Phillips also captured these photos of Mitch. He said "this is in beachfront in Table View." Another friend joked that Mitch was just taking his dog Nobby for a walk.
Bloubergstrand Residents Association posted this video:
And someone was canoeing in 12th Avenue in Kensington:
The flooding of some of the roads in Cape Town was pretty hectic:
Current conditions in Table View. Footage sent in by Andre Theron.

Posted by Storm Report SA on Friday, October 25, 2019
But even then, some South Africans still found humour in the situation:
Yassis ?- Only In #CapeTown. This guy filming the video is looking at the brighter side of life. On a serious note- Please be safe on these flooded Cape Town Roads. #SaveKidsLives #SR4A pic.twitter.com/tPP7NmIT5k

— DJ Ready D (@DJReadyD) October 25, 2019
The South African Weather Service has advised that a second cold front is expected on Sunday, which will result in rain settling over the south-western parts of the province, spreading to the east during the day and persisting into Monday.
SAWS cautioned that "pooling of water on the roads is likely as soil will already be saturated from Friday's rain". This could cause traffic disruptions during peak morning traffic in the affected areas on Monday morning. In addition, cold conditions will be felt across most parts of the Western Cape province on Monday into Tuesday, with a high pressure system ridging behind the front, circulating the cold air, said the weather service.