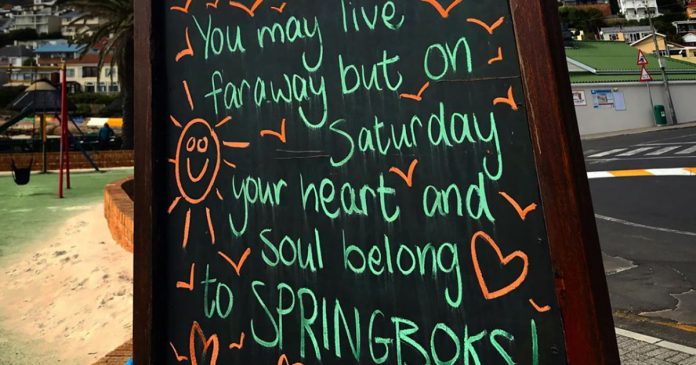 For all those (from the government to individuals) calling on South Africans abroad to stand behind the Springboks – rest assured, most of them need no encouragement! SA expats have been passionately supporting and shouting for the Boks from the start of the 2019 Rugby World Cup… and on Saturday they'll be out in full force again.
Here are three videos from around the world that show just how patriotic expats are…
From Electra Vye in Hanoi, Vietnam
SA Expats sing Nkosi Sikelel' iAfrika in Vietnam at RWC Semi-Final
SA expats gathered at a new sports pub, that's been open for about 5 months, in Hanoi called The Local. Elektra says: "The Local has put huge effort into the Rugby World Cup, even having t-shirts printed for the various teams that can be purchased at the bar, and their staff all wear them as well. During each of the games they have also done specials on drinks (like Savannah) from the countries playing."
From Cindy Mundow in

Dublin Ireland BOKKE!!!
South Africans in Ireland singing the SA national anthem during the RWC
Cindy says: "It was such an amazing friendly atmosphere ???????? Was at the Woolshed Baa & Grill in Dublin. It's our local "Southern Hemisphere bar" – we can get boerrie, bilting and Castle Lager here." www.woolshedbaa.com
From Simon in Switzerland
WATCH just how LOUDLY South Africans abroad are shouting for the Bokke
Watch this short video to the very end!
Even the children of SA expats are supporting South Africa (Princess Charlene of Monaco's children pictured below in Japan):
A Cyber Rugby Braai
SA expat Catherine Elizabeth Fowles, who left SA 10 years ago and now lives in Australia, told SAPeople: "I think this World Cup is important, I think it will unite all of us, near and far! It's already doing that. I spent most of the semi-final match talking to friends in SA England, USA, Switzerland etc about the progress of the match…Was a real cyber rugby braai ?"
There will be a lot more than the 57 million South Africans back home shouting for the Boks on Saturday! Thousands of South Africans scattered around the world will be watching and willing SA to win, some of them will wake up at 3 in the morning to watch… because no matter when they left SA, or where they now live, their heart still beats for Africa and for the Springboks!
#Bokke #StrongerTogether