South African comedian Trevor Noah has been awarded the prestigious Leadership in Democracy Award in the United States, an accolade that recognises those people or organisations – all around the world – who are "working for democracy and making democracy work" through innovative or non-traditional means. The award is granted by the National Democracy Institute (NDI).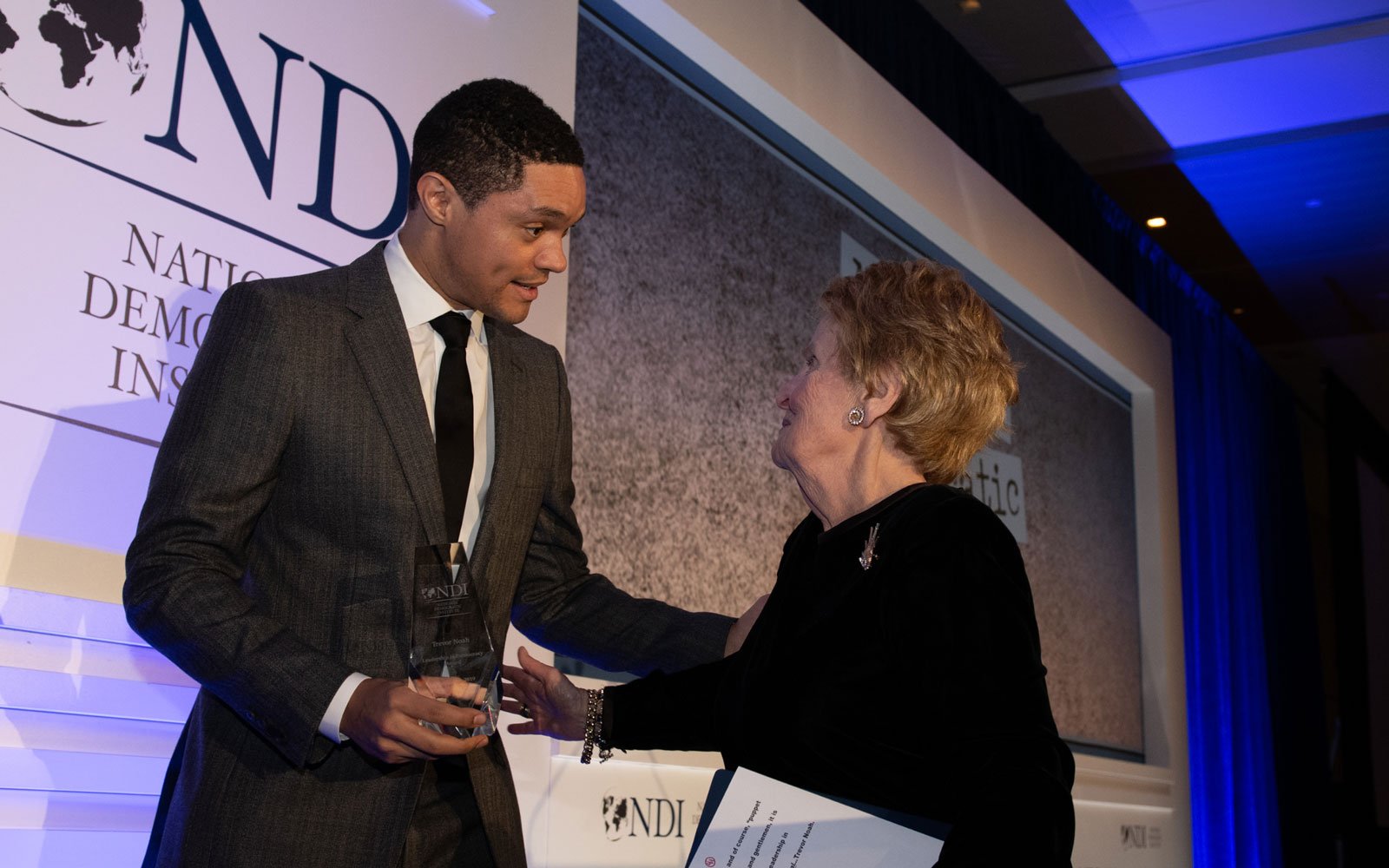 The NDI says the award honours "outside-of-the-box" leadership that reinforces a culture of democracy and promotes human rights.
Trevor was chosen for his work which includes hosting the Emmy® and Peabody® Award-winning "The Daily Show" (available to watch in SA on CatchUp here).
The award was presented to Trevor by NDI Chairperson and former US Secretary of State, Madeleine Albright, on 22 October at a gala dinner with over 460 guests, gathered to celebrate humour as a vital form of free speech. According to the NDI, comedy and satire "allow us to communicate pro-democracy messages. They build bridges to new audiences, such as the 18 to 35-year-old youth demographic."
Trevor joked that he grew up in South Africa with many strong female women, and that Albright would fit right in as an African mother! Watch below… (Trevor Noah's own mom – Patricia – has become world famous since his autobiography – 'Born a Crime: Stories from a South African Childhood', and his stand-up 'Son of Patricia'.)
In his acceptance speech, Trevor said: "The ability to laugh at a leader who doesn't want to be laughed at is one of the core pillars of freedom. When you can laugh at somebody in power it reminds them that they, like you, are still a human being who is accountable to other human beings."
Albright called Noah "one of the world's most intelligent and incisive satirists … exploring the world's injustices and follies with just the right combination of wit and wits."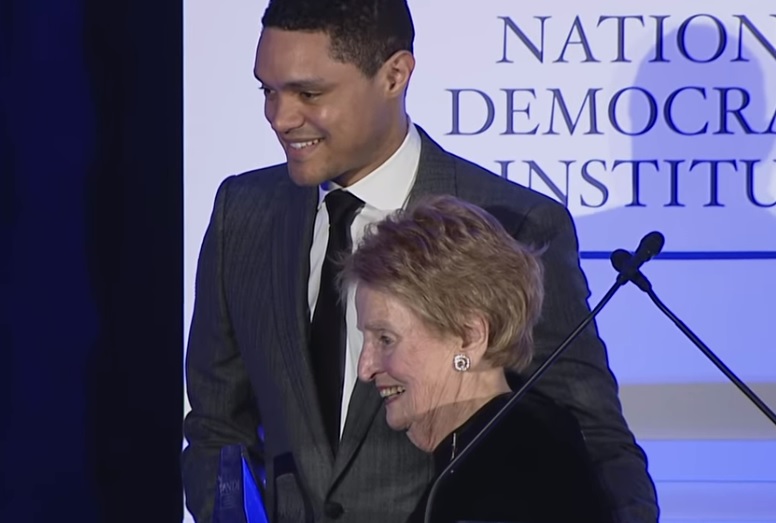 She said that democracy depends on "people who have the courage to speak up, join together and fight back injustice" and that Trevor Noah is one of those people.
At the end of the evening, Trevor said: ""Let us continue to fight for freedoms around the world, let us continue to uplift those who do not have voices, let us fight to be progressive, let us move marginalized voices forward using comedy, using any freedom of speech that we are allowed."
WATCH VIDEO: Trevor Noah accepts the Leadership in Democracy Award
If you're in SA, watch Trevor Noah's The Daily Show on CatchUp here.