The boys are back in town… and on the bus!!! The 2019 Rugby World Cup champions, the Springboks, have kicked off their RWC Trophy Tour, hitting the streets of Pretoria on Thursday morning to meet their supporters and show off the Webb Ellis Cup (aka Bill).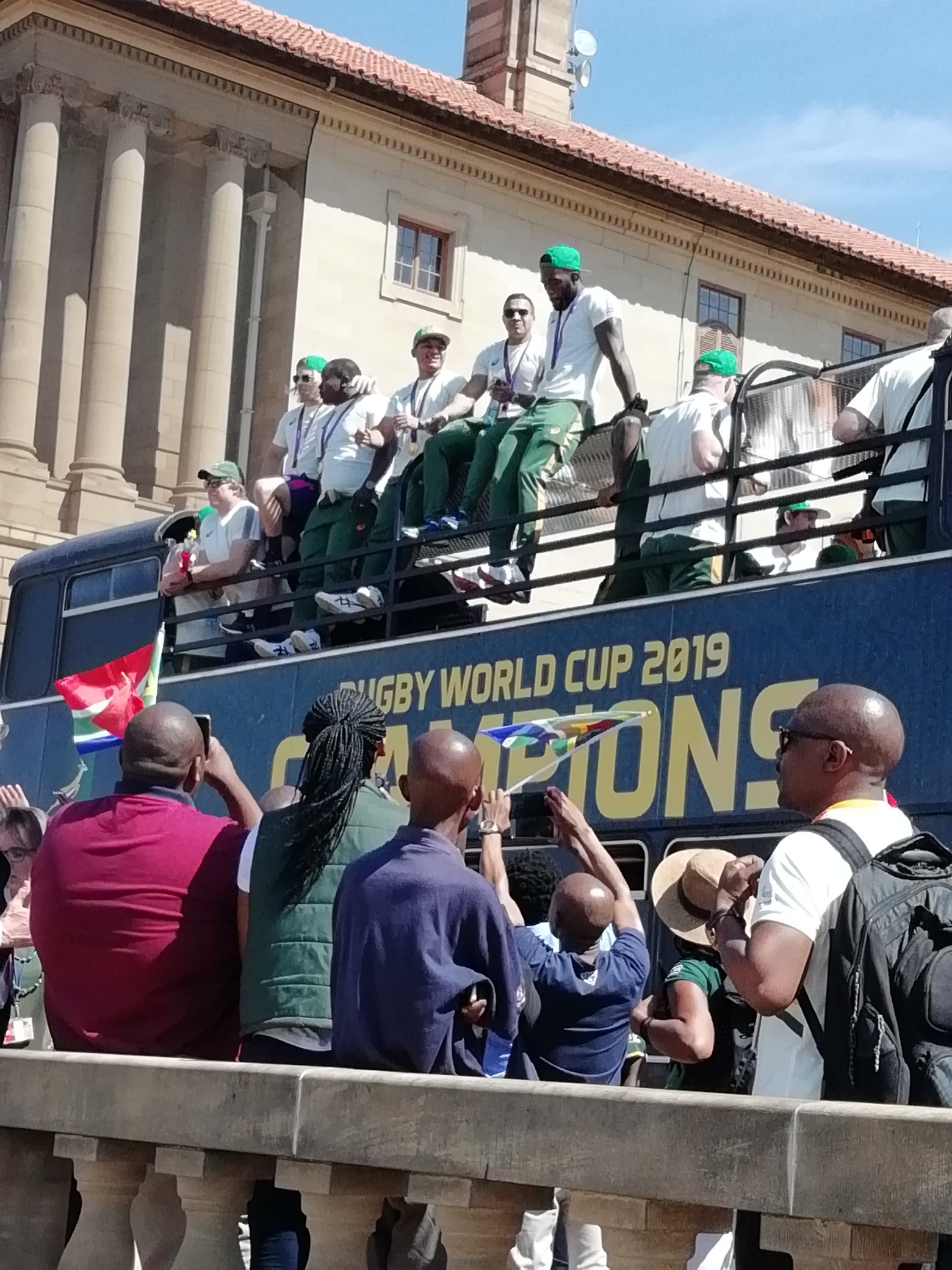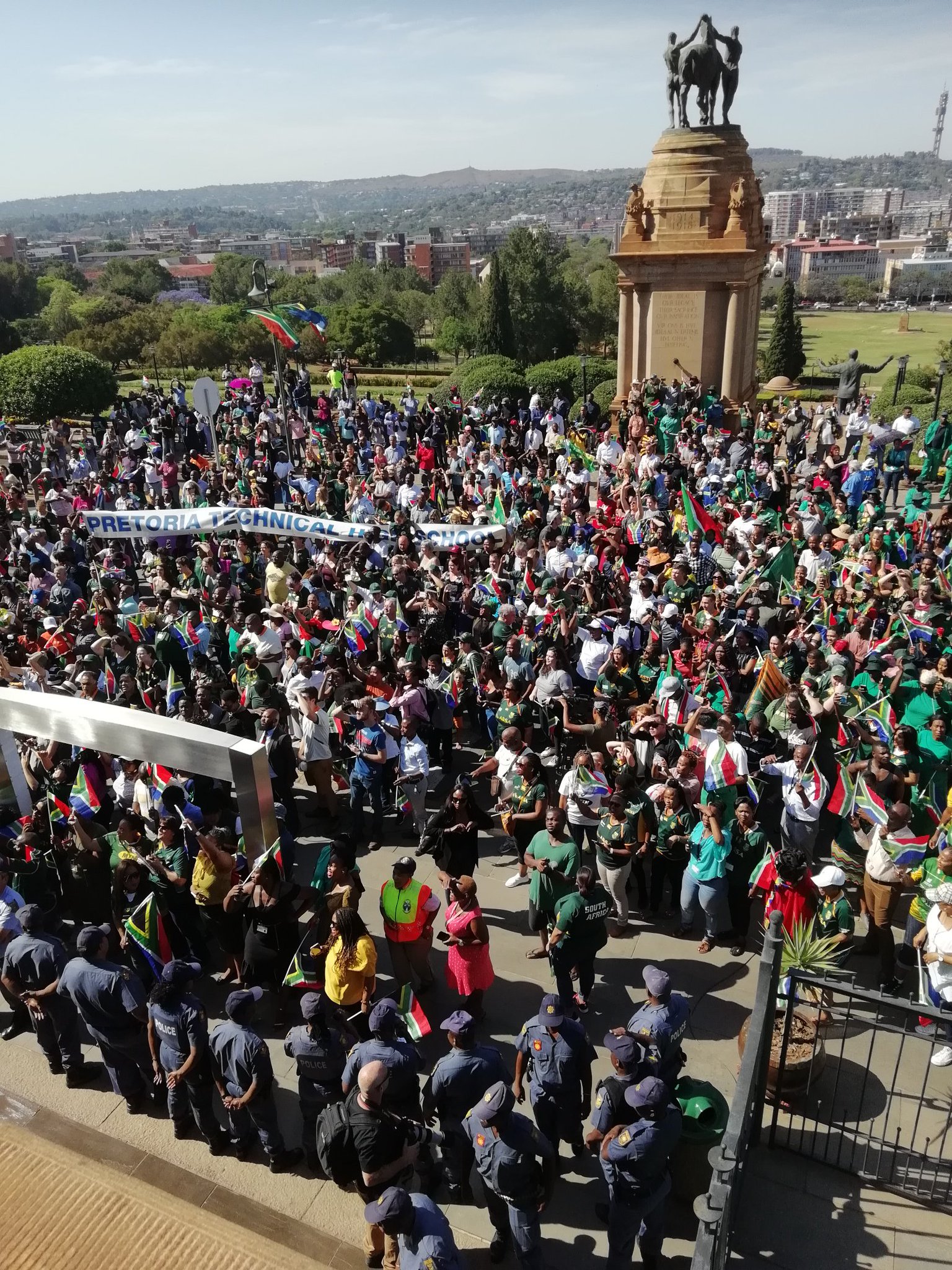 Proceedings began with Captain Siya Kolisi presenting President Cyril Ramaphosa with the Cup. The President addressed the crowd, urging all South Africans to use what the Springboks have created, to build more nation building and social cohesion.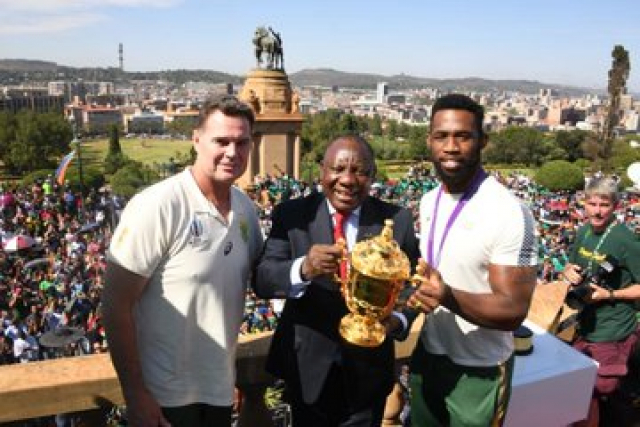 The SA Government has encouraged South Africans to come out in their numbers – wearing green and gold – and line the streets on the Springboks' bus tour route which moves to Joburg and Soweto this afternoon (details below), Durban tomorrow (details below), before visiting East London (9 Nov), Port Elizabeth (10 Nov) and finishing in Cape Town on Monday 11 Nov (details to come).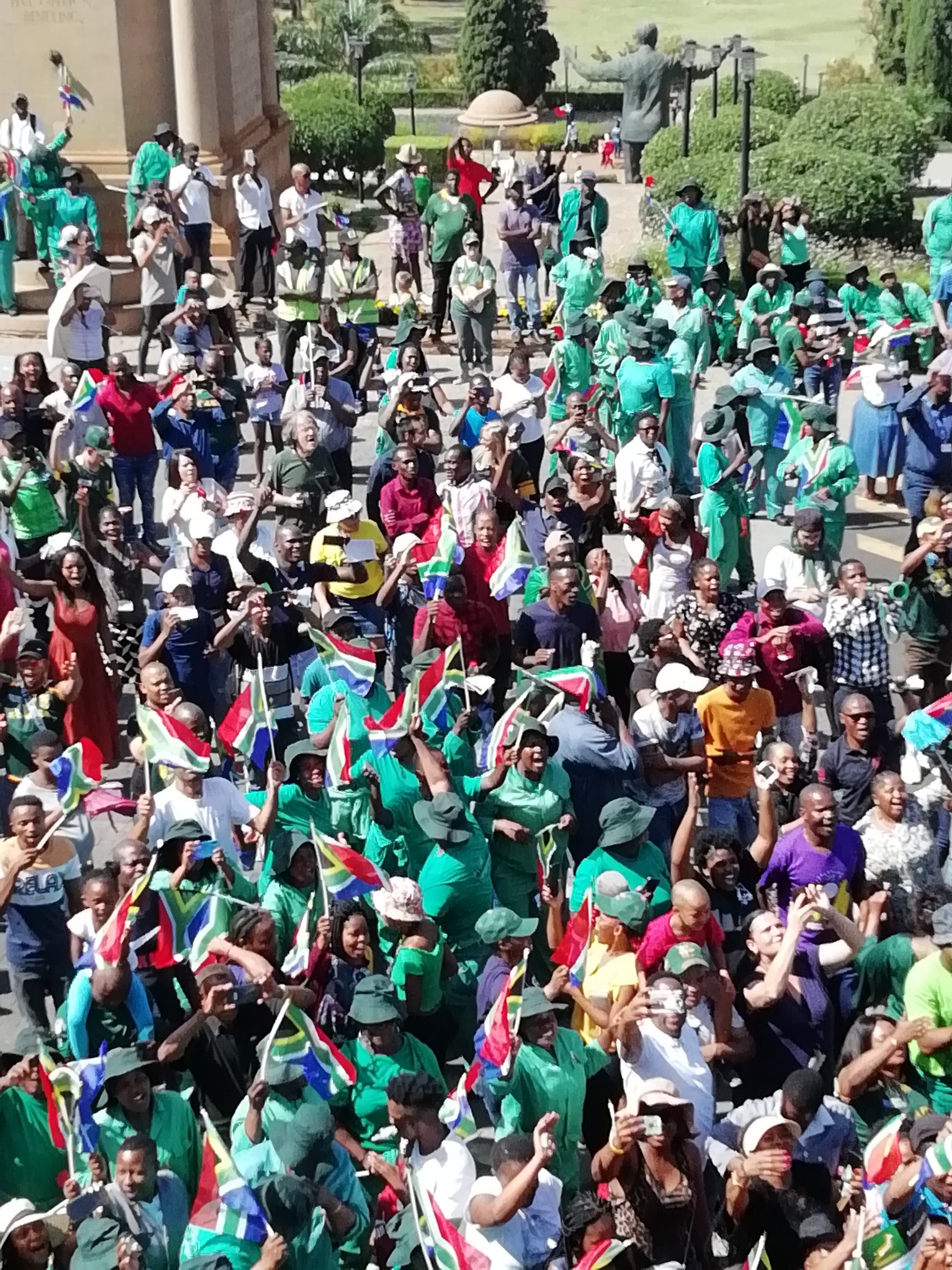 Photos and Videos from Springbok RWC Trophy Tour in Pretoria:
Watch:At the Union Buildings #SpringbokChampions #Springboks pic.twitter.com/N92rdcCLPR

— SA Gov News (@SAgovnews) November 7, 2019
Siya handing over the cup to President Ramaphosa #SpringbokChampions pic.twitter.com/VabmLhgDgH

— SA Gov News (@SAgovnews) November 7, 2019
Watch:The Springboks arriving at the Union Buildings #SpringbokChampions #Springboks pic.twitter.com/hqt7RY56y1

— SA Gov News (@SAgovnews) November 7, 2019
Johannesburg and Soweto Springbok RWC Trophy Tour Details:
14h00: Parade starts at 1 Jan Smuts Avenue in Braamfontein to Metro Centre and across the Nelson Mandela Bridge
Onto FNB Bank City in Simmonds Street
Onto Nasrec Road past Riverley and to the FNB Stadium
South to Ben Naude Street
Left into Immink Road
Right into Chris Hani Street past Maponya Mall
Right into Klipspruit Valley Road
Left into Kumalo Main Road and left into Vilakazi Street and onto the Hector Pieterson Memorial
From approximately 15h45 to 16h15: past Orlando Stadium
The route plan for Durban Springbok RWC Trophy Tour Details is as follows:
09h15: Tour starts on Centenary Boulevard in Umhlanga
Right onto Umhlanga Rocks Drive
Then onto the M41 and the M2
Take the Curnick Ndlovu Highway offramp and make a right towards Mount Moriah
Left onto the M577 Route
Right onto Queen Nandi Drive
Left on Amanzimtoti Road
Approximately 09h30: drive past KwaMashu Station
Right onto Malendela Road
Right onto Queen Nandi Drive over M577 Route
Right onto R102 Chris Hani Road
Onto Riverside Road towards the M4 Ruth First Highway
South onto the M4 Ruth First Highway and onto Stalwart Simelane Street, which becomes Florence Nzama Street
Right onto Anton Lambede Street
Approximately 10h30: Mayoral visit stop at Durban City Hall
11h00: Depart City Hall via Anton Lambede Street
Right onto Brooke Road
Right onto Dr Pixley Kaseme Street to OR Tambo Parade and turn left
North via Battery Beach Road
Watch:President Ramaphosa speaking at the Union Buildings welcoming the Springboks #SpringbokChampions #Springboks pic.twitter.com/ARLFr0par0

— SA Gov News (@SAgovnews) November 7, 2019