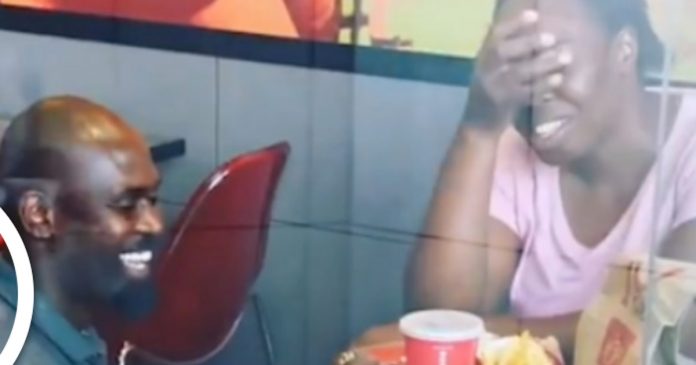 It's been a fantastic week for South Africa making world headlines for fabulous reasons! First it was for winning the Rugby World Cup. And now it's for the nation being swept up in the romance of a couple at KFC. With South Africans united warmly in a spirit of pride and joy following the RWC win, there has been an outpouring of love and generosity for the (previously anonymous) couple… whose wedding proposal, at a humble KFC outlet, went viral.
The video was first posted on Instagram by Kateka Malobola, a KFC diner who witnessed (and filmed) the romantic scene at Evaton Plaza. KFC picked up on it and called on Mzansi to find the "beautiful couple". "We love love 😍❤️," said KFC (who have told local reporters they have a fantastic treat in store for the couple).
WATCH THE #KFCPROPOSAL
Mzansi please help us find this beautiful couple, re batla ho ba blesser 😊 DM us any leads, there might be a Finger Lickin' Good surprise in it for you too. Batho ba Vaal re thuseng! We love love 😍❤️ #KFCProposal pic.twitter.com/6bj89dtj4j

— KFC South Africa (@KFCSA) November 7, 2019
The proposal has been viewed over 2 million times in two days! And the #KFCWedding hashtags were still South Africa's top four trending items on Twitter on Friday night.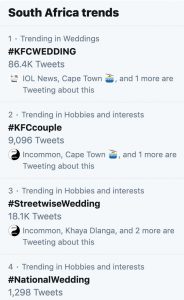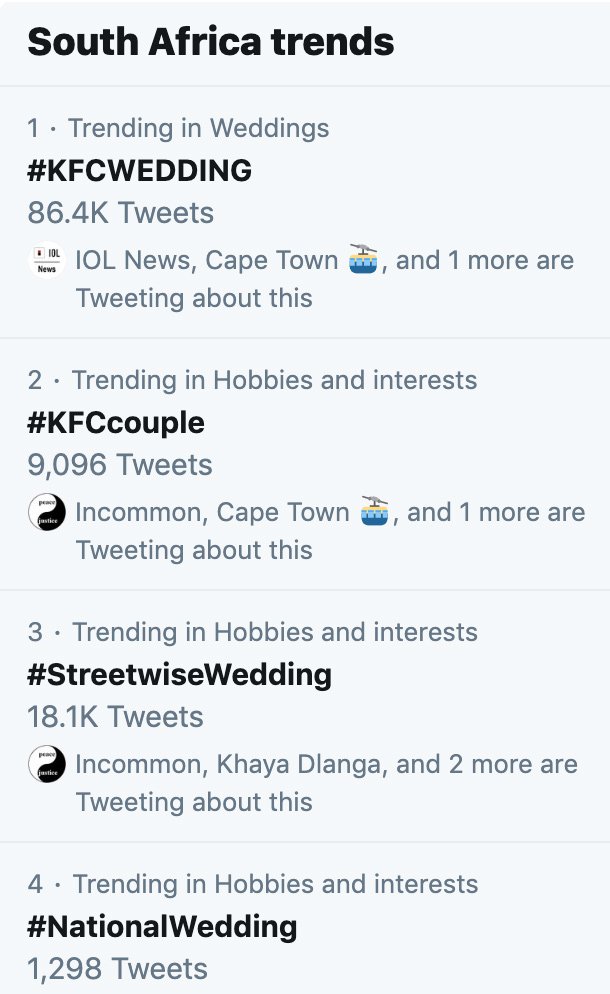 The couple – Hector Mkansi and Nonhlanhla Soldaat – has been successfully located. KFC tweeted: "South Africa, you guys are amazing! We've found the beautiful couple, and looks like we're having a #StreetwiseWedding y'all 🥳"
A young MC – Sipho (@alphi_s on Twitter) – kindly offered to MC at their wedding for free… and it opened the floodgates. He revealed the couple wanted a small event to celebrate but that the budget was tight. "We need a venue, dress, suit, cake, and food. I can't wait to MC this one. Can anyone else help us, please 🙏"
Before you could say 'Kentucky Fried Chicken', offers flooded in from strangers, individuals, celebrities and big brands. Toyota, Coke, Durex, Tsoga Sun, Puma SA, Liberty Group SA ("We love how our country is uniting again"). And more.
The whole country seems to be taking part in the wedding plans… and it's making world news – from the BBC in the UK to the prestigious Washington Post in the US, which nicknamed it "South Africa's very own fast-food fairy tale".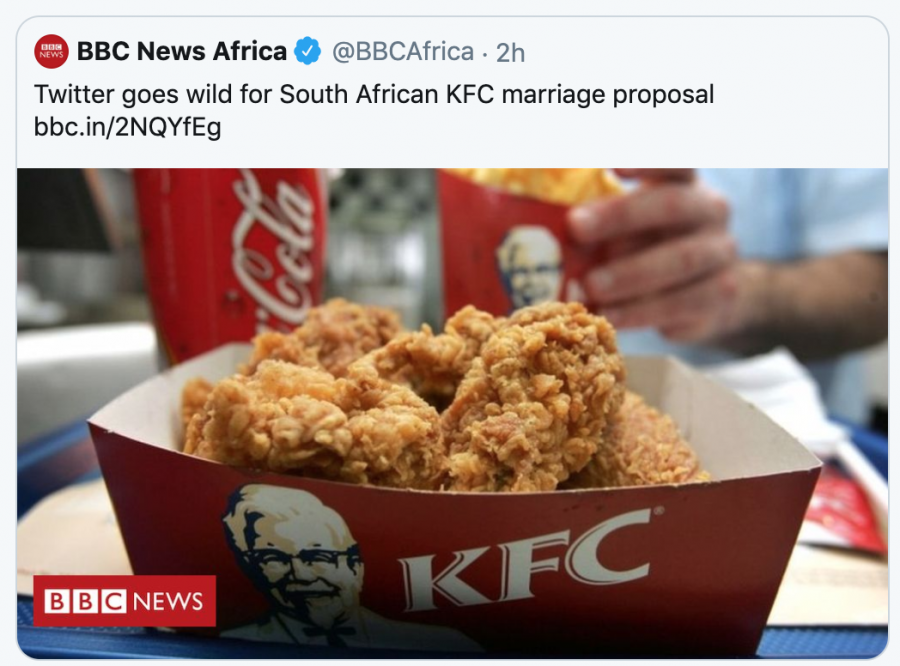 On Friday a "very teary" Malobola posted another video saying he had simply sent the video to his WhatsApp group and posted it on social media and "then boom! The whole country's got a bloody wedding!" He said what he witnessed was "genuine love".
The couple has issued a statement to The Sowetan, saying they fell in love in 2010, began lobola negotiations in 2011, married in 2012 but never had their dream wedding or rings that were satisfactory. Hector said: "I decided to come to KFC to give her a small surprise with a meal." He arranged for KFC staff to bring the food out with the ring, and he then "went on my knees".
In the statement the couple say: "Thank you South Africa. Your kindness has truly warmed us. We would have never imagined that our love story would have touched so many of you. While we appreciate the support, we ask that you please give us a moment to take it all in. We will definitely let you know about our plans around the wedding."
KFC South Africa said the amazing couple are "truly grateful and overjoyed by your love SA 🇿🇦. Ba kopa fela a moment to take in all the love you are showering them with, please bear with us. More to follow fam. Siyabonga Mzansi. 🙏 #KFCProposal"