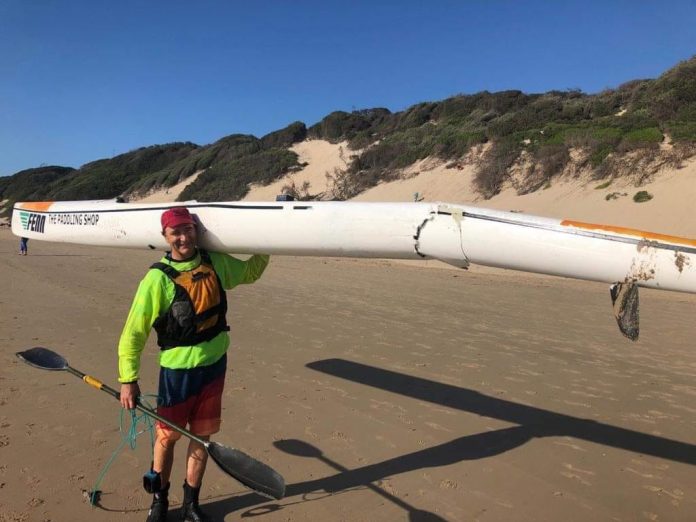 An East London man is counting his Christmas blessings today after a run in with a shark on Boxing Day at Nahoon Beach in the Eastern Cape of South Africa.
Roger Swinney, a local teacher who is originally from KwaZulu-Natal, according to his Facebook profile, was out paddling early yesterday morning at around 06h00, when a shark knocked him off, taking a big bite out of his surfski hull.
Swinney told Surfski.info: "I managed to get back on the ski, but I fell off again and as I remounted the second time, I saw the swirl and tips of the shark's fins.
"I didn't see it clearly, but from the force of it and the movement in the water, it looked big!"
With his surfski badly damaged and filling with water, he managed to paddle calmly to his son (16) who was also out in the water. His son then paddled the two of them back to the beach; and other paddlers later towed his badly damaged surfski back to shore.
Swinney told Surfski.info – "I was calm when it happened. But I'm feeling it a bit now!" He said the frightening encounter won't put him off paddling BUT "I might paddle on the river for a bit!"
Friends posted messages of gratitude that Swinney had survived the incident, with one – Sherene Forsyth – saying: "Roger Swinney, praise be to God you unharmed from this morning's Shark attack. God is good."
Others said it's a reminder at Christmas to count our blessings, and one suggested that Swinney enter the lottery because his odds are great at the moment!
On Sunday (22 December) two men paddling further south from St Francis Bay to Oyster Bay on a double Kayak also noticed a shark in the waters, according to the NSRI. The men were about 300 metres off-shore when one of them fell out of the water, followed by the other. Fortunately they managed to swim to shore safely, and their Kayak washed up on the rocks near Oyster Bay.