Squealing, excited locals gathered to witness the welcome and beautiful sight of water gushing down the Outeniqua Mountains at Robinson Pass in the Little Karoo, South Africa, yesterday.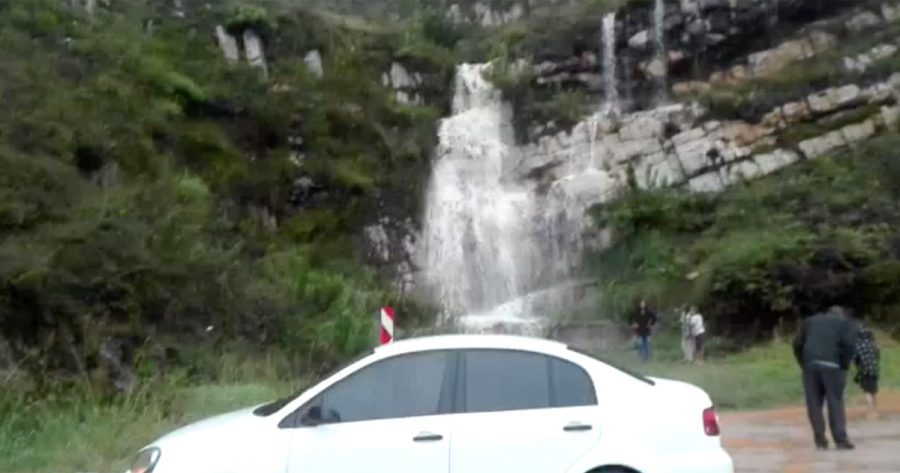 Spectators gathered at the Western Cape spot – which connects Oudsthoorn with Mossel Bay on the Garden Route – to watch the waterfalls that they have been praying for, during one of the country's worst droughts.
Residents have been posting messages of gratitude since Friday when the rains swept in.
The South African Weather Service (SAWS) has issued a warning for heavy rain and localised flooding along the Western Cape's south coast today, Sunday 19 January 2020.
"Scattered downpours may be expected early morning and especially in the late afternoon and evening; otherwise, expect very windy conditions, 54 km/h E, with possible wind gusts of up to 81 km/h and considerable cloudiness," said SAWS.
WATCH VIDEO Waterfalls gushing down mountains in Robinson Pass, Little Karoo
Baie Dankie Heer vi di reen mense kyk hoe lyk di water val in di Roberson Pass al di lof dank en eer aan onse Hemelse Vader😇👏🙏

Posted by Maureen Olivier on Saturday, January 18, 2020
There were also great scenes at Groot Bak River in the Mossel Bay Municipality:
The water is running towards Wolwedans Dam and will hopefully help fill up the dam, which is currently less than half full.
Groot Brak rivier. Water loop na die Wolwedans dam. Tans 43 persent vol. Reën nog heerlik hier.

Posted by Louis Botha-Crause on Friday, January 17, 2020