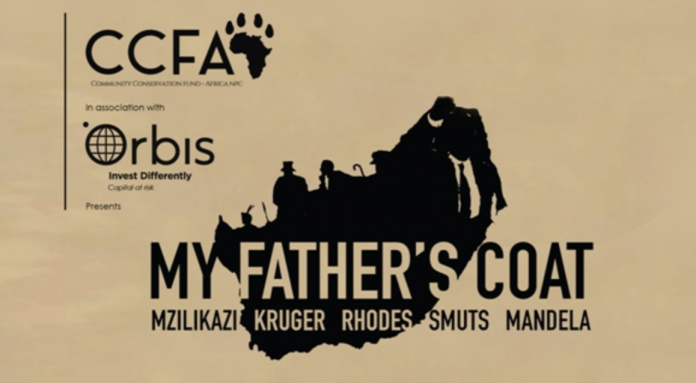 The Royal Geographical Society is hosting a performance of 'My Father's Coat' by South African born historian and storyteller, Michael Charlton TONIGHT (Wed, 29 January 2020). It will be an evening of culture, history and art – the sculpting of forces behind every community while reflecting on South Africa's remarkable heritage.
"I cried hot wet tears of hope for our beloved country," said author Josephine Bestic, after watching the show.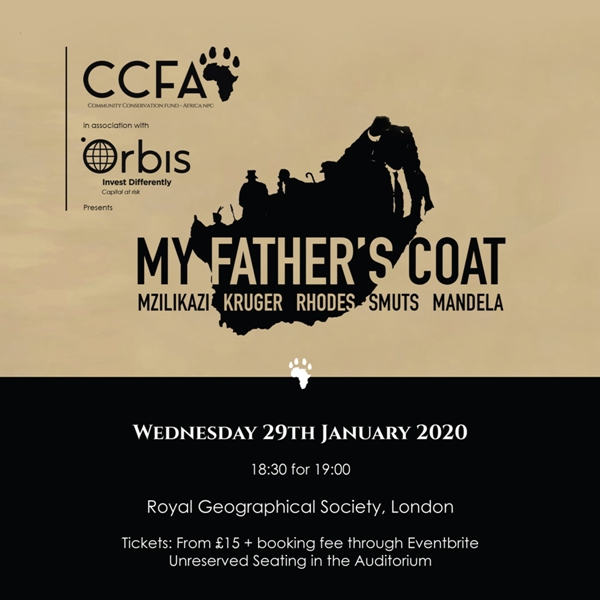 Proceeds go to Community Conservation Fund Africa (CCFA) to help fund its ongoing work and projects that aim to preserve Arica's wildlife for future generations.
The art of storytelling
'My Father's Coat' weaves together the lives of five prominent characters from South Africa's past – Gandhi, Mandela, Mzilikazi, Rhodes and Smuts –  into a unique and layered narrative that explores the history of South Africa.  It provides context to a notoriously complex topic, while Charlton's approach – in the fine tradition of South African storytellers – offers subtle insights into the values and systems upon which current day communities have been formed.
In addition, Charlton will highlight how and why the people of South Africa have contributed to the current conservation crisis.  He will offer supportive solutions that aim to prevent these catastrophic human actions and behaviours from playing out in the future. The solutions include CCFA projects and programs which are vital to wildlife conservation in all African countries.
The cause
The urgent need for conservation and preservation of our natural resources and wildlife is a worldwide reality. CCFA believes that raising international awareness around the necessity for wildlife conservation in Africa, is key to pooling together human resources and creating a global community that can contribute towards saving our planet.
There are two tiers of tickets available: £15 for the performance only or £40 which includes the show as well as a reception of wine and canapes.
All ticket holders will be eligible to take part in an online auction for a luxury holiday and there will be lucky draws at the event.
Tickets can be purchased via Eventbrite: www.eventbrite.com
More Info: