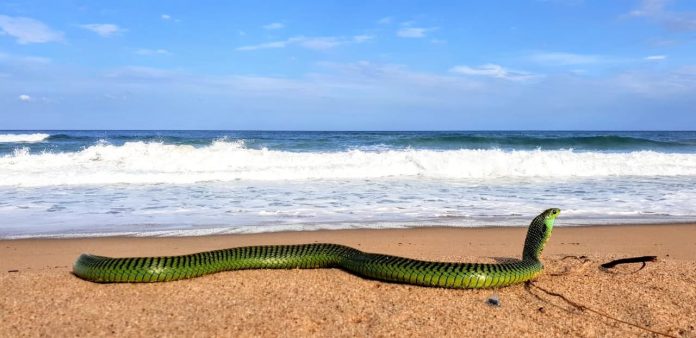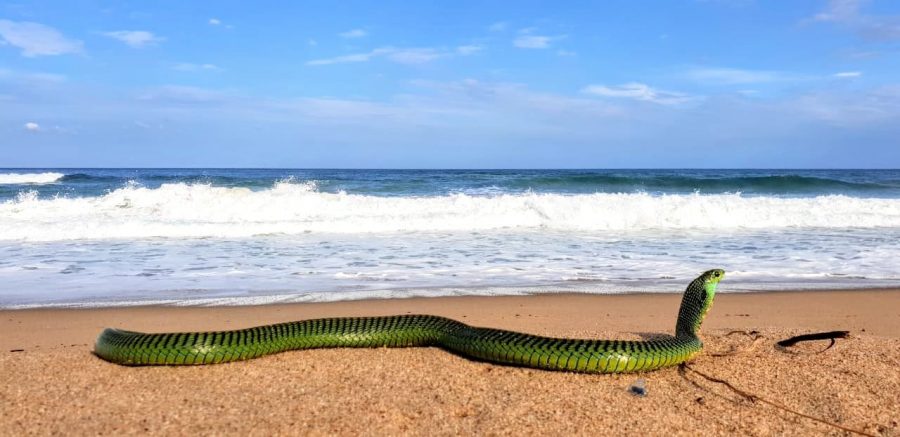 An exhausted Boomslang was rescued from the beach in KwaZulu-Natal, South Africa, on Saturday… by one of SA's top snake experts Nick Evans who said it was a first for him to discover a Boomslang on the beach!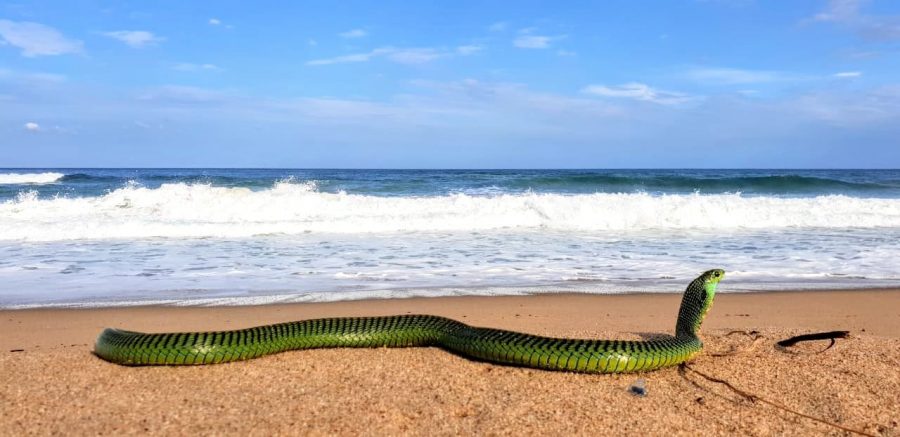 "This big, beautiful specimen was very disorientated and extremely tired from swimming in the waves. Thankfully a policeman stood by keeping dogs and people away," he wrote on Facebook. "Such a cool sighting."
In an exclusive interview with SAPeople, Evans confirmed the snake was found at Winkelspruit, which is a small seaside resort just north of the Illovo River mouth. It seems to have wandered out from foliage about 50 metres away.
A policeman had been alerted to the snake's presence and went to investigate.
"He noticed it was no ordinary little Bush Snake! He also noticed there were people walking dogs (off their leashes) and so for their safety, and the snakes, he called (me)," says Evans. "I was with my mother bird-watching in a nature reserve!"
It turned out to be one of his less frightening rescues because "the poor snake was tired after swimming in the waves numerous times. It just lay there really, as I picked it up with the tongs, holding the tail with my hand, and put it into a bucket."
Evans managed to safely rescue the snake and relocate it to a "nice coastal forest nearby". (According to KZN's famous snake-catcher, it's always best to release snakes in the nearest, safest, natural area.)
"They are solitary creatures, coming together once a year to mate," he reveals. "For most species, spring is the mating season, however, now is the mating season for Boomslang."
In fact on Saturday morning Evans had been chasing a pair of fighting males in someone's garden. "These males would have been fighting for mating rights with a nearby female," he says.
According to Evans it's "definitely rare and very unusual" to spot a Boomslang ('Tree Snake') on the beach!
"It's quite odd! I'm not sure why it went onto the beach, I guess it just got a bit lost. When I found it, it was very disorientated!"
What should you do if you spot a dangerous snake on the beach?
If you happen to spot a dangerous snake during a stroll on the beach, Evans advises: "In this rare event, move slowly away from it, and keep a safe distance of 10m or so away. Keep eyes on it, and try to keep others away from it, if possible.
"Because beaches are busy places, it is better to contact a snake catcher to help relocate it, before someone tries to kill it etc."
'Mamba Season' coming soon…
And while most of us are relieved to not see snakes, Evans says he can't wait for 'mamba season'! "The great thing about mambas, is they're active all year round 😀 But they're even more active in the winter months, where males track down females, picking up their scent with their forked tongue. I can't wait for mamba season!
"Although as I say, they're active all year round. I got a Black and Green today, and another Black on Saturday."
It's been a crazy day for a snake catcher – the first sunny day after days of rain has meant the snakes were moving…
Support SA's brave snake catcher Nick Evans…
We all love Nick's photos and videos of his incredible snake rescues. Most of his work is done on a donation basis, or out of his own pocket! So donations are always welcome.
You can either check Nick's site for details: www.kznamphibianreptileconservation.com or use the following info.
Please use the word 'SNAKE' in the reference, with your surname (optional). A tax certificate can be issued, too.
The Lawrence Anthony Earth Organization
First National Bank
Cheque Account
Acc # 62080145983
Branch code 223526
Swift code: FIRNZAJJ
Thank you! Follow Nick on Facebook here.