Check out Oti Mabuse on the Graham Norton Show, having a great belly laugh about the confusion a South African accent can cause! The SA Expat – who has become famous in the UK on 'Strictly' – was appearing on the popular BBC show to talk about her latest programme, 'The Greatest Dancer'.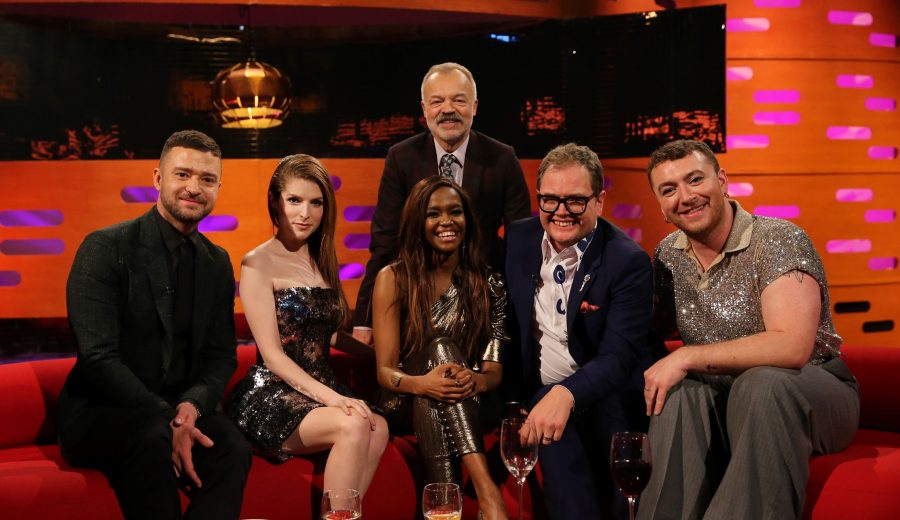 Fellow Graham Norton guests included singer/actor Justin Timberlake and Pitch Perfect's Anna Kendrick, as well as singer songwriter Sam Smith and comedian Alan Carr.
Oti (29) burst out laughing after Alan Carr shared a story in which a very stressed female friend of his went for a head massage, and got very confused by the instruction given to her by the South African woman at the clinic.
Listen to the brilliant story… and watch Oti's hilarious reaction below as she bounces up and down on the sofa…
WATCH Oti Mabuse's Reaction to South African Accent Story
P.S. We've started the above video at 1'15" (but you can take it back to the start to hear a funny story from Anna Kendrick about larni British accents).
If you can't view the video above, please try this (the story begins just after the halfway mark):
Oti chatted on the show about Strictly Come Dancing (which she won with actor Kelvin Fletcher in December 2019) and her new show. Watch the video below as she imitates contestants to Justin Timberlake's delight…
WATCH VIDEO Oti Mabuse on hilarious dancing fails – and listen to her do accents! | The Graham Norton Show – BBC
Pretoria-born Oti made her debut on Strictly in 2015, with the BBC introducing her to UK audiences as "a very hot 25-year-old from South Africa". In their words, she has now become a "legend".
And in our opinion she is a legend. She and her sister Motsi (a Strictly judge) began dancing as young children. South Africans may remember Oti as the eight time winner of the South African Latin American Champion title! The sisters later moved (separately) to Germany before settling in England.
With the world at her feet, it's hard to believe that Oti almost became an engineer…and actually studied Civil Engineering at university! But ballroom has always been her true passion… along with her husband Marius (37), a professional dancer from Romania.