As cases of Coronavirus (Covid-19) in Europe steadily climb, some Europeans have been stocking up in preparation for voluntary quarantines or forced lockdowns. The risk of contracting coronavirus within Europe has been raised by the EU today from 'moderate' to 'high'.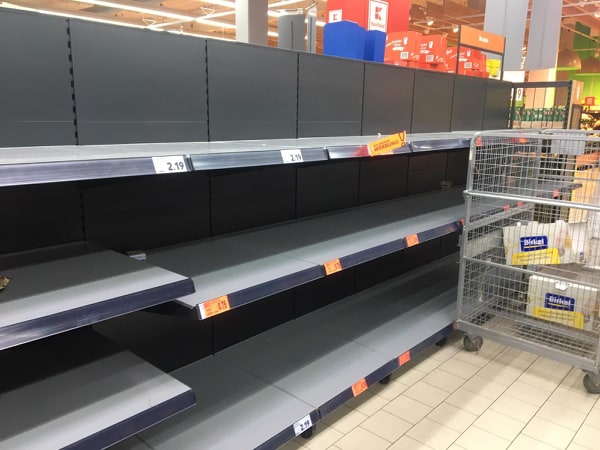 These photos were taken today at a supermarket in Germany, close to the border of France, by a friend of regular SAPeople contributor Elmarie Viljoen Neff (who herself lives in France). Germany has recorded 150 cases of coronavirus so far.
Elmarie says: "Panic shopping is real by us at the moment… The virus is close and getting closer. Case numbers are climbing fast. Latest case in France was of a mother and two children aged 1 and 5. They were taken to Strausbourg hospital.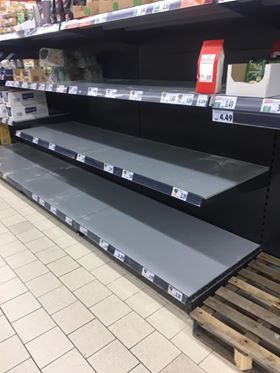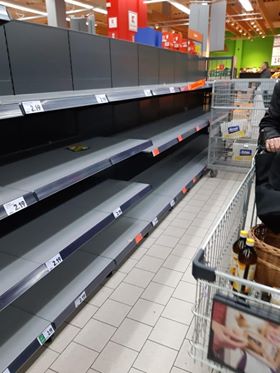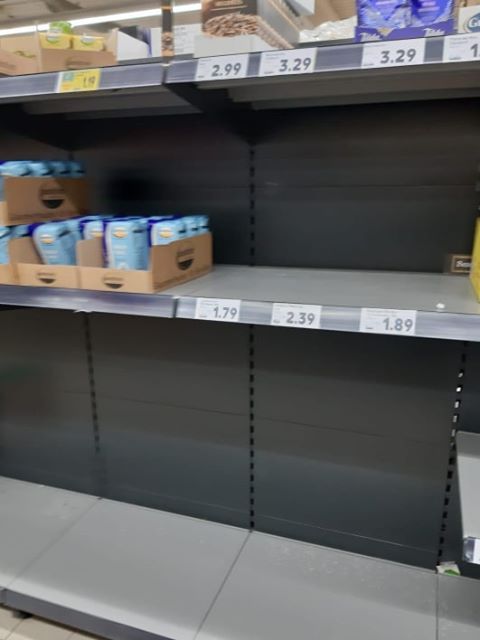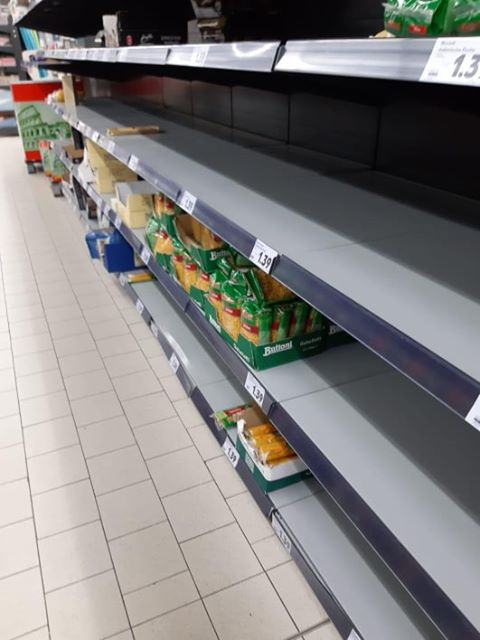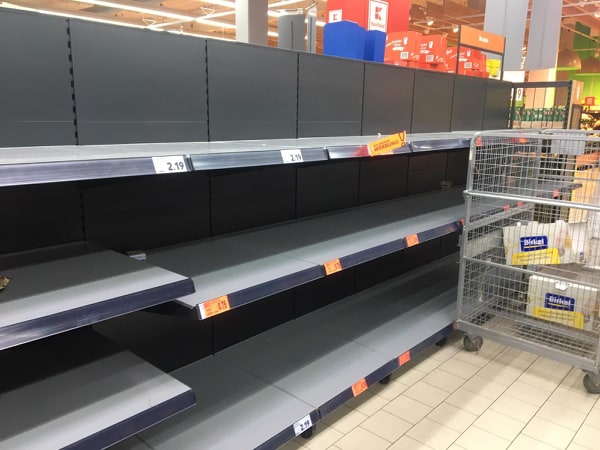 Expats in Paris also report noticing people are starting to stockpile, although these kind of empty shelves are not the norm, and most supermarkets in Europe are still full. Anne Bezençon in Switzerland says there's no panic there. "Hand disinfection bought this morning. Shops are still selling plenty of groceries! Good luck to all☘️"
Strict bans on public gatherings have been put into place in Italy and France (where get-togethers of more than 5,000 people in a confined space are temporarily banned).
Football matches in Italy have been cancelled and yesterday's half-marathon in Paris was cancelled. A famous property festival in Cannes on the French Riviera has been postponed, and a UN Global Event in Paris this month – where a South African coding project was due to take centre stage – has also been postponed for many months.
Professor Jean Greyling from Nelson Mandela University told SAPeople he feels "huge disappointment but understanding".
In France the number of confirmed cases leapt from 100 to 130 in the past 24 hours.
No More French Kissing
At this point the Cannes Film Festival in May is still going ahead, but South African expats in Cannes report that there's no more French kissing! The French health minister has advised French citizens to cut back on la bise (greeting each other with a kiss on the cheeks).
Doctors are also not shaking hands with patients as is usually customary.
"People have stopped shaking hands," says Elmarie, who lives further north. "My father-in-law went to his monthly club meeting yesterday and no one shook hands."
In Germany, a video went viral today of the Interior Minister declining to shake hands with Chancellor Angela Merkel as an anti-coronavirus precaution.
Latest Coronavirus Stats:
90,294 cases globally
Over 45,000 people have recovered
By Monday 3,080 had died from the virus (over 2,900 of those in China)
52 have died in Italy, and three in France
Outside of China, the highest number of deaths is 66 in Iran
More than 60 countries have reported cases of coronavirus, including Portugal, Ireland, USA, Indonesia, Saudi Arabia, Scotland and the Czech Republic.
New York reported its first case of Covid-19 today. So far six people in the US have died, all in Washington state (where people have also been stockpiling, particularly hand sanitizers and toilet paper)
The UK has a total of 39 cases, after three new ones were reported today. Prime Minister Boris Johnson held an emergency meeting. Details will be released tomorrow, but it's been reported that any lockdowns are far off, and would be voluntary in the beginning.
It's predicted the global economy could be halved this year, and airline companies could suffer crippling losses as travellers cancel their plans.
The number of confirmed cases in Hubei province, China, has increased for two successive days after a period of decline. WHO says it is monitoring the situation and working to understand its possible significance.
Tomorrow in Dublin, the Google teams – made up of about 8,000 personnel – have been told to work from home and not come into the office. One of the employees is "vaguely suspected to have the virus", reports the Guardian… and Google is using this opportunity to test remote working in case the situation escalates.
SA expat Lorraine Blauw, who lives in the Netherlands, took this photo showing "disinfectants sold out" at a shop in the Netherlands and says "people are stocking up on food as well. People are also travelling on the trains with masks to work. And they carried a guy out of a building in The Hague today with full epidemic gear on."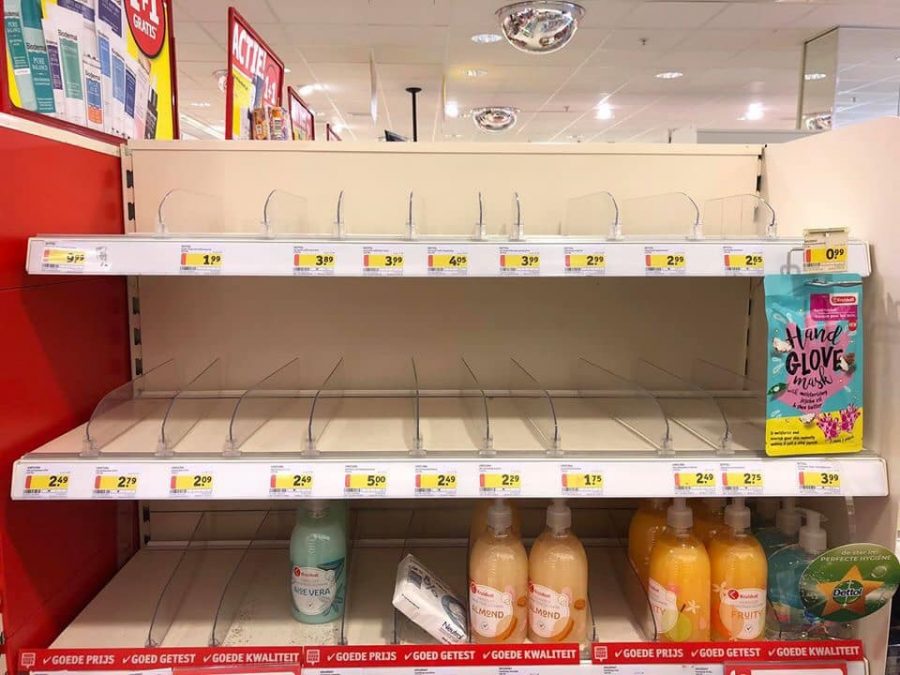 Meanwhile in South Korea, SA expat teacher Flower La Elizabeth Warner says the government today confirmed they have another two weeks off from teaching at school. She gave a "shoutout to the government for doing all they can to prevent further spread".
Flower says: "I don't think people realise the implications that the virus has on Korean society and everyday life."
She says it's important to be flexible and make the most of the situation, like learning Korean during this time off.