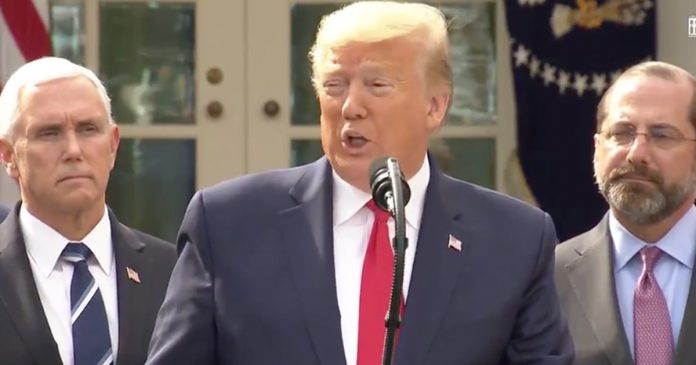 US President Donald Trump officially declared a National Emergency ("two very big words") on Friday, 13 March 2020, as the number of confirmed cases of coronavirus rose above 2,000 in the USA, with the death toll reaching 41.
To unleash the full power of the Federal Government in this effort, today I am officially declaring a National Emergency. pic.twitter.com/yu2GBcxWD6

— Donald J. Trump (@realDonaldTrump) March 13, 2020
We will remove or eliminate every obstacle necessary to deliver our people the care they need. No resource will be spared! pic.twitter.com/KcDZ9YoXZE

— Donald J. Trump (@realDonaldTrump) March 13, 2020
To play its part during this age of the Corona virus pandemic, Trevor Noah's The Daily Show will no longer be recording the show in front of a live audience from Monday.
For the South African comedian and TV host, the announcement was of course an opportunity for more jokes on the show this week… where he sang a final tribute to his last live studio audience, teasing them for cell phones ringing, crazy laughs, late laughs… or no laughs!
He ended the song with: "It's time for quarantine, you all. I can't wait until this is over, and the virus is beat… and all your asses are back in those seats. I love you guys…"
WATCH VIDEO Trevor Noah sings a tribute to the studio audience on The Daily Show
Trevor already caused controversy with his question – in reference to Coronavirus: "Is this how we all die?" Afterwards he explained that "where I'm from we laugh at everything". (See South African jokes about Corona virus which prove he's right!)
In South Africa, the COVID-19 virus has been positively confirmed in 24 patients to date.
If you're in South Africa, you can watch Trevor Noah on The Daily Show on DStv CatchUp.
Don't Miss Carte Blanche This Weekend
Could COVID-19 cause a global economic meltdown? In South Africa, a trillion Rands in value was effectively wiped off the Johannesburg Stock Exchange in a single day, while US stocks fell 7% on Tuesday this week. Watch Carte Blanche, this Sunday 15 March 2020 at 19:00, to find out more.
Watch in SA on DStv Now | Watch the show overseas from Tuesday