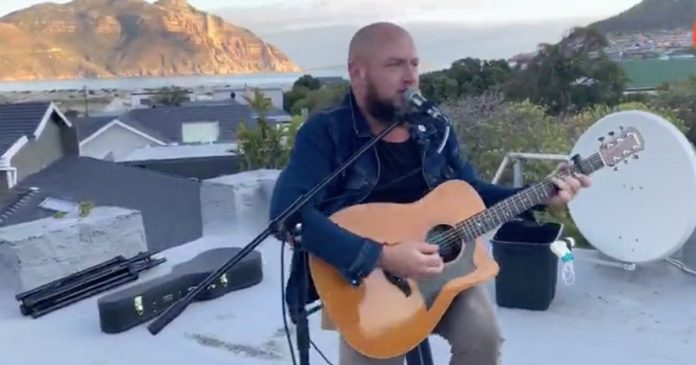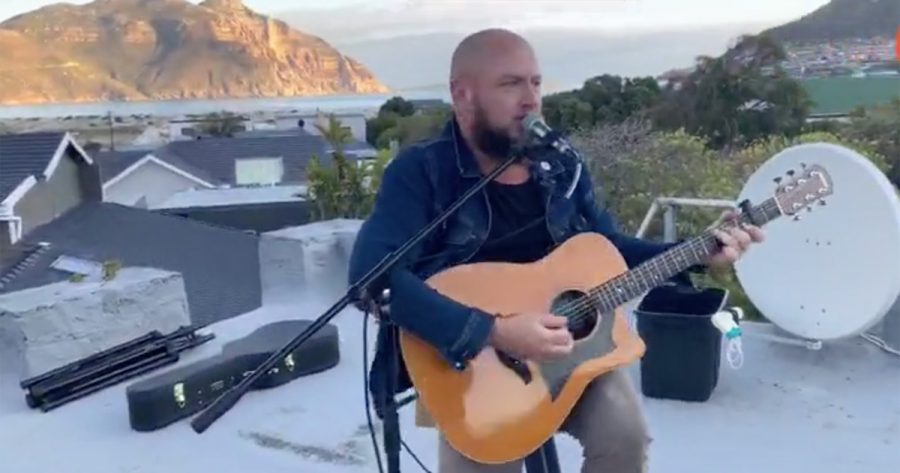 The best of humanity – and South Africa – has been on show from a rooftop in Hout Bay! This weekend Just Jinger's Ard Matthews entertained the folk in Hout Bay, Western Cape… and all those around South Africa and the world who watched the live streaming, or have seen the videos which are going viral.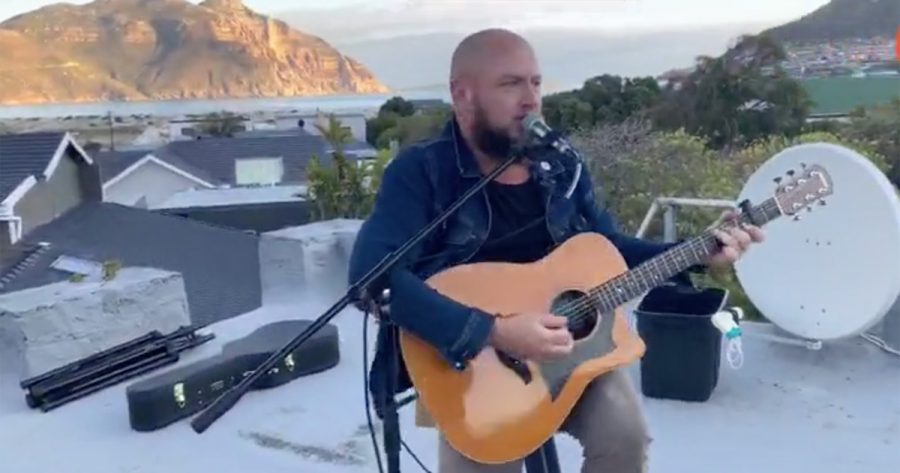 He not only sang to lift the spirits of those under lockdown, but also raised money for those in need with his #PlayItForward campaign, starting with musicians.
Terry Nicholas said: "I can honestly say that one day when we look back and reminisce about this surreal time in our lives, the thing I'll remember most is your voice, Ard, floating effortlessly and ever higher in the late afternoon sky… drawing people together, uniting them in love and music. Superb. Heroic."
Nkosi Scott (who is a music producer, according to his Twitter profile), posted a video on Saturday evening saying simply: "Hout Bay at the moment, Roof concert."
Hout Bay at the moment, Roof concert pic.twitter.com/51FQ9eAfZQ

— Nkosi Scott (@Muskidd) March 28, 2020
Neighbours and fans were blown away. Kim McGregor said: "You super human earth Angel ?. Well done Ardie ??"
Another social media user said: "So touching in these testing times. You. Are. Legend."
It sent chills all the way to South Africans overseas and around the country. Shantelle Houston said: "I wasn't even there and it gave me goosebumps. You're a champion ?"
Ceri Lee Cruz said: "So beautiful I can't express my gratitude to what you have done. Means so much to us small musos."
Linzi van Heerden added: "Watched it online from the Bluff. It was amazing Ard, well done. And amazing to see how many people opened their hearts and donated to such a wonderful cause."
On Sunday night Ard posted another awesome video – of a neighbour sending a gratitude gift over, using a drone. Ard said: "Are you kidding me? The human spirit in times like these. Best gig of my life. Wow, thank you ✌️?That is unbelievable, thank you
Ard Matthews."
Are you kidding me? The human spirit in times like these. Best gig of my life. Wow, thank you ✌️?

Posted by Ard Matthews on Sunday, March 29, 2020
Here's the full performance from Saturday evening:
https://www.quicket.co.za/events/102862-play-it-forward/?utm_source=EventPage&utm_medium=Sharebox&utm_campaign=Donate here!

Posted by Ard Matthews on Saturday, March 28, 2020
Music is bringing so much joy to South Africans in lockdown. A group has been formed on Facebook for all local musicians who "usually spend hours entertaining us" to contribute their talents so that their followers can enjoy their music this "anti social virus has passed."
"Come together and be safe," says the group's founder Gary Gibb.
You can join the South African Music Balcony group here.