As the number of fatalities from Coronavirus went up to 4, possibly 5, the increase in the number of positive cases rose only slightly on the previous day, by 46, according to the latest briefing on the pandemic by the Minister of Health, Zweli Mkhize. Despite the unexpectedly low rate of increase – 1,353 cases versus up to 5,000 that were anticipated – he said the country was preparing for a spike in cases.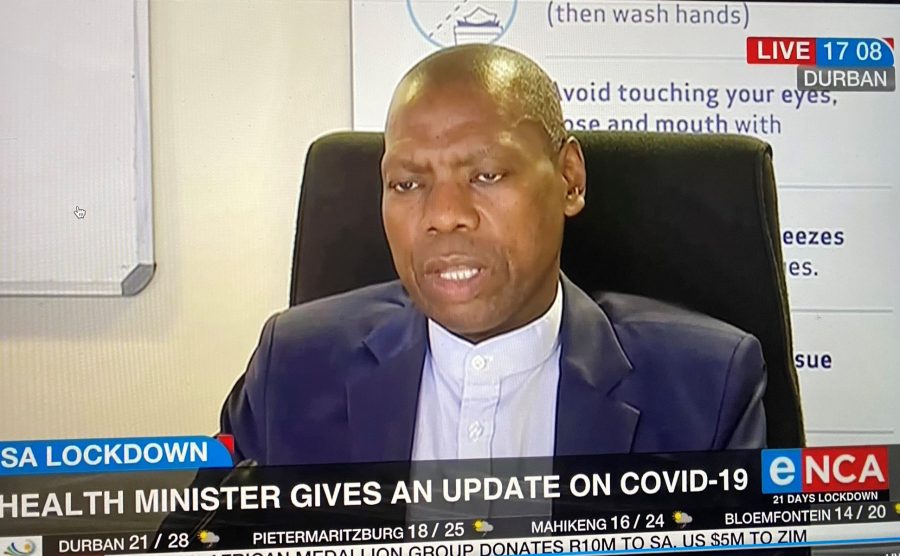 Mkhize said there were now 1,353 confirmed cases in the country, and 39,500 people had been tested. He said a fifth possible Corona victim had died, though the results on the cause still had to come in.
"We noticed a trend in past week. Rate of increase is not as high as anticipated. We are observing the trend. We anticipated 4000-5000 but we haven't reached that.
"Closing of ports of entry is a factor. Up to last week 70 percent of positive cases were passengers coming into the country.
"Reduction of traffic in trains and taxis has helped contain spread. We are picking up positive cases but quarantine means infection won't spread.
"We will see more and more mobile vans. We want to be ahead of the curve. Patients are recovering well. Most patients are stable. Numbers in hospital also increasing.
As for the mixed messages being sent out about the wearing of masks, Mkhize said people should wear them. "Whatever might have been said masks are useful and recommended."
"We are going to escalate testing and screening of patients. We are unveiling mobile testing vans.
"The reality is we have not admitted many patients. We have admitted 55 so far. But we must be ready."
That was why the government was looking for "temporary structures, existing buildings to utilize for extra beds. Must be centers where we can get extra beds to admit others. Looking at bigger sites to scale up numbers.
"The other aspect is these rapid test kits. We also want to use those to add on our own capacity.
"Life wont be back to normal after the lockdown. The lockdown worked in China and they are now no. 4 raging ahead with prevention. South Korea also dropped to no. 13 in the world."