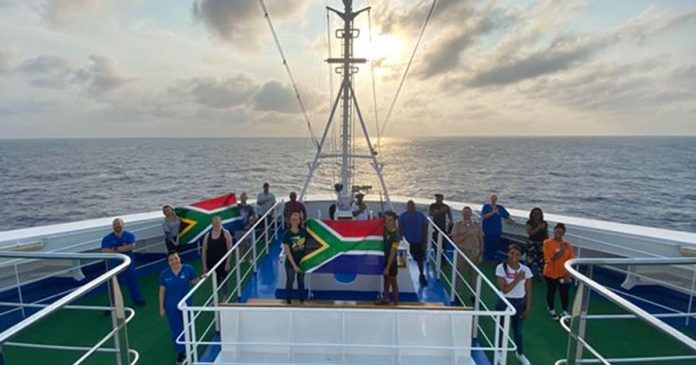 Phew, goosebumps! Watch this video of South Africans aboard a cruise ship last night, moored off the coast of Miami, singing their hearts out for the land they love and miss so much right now.
Natalie Fine, a South African citizen working on board the ship alongside 24 other South Africans (and 50 other nationalities), told SAPeople that DIRCO knows about their situation but "it's super complicated".
Many ships around the world are currently not welcome ashore, due to fears about the spread of coronavirus; but cruise liner companies have been going above and beyond to provide jobs and keep seafarers safe.
Natalie says: "It is very complicated for us to dock, never mind get flights but we are trying to stay positive!
"From us here at sea, we can't come home, but we salute the frontline workers at home. 🇿🇦✊"
To honour them, the Proudly South African group of Saffers last night held their SA flags up high and sang their hearts out with the National Anthem, Nkosi Sikelel' iAfrika… with a beautiful sunset as their backdrop.
Regardless of their plight, waiting indefinitely off the coast of Miami – they're counting their blessings. Natalie says: "There are thousands of us on ships all over the world. I am fine and safe. Companies are extending our contracts to keep us legally onboard until ways can be found to bring us home."
She says: "All good! We miss SA like crazy!✌️🇿🇦"
The video was filmed at 6pm Miami time on Easter Sunday. Natalie says: "For the frontline workers during Covid19, we salute you! #ProudlySouthAfrican #WeAreStillHere #SaffersAtSea #Home 🇿🇦✊"
WATCH VIDEO: Saffers at Sea Sing South African Anthem to Salute Workers Back Home
For the frontline workers during Covid19, we salute you!#ProudlySouthAfrican#WeAreStillHere#SaffersAtSea#Home🇿🇦✊

Posted by Natalie Fine on Sunday, April 12, 2020