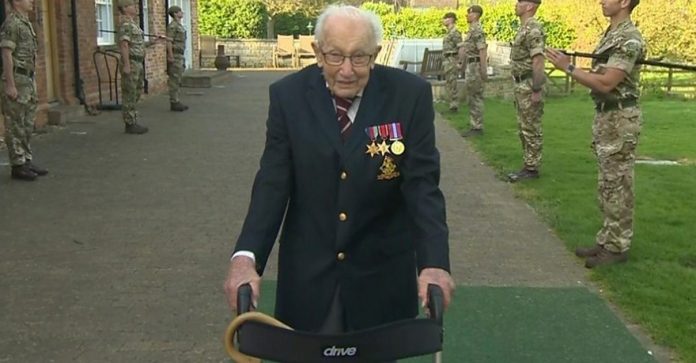 A British war veteran in the UK, Tom Moore – known as Captain Tom – has raised over £14-million (at the time of publishing) with his inspiring and unique fundraiser!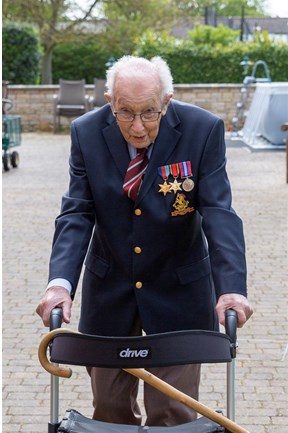 The 99-year-old today completed 100 laps of walking the length of his back garden (25 metres) – with his zimmer frame! – having walked ten laps per day for the past 10 days to raise sponsorship money for the NHS (who helped him when he had skin cancer and a broken hip). He completed the final four laps this morning (Thursday 16 April 2020).
However, he's not stopping! He told the BBC that despite completing what he set out to do, "I'll keep on going while people are still contributing to the National Health Service". And they are.
The former World War II soldier has inspired sponsors from around the UK and the world, as he raised funds walking the 100 laps before his 100th birthday on 30 April… and to raise money for the NHS.
In so doing he has taught all of us that you're never too old to make the most of any situation!
His fundraiser on Just Giving – where he had humbly hoped to raise £1,000 – has instead raised over £14.3-million – a whopping 2,500 percent more than Captain Tom set out to raise!
There were goosebumps all around today as he completed his 100th lap – wearing his full uniform with medals and all the regalia – and was saluted with a guard of honour from the 1st Battalion of the Yorkshire Regiment (a branch of which he was once a member, according to the Guardian).
WATCH VIDEO: Captain Tom Moore saluted by army as he completes 100 laps for charity
According to Sky, there have been calls for Captain Tom to be knighted by the Queen.
UPDATE: On Friday 17 July, the Queen knighted Captain Tom Moore. Congratulations Sir!