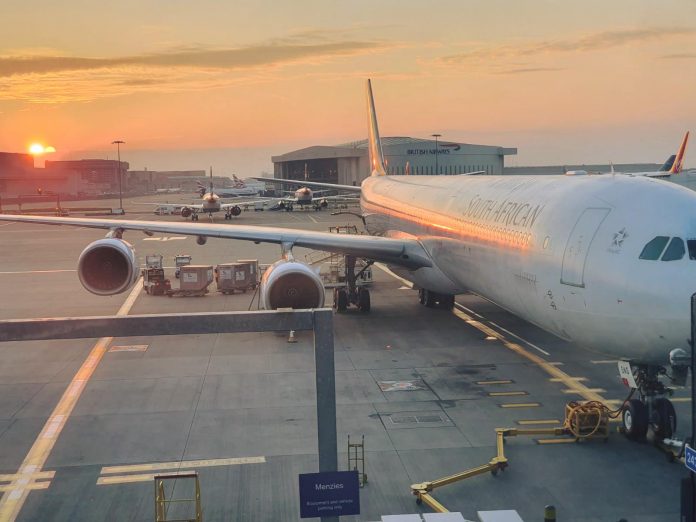 Loyal South African Airways (SAA) staff are begging the South African public to please support them in persuading the government to not turn its back on the airline. Listen below to a heartbreaking message from one of the airline's pilots to South Africans to take to social media and help #SAVESAA.
According to reports, the SA government has refused the airline's request for a R10-billion bailout; resulting in SAA's business rescue practitioners offering staff severance packages at the end of April. (See more details on Fin24.)
For most of the 4,700 employees they are gutted by the news.
For them this signals the loss of more than just a job – it's been their life, their calling. They weathered the storm during the Jacob Zuma years… and could finally see the light at the end of the tunnel as the company rid itself of the corrupt few at the top, and began positive changes – a streamlined fleet, enhanced fuel-efficiency, two routes making money, and more… whilst maintaining key assets like slots at Heathrow. The airline's trajectory was changing for the better.
These passionate and proud SAA workers – many of whom have been working all hours of the day and night to repatriate South Africans, some without pay – are now imploring South Africans to get behind SAA and help them continue to fly the flag high for the nation.
South Africa… We need u right now
Stan Coetzee, SAA's Manager at Heathrow, said in a message on social media: "South Africa… We were there when u needed us…. We need u right now… Please support us…. Let us serve you with pride and love for many more years…
"Please help us through this awful time.. We are so dedicated and passionate about SAA and our SAA family…. Please… Please… Support us and help us through this…"
It's deeply sad and ironic that at this moment in time, when South Africa has been able to rescue and repatriate its members because it has a national airline, that these flights could herald the airline's final swan song.
Listen below to the heartbreaking plea from a pilot on one of these repatriation flights, as he and his crew safely delivered hundreds of South Africans back home again:
WATCH SAA Pilot's Plea for South Africa's Support to #SaveSAA
The pilot says: "Please, if you're happy with what we did, please tell social media – we need all your help to survive. Please. We ask you this from the bottom of our hearts. Hamba Kahle. Go well."
Had South Africa not owned its own state carrier – like Zimbabwe, Botswana, Malawi and other countries – it would not have been able to repatriate its citizens directly and bring its own people home. Should SA lose SAA, and there's another pandemic, South Africans around the world would be at the behest of foreign airlines if they wanted to commercially help. The advantage of having SAA, its own flagship carrier, has meant that South Africa was able to mandate the trip.
The gratitude has been massive. Claudette Moore Upfold said: "Thank you each and every one of the SAA staff and crew… we are so blessed with your commitment and excellent service ?? we are so thrilled to have our loved ones back from the UK – thank you!!!! ? We applaud you."
In this time of crisis, the importance of South Africa having its own national carrier has never been more evidently clear.
In this time of crisis, the importance of South Africa having its own national carrier has never been more evidently clear.
Coetzee told SAPeople: "We just want everyone to be positive and support us – tell the government that we can't lose the national carrier. It's going to create untold unemployment.
"We are so distraught by the news… It is almost like having your child taken away from you and killed, and then telling you it's OK… you will find another one.
"SAA was not just a job for us… For most of us it was a passion… One that was constantly criticised…
"We as a SAA family are so close to each other… No matter what country we live in… We just want SAA to move forward as a proper organisation without corruption and all that… We are wonderful and want to be appreciated for that."
An SAA Duty Manager, Linda Jude Saunders-Robinson, seconded Coetzee and says: "Please please support us, we are an amazing airline with a passion to please you all… #flysaa#"
WATCH VIDEO: Repatriated South Africans Sing SA's National Anthem on SAA Flight Home #SAVESAA
South africa… We were there when u needed us…. We need u right now… Please support us…. Let us serve you with pride and love for many more years…. Please help us through this awful time.. We are so dedicated and passionate about SAA and our SAA family…. Please… Please… Support us and help us through this…

Posted by Stan Coetzee on Saturday, April 18, 2020
P.S. If you know anybody with a cool R10-billion to save the airline before the end of April, please let us know! Until then – if you'd like to support the 4,700 SAA staff, please take to social media and let them and the government know they have your support. #SaveSAA