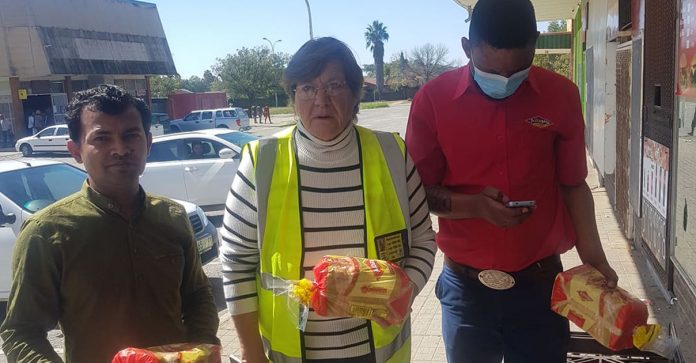 A shopkeeper, one of his customers, and a former police officer – who they call their 'Godmother' – have been keeping people in Merriespruit, Free State, feeling merry with generous hand-outs of food parcels during South Africa's lockdown.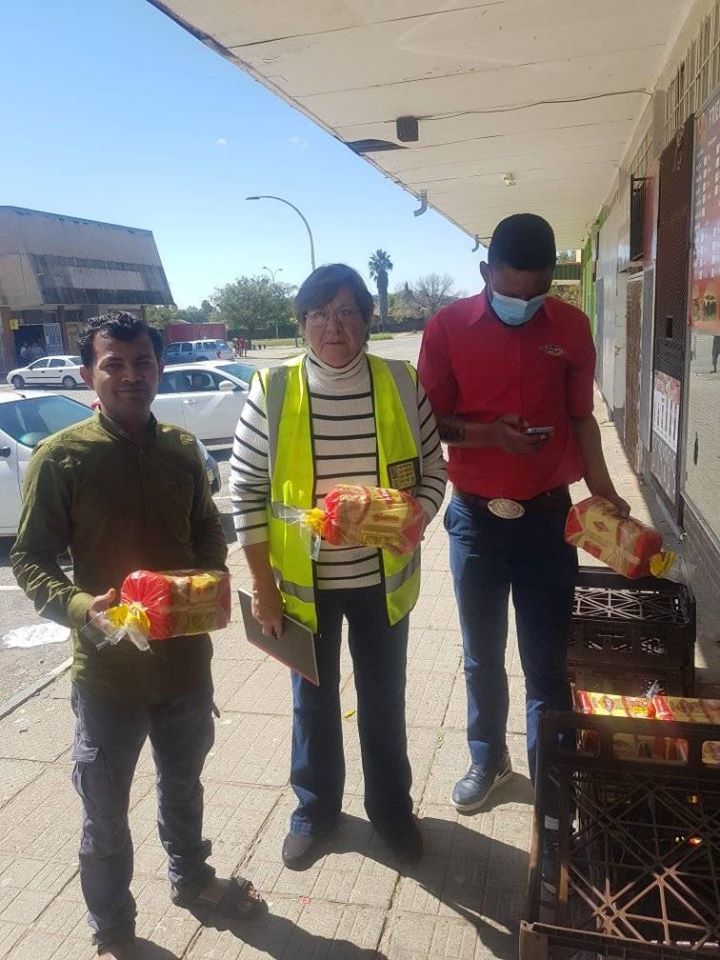 The three unlikely amigos in Virginia have been helping put food on the table, and a smile on the faces of desperate locals in the community, who have been running out of food to feed themselves and their children.
It all started less than a week ago, on Wednesday 15 April, when shop owner Sumon Sakhawet Hossin, who has lived in South Africa for just 13 years, decided to do a kind deed and create the food parcels. Whilst handing them out, he was assisted by longtime customer Theo Mjezu and a very special former police officer Marie Moolman.
Theo couldn't believe Sumon's generosity and took to Facebook to share the beautiful news about the Good Samaritan in his hometown.
Theo posted photos along with a message saying "just saw something that really made my heart melt…"
Theo said the supermarket owner – known as 'Shimon' – "gave away food parcels to the community who can't afford anything at the moment and what I loved is that he didn't choose whether you from SA or not, Black or White, but he did what he did from the kindness of his heart."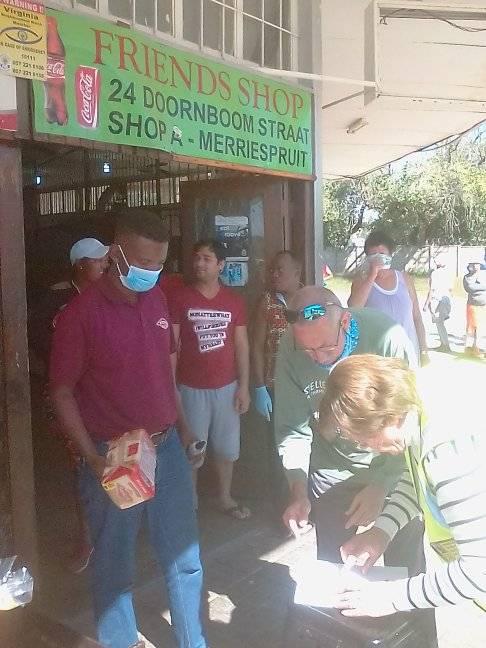 It's not the first time.
Sumon, who is from Bangladesh, has also handed out goodies at his shop – aptly named Friends Super Market –  to locals on Christmas Eve.
"He is one of the good guys," says Theo, who adds that if everyone had such kindness in their hearts this pandemic would be so much easier for those who have been hit hard. "God bless you SHIMON," he wrote.
This week Theo went one step further and enlisted the help of Albany Virginia Bakery manager Clarke O'Donovan.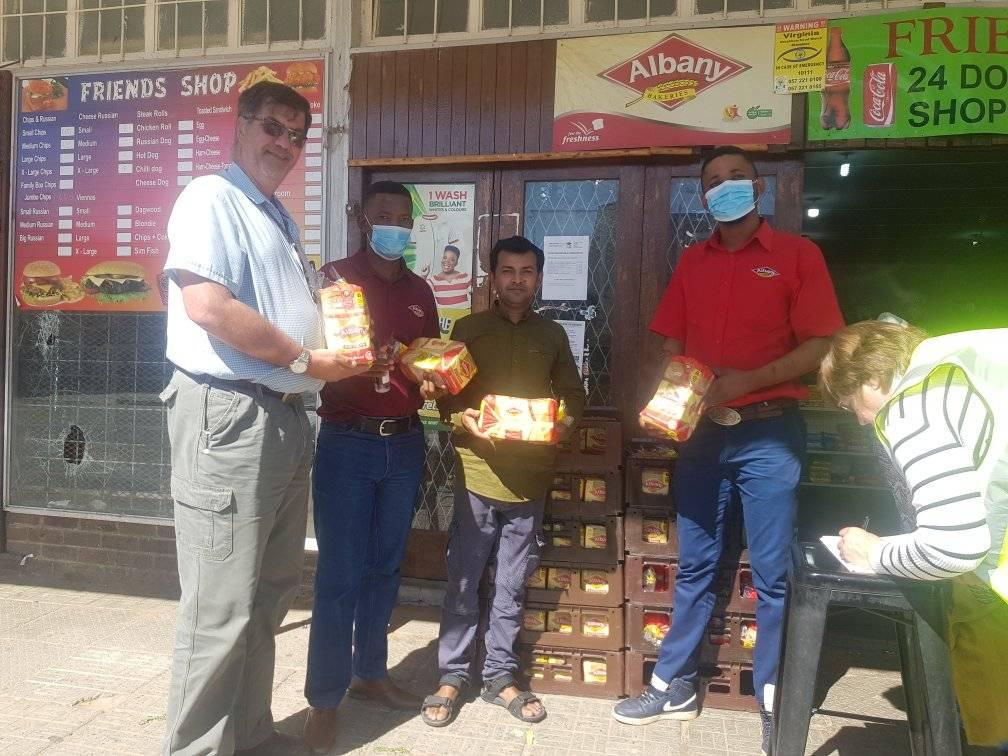 Theo says after what Sumon did last week without any support, he set himself the task of seeing if he could help the kind shopkeeper.
He asked Clarke if Albany could donate bread for the struggling citizens of Merriespruit… "and my plea was welcomed with a warm heart as Albany Virginia Bakery has pledged to supply bread every morning to the people of Merriespruit till we overcome this Corona virus…"
Sumon is blown away by the support. He told SAPeople he never thought what he did would go viral, and admits simply "I'm happy when people are happy".
On Wednesday he gave 115 people food parcels; and the next day – when 35 people arrived who hadn't known about the parcels the day before, he gave to them too.
Each parcel contains 10kg maize meal, 5kg potatoes and 500g onion.
This morning, thanks to the help from Theo and Albany Bakery a delighted Sumon was able to give 100 families a food parcel each.
Theo has known Sumon as an acquaintance for about eight or nine years, but from the moment they began handing out food together "we developed a kind of brotherly love, as our main concern is to help the poor".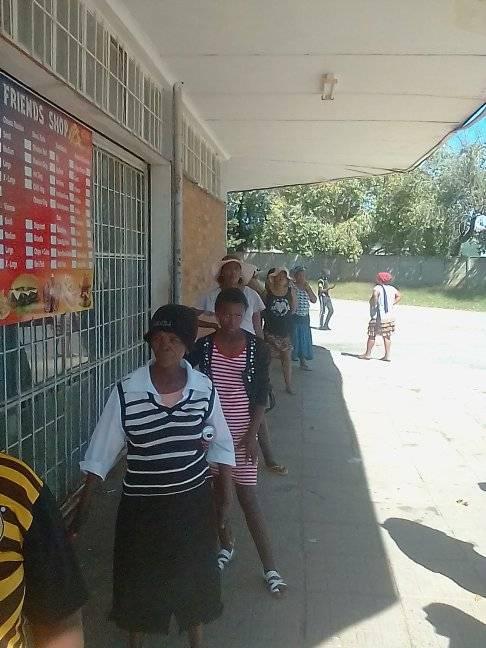 The most amazing thing is that neither of them are traditionally wealthy themselves. In fact Sumon describes himself as a "poor person" who therefore knows how "important food is at this time". This year he's already suffered three robberies at his shop.
He says Marie, a former officer in Virginia, is his long-time good friend. "When I have problems at my shop, I call Marie. She helps me," he told SAPeople. He says people know and respect her… which is why he asked her to help with the food parcels because then "people make no trouble to me".
Theo says that Marie, who he calls their Godmother, "is the one who inspires me in everything that's happening and that's about to happen to our struggling community as she is the heart behind this movement".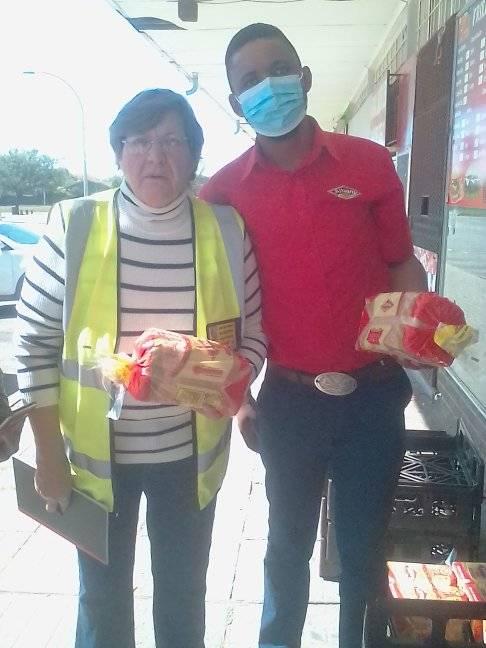 Today – on behalf of all the residents of Meloding Virginia – Theo thanked Albany Virginia Bakery, Clarke O'Donovan, Sumon Sakhawet Hossin, Marie Moolman and the South African Police Service (SAPS) for helping feed the local Merriespruit community.
"Together we can overcome this Corona virus," says Theo.
Friends Super Market's Sumon excitedly told SAPeople: "I will give food parcels every day until lockdown is over!!!"