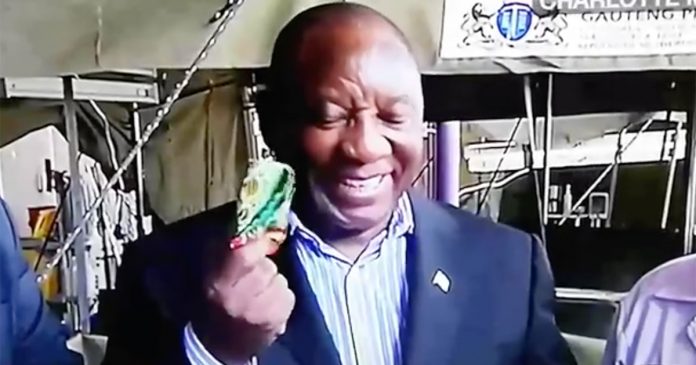 President Cyril Ramaphosa has proved just how great a leader he is, laughing at himself after the mask incident last night following his address to the nation. Watch below as the South African President jokes that he's going to open a TV channel.
Having the last laugh, the President said: "For those who were laughing at me yesterday, now let me tell you something – I'm going to open a TV channel where I'm going to teach people how to put on a mask…"
WATCH VIDEO: President Ramaphosa has last laugh about meme incident
So all the Karen's out there, even the President has a sense of humour! Maybe you should all go and work on yours too!!!!

Posted by Rene Berndt on Friday, April 24, 2020
After the President's understandable mistake last night (initially covering his eyes with the mask), one or two people created memes and tried to make fun of the President, but most of the country rallied to his defence, pointing out how exhausted he is, and thanking him for putting his country above all else.
Some of the comments that rolled in from South Africans after President Ramaphosa's mask mishap, included:
Bronwen Chuter: "We laughed WITH him not AT him – looking a bit of a twit in front of a large audience is a human failing and is something every one of us has experienced. It lightened the moment and created unity not division😃 GO CYRIL 💙💛💙"
Nicole-Ann Naidoo: "It's been a long time since we as a nation have felt this much love and respect for our leader. Thank you for all your efforts. You may never be able to please everyone but you do the majority. We salute you Mr. President."
Kay Budge: "He has done a really good job to protect people during this outbreak .. as someone from UK, who is struggling a lot with my own government handling of the pandemic, I can only say well done South Africa!"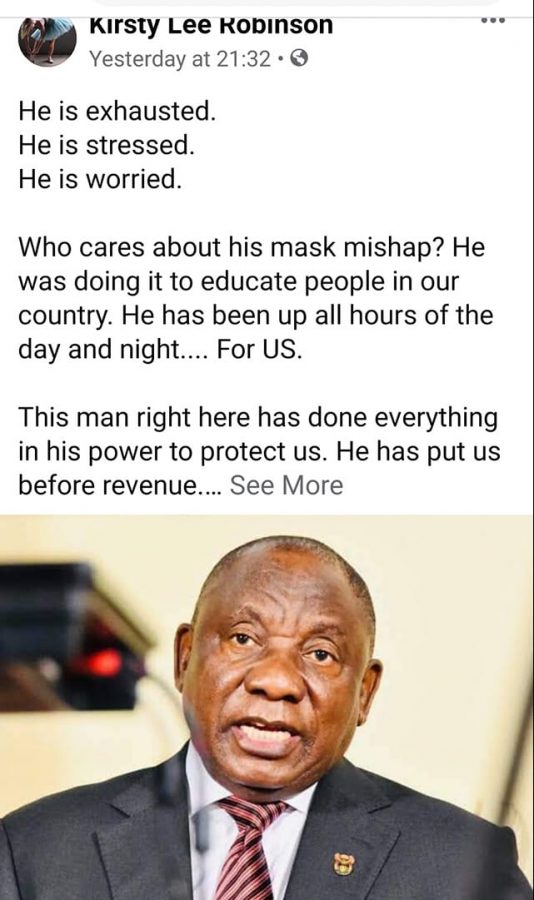 Judi Pole Merrington: "He has been amazing and human, I have huge respect."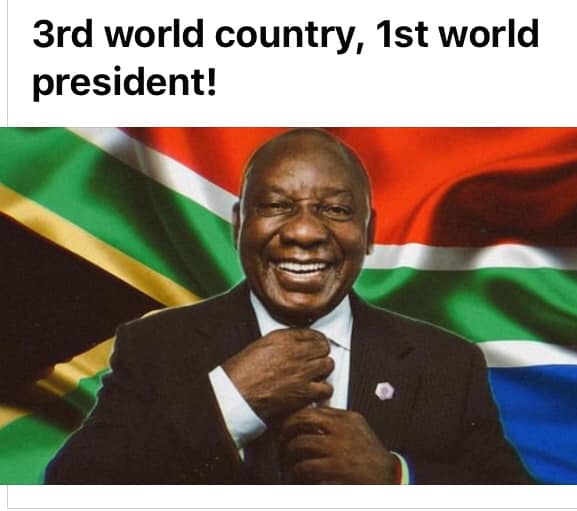 Jeff Grange: "It was funny, not humiliating, guess he had a laugh himself."
Robyn Gwilt: "I LOVED your moment of just being a human last night, and I think everyone did. It was a light moment we all needed. Stay strong… You are appreciated… Even if I'm not an ANC supporter! 😜 Can't wait to see you flex your muscles after Lockdown on all the Tsotsi's in the ANC! Vasbyt!"