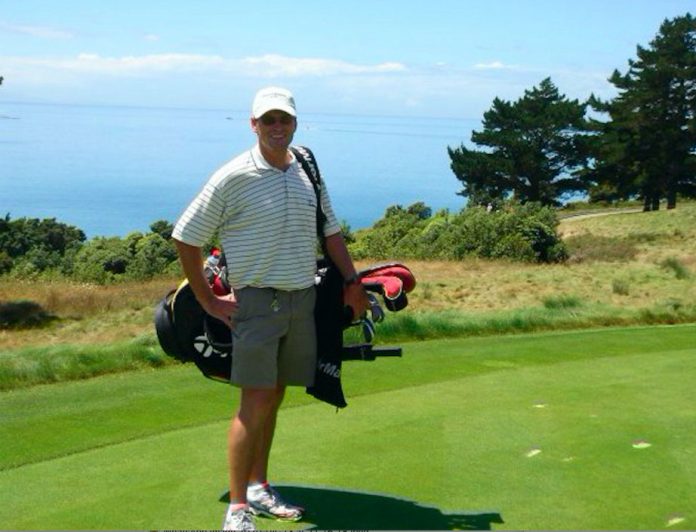 Two good friends and passionate golfers – South African Laurence Wells, who caddied on the European Tour for over 15 years and Australian Brian Nilsson who is still caddying on the same tour since 2000 – have teamed up away from the fairways of the world during the Coronavirus pandemic, to auction some of their amazing golf memorabilia in an effort to feed 4,500 starving people in Thailand every week.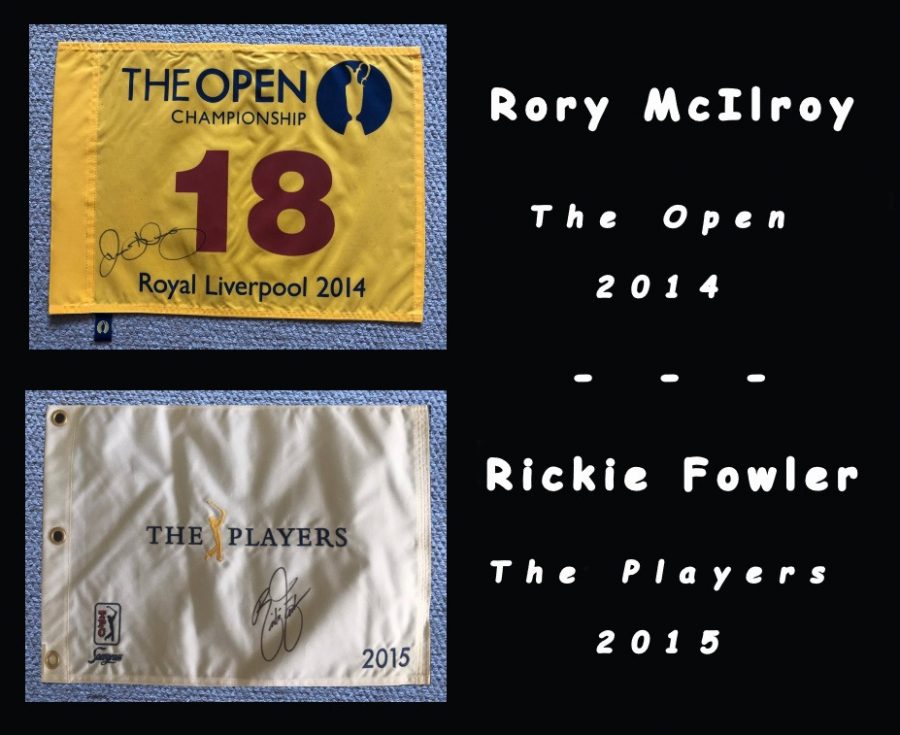 For only £5 you can enter for a chance to win the above 2014 British Open golf flag signed by winner Rory Mcllroy or the 2015 Players flag signed by winner Rickie Fowler.
Laurence – who grew up playing amateur golf in South Africa with Major Champions like Ernie Els and Retief Goosen – played on the Sunshine Tour for three years and caddied for many years – for SA veteran Hugh Baiocchi, Retief Goosen and others. He has met all the golfing legends including Tiger Woods. Now that he has a young family, Laurence works closer to home for an Events company in London (which gives him a chance to watch the Springboks when they're in town).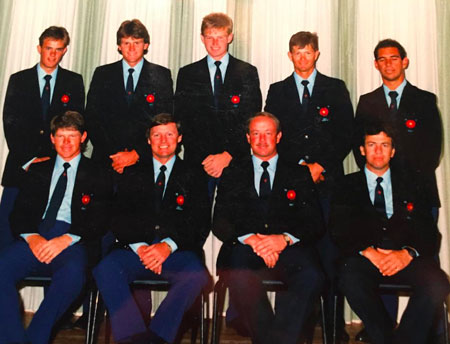 Laurence met Brian almost 20 years ago when they were both caddies, often travelling together around the world for tournaments. Brian, who turned pro in Australia in '95, is now based in Thailand where he lives with his lovely wife who works for Singha SMG Golf Management Group.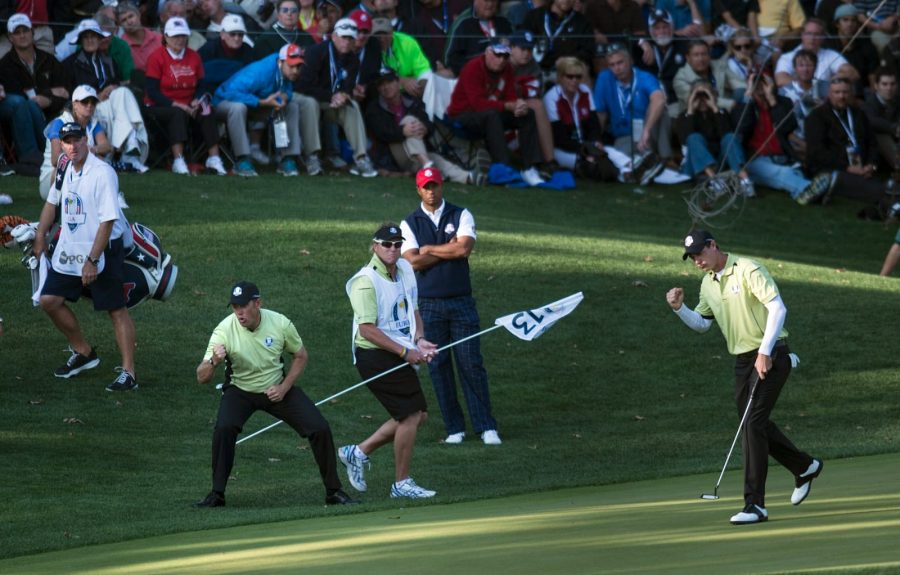 Right now Brian is surrounded by thousands of locals in Thailand who have lost their jobs in tourism… and are left with no money, no food and no government handouts.
So, during this Coronavirus pandemic, Laurence and Brian have teamed up again (from afar) in a campaign – called #HappyTummyHilltop – to help feed over 4,500 people a week.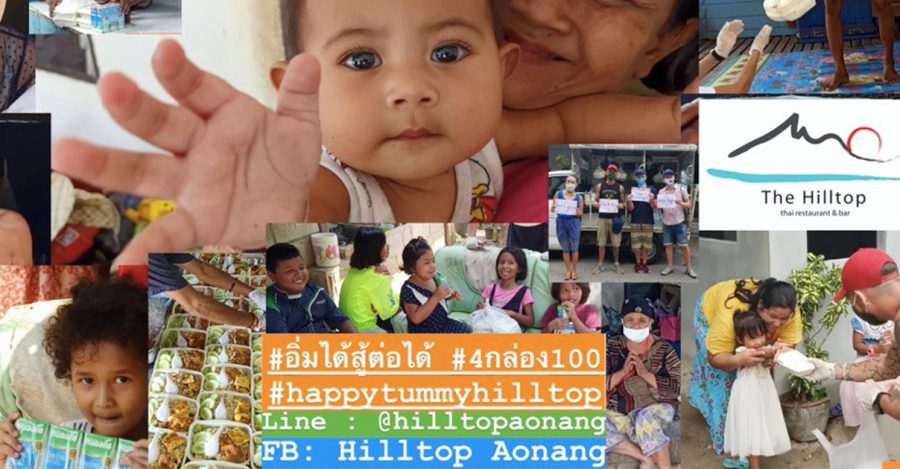 While Brian is on the ground in Thailand getting and preparing the food they need and managing the distribution logistics, Laurence is in the UK auctioning his golf memorabilia collected over the years to raise the funds needed to keep Brian's operation going.
Only £5 feeds 8 people and that's how much it costs to stand a chance to win one of two great prizes:
A 2014 British Open Flag signed by the winner that year, Rory McIlroy.
A 2015 Players Championship Flag signed by the winner that year, Ricky Fowler.
To be in with a chance to win one of these two prizes, please donate here:  https://www.justgiving.com/crowdfunding/thailandhappytummy
Laurence says: "Please, please support us by donating at least £5 to this worthy cause. £5 feeds 8 people and not only will you be helping us, but you will also have the chance of winning one of these two incredible prizes. We will ship anywhere in the world and you can enter as many times as you want to at £5 per ticket. The draw will take place live at 1pm UK time on 8 May 2020 on SGH Sporting Events lunchtime chat show (12-1pm) on Facebook."
***
Laurence Wells grew up playing amateur golf in South Africa with 4-time Major Champion Ernie Els and 2-time Major Champion Retief Goosen in the late 1980's before travelling to Europe in 1990 and starting his caddying career there in 1991. He first caddied for South African veteran Hugh Baiocchi, then for his good friend Retief Goosen from 1992 to 1995 and the following year for Zimbabwean Tony Johnstone.
Still playing golf to a good standard and the course strategy he learnt as a caddy, he finished 8th at the Tour School in South Africa in 1997 and played on the Sunshine Tour there for 3 years until eventually running out of money and losing his card. So back he went to caddying until 2011 when he stopped because having a young family and being away from home so often was not working out too well. Laurence now works for an Events and Hospitality company in the UK and loves going to watch the Springboks play at Twickenham.
Brian Nilsson turned pro in Australia in 1995, playing the pro-am circuits half the year and teaching at a driving range the rest of the year. In 2000 he went to Europe and caddied for his good friend John Senden there. Other players he has caddied for between 2002 and 2009 include Jamie Donaldson, Anders Hansen, Brett Rumford and Peter O'Malley. In 2010, Brian started with Belgium Nicolas Colsaerts, who he still partners today. In 2011 they won the Volvo China Open and then in 2012 they won the World Matchplay in Spain before being selected to play for Europe in the 2012 Ryder Cup at Medinah Country Club in the USA. During the first day fourballs, Colsaerts and Lee Westwood took down Tiger Woods and Steve Stricker, when Colsaerts made history with the greatest debut by any Ryder Cup player, 8 birdies and an eagle.
A few lean years followed on the US Tour and in Europe without any real success until they claimed another great victory in last year's French Open.