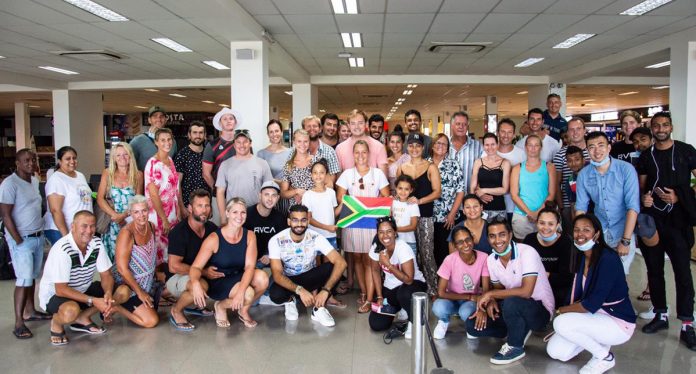 What started as a dream holiday in the Maldives turned into a mega repatriation mission as South Africa and the world began to lock down borders… writes Jenna Berndt. A Flight Centre customer and his travel agent started a rescue mission that involved three weeks of sleepless nights, a US$104 000 charter flight, government approval from three countries and eventually the safe return home of 41 South Africans on 11 April 2020.
Lloyd (41) and Laetitia (38) Flanagan from Durbanville, Cape Town, were with their two young daughters on a family holiday in the Maldives. This was their annual holiday and a chance to celebrate their 11th wedding anniversary.
"No one could have predicted the rapid scale and impact that the virus would have in the days and weeks to follow," says Flanagan.
The family were enjoying their vacation, expected to return home from Maldives via Dubai on 26 March 2020. On the 25 March, the UAE closed their borders and the family's flights were cancelled.
Nicolle Bester (27), Flight Centre Travel Expert in Village Square, Durbanville, the Flanagan's travel agent, looked for flights to get the family home. "Remaining flights were limited and very expensive," says Bester.
"At that point, the thought that we would be stuck in the Maldives did not cross our minds," says Flanagan. "The exact point where we felt stuck, was after a phone call at 02h00 Maldivian time when Nicolle's efforts to get us onto alternative Etihad, then Qatar flights, fell through… we had new flight tickets, we made the payments, and then all flights were cancelled."
"Upon receiving this news, my heart sank and I just burst into tears," says Bester.
"The financial implications of being stuck in the Maldives indefinitely was absolutely terrifying," says Flanagan. "Logically we knew that it would be safer for us to be stranded on a remote island where we were basically in isolation and had the freedom of a splendid "backyard," however, emotionally we wanted to be in the safety and familiarity of our home and close to loved ones."
After Bester recalled an email Flanagan had sent to the nearby DIRCO offices and embassies, she reached out to the Honorary Consul of South Africa in the Maldives, Mohammed Ali Manik, assistant Aminath Adam, and Deputy Johannes Van Niekerk from the South African Embassy in Sri Lanka.
The travel agent WhatsApped them all in desperation.
The Consulate offered their assistance and the idea to charter a flight home for the ten Flight Centre passengers began to transpire. It quickly turned into a mission team to try to get all the South Africans in the Maldives home.
"The biggest challenge was that the cost of this charter flight was to be self-funded by the passengers," says Flanagan. "We received a quotation of US$104 000 from Maldivian Airlines."
"The initial cost per passenger came in at ±US$3 500 per person, after which some of the South Africans started pulling their names off the list, as they simply could not afford it," says Bester. "We ended up adding 11 Mauritians, which brought some financial relief to the
remaining South Africans."
Richard Niyaki (25) from Johannesburg was in the Maldives for work, only planning to return in mid-May. "The night I read that Emirates will be suspending their flights, within minutes of this announcement, my travel agent at Flight Centre, Roxanne Brits, was there to notify me of the Emirates flights being stopped and was ready to assist me in changing my booking or to hear what I wanted to do," says Niyaki. An alternative flight was cancelled after which Niyaki opted for the charter flight.
The initial departure date was set for 1 April. However, it took ten days for the process to be finalised. Passenger lists and permits had to be approved by three governments, passengers changed their mind throughout the process, adding and removing their names from the list, the initial aircraft was then no longer available and other obstacles delayed the process for an agonising ten days.
Finally, at 16h30 Male time on 11 April, the group of 41 South Africans and 10 Mauritians departed the Maldives.
After reading worrying reports on social media, the group also feared the conditions awaiting them at South Africa's quarantine facility.
"However, on arriving at OR Tambo Airport and being police-escorted to our quarantine facility at the Eskom Academy of Learning (EAL) centre in Midrand, we were met with comfortable, clean and safe conditions," says Flanagan.
The group tested negative for the coronavirus.
"One of the best messages that I have received throughout this mission was the one from Mr Flanagan at 19h10 on the 15th of April, saying: 'We're home!'" recalls Bester.
Flanagan reiterates his thanks to Bester and the mission team that got them home.
"During the three weeks it took to fit all the moving parts together, Nicolle was in constant communication via our WhatsApp group and almost instantly responded to all requests, suggestions and questions (which oftentimes were almost bizarre). She was relentless in her pursuit to get the 40 of us home, and we are sure she survived those three weeks on minimal sleep," says Flanagan. "Without Nicolle's commitment, tenacity and patience
(trying to organise a group of 40 adults is no mean feat), we would no doubt still be in the Maldives."
"Credit must go to both the Maldivian and South African governments, the South African Consulate in the Maldives and the South African Embassy in Sri Lanka, and Maldivian Airlines," added Danie Bezuidenhout, another South African that returned home on the charter flight.
Niyaki also added his thanks, in addition to the above, to the Maldivian crew on the flight and the quarantine facility staff in South Africa.
"We all walked away from this experience with a lot more patience, gratitude and hope in humankind," concludes Flanagan.
Sadly, a charter flight that South Africans stranded in Australia, New Zealand and Indonesia hoped would take them home, has been cancelled.