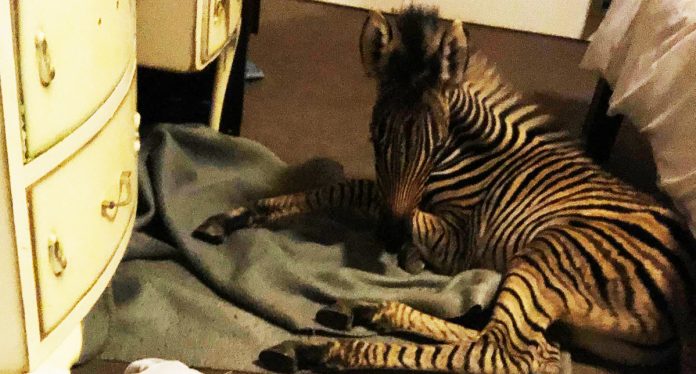 An orphaned baby zebra spent the night in its rescuer's childhood bedroom last night, as lockdown regulations and other challenges in Zimbabwe meant it was too late to get the newborn to the Free to be Wild Sanctuary where it is headed. Baye Pigors, who founded the sanctuary in 2014, said at 9pm last night that she was "shattered" after being on the go since 11am when she received a call from a farmer hundreds of kilometres away who had found a newborn zebra whose mom had died shortly after birth. Here's Baye's story about the harrowing rescue…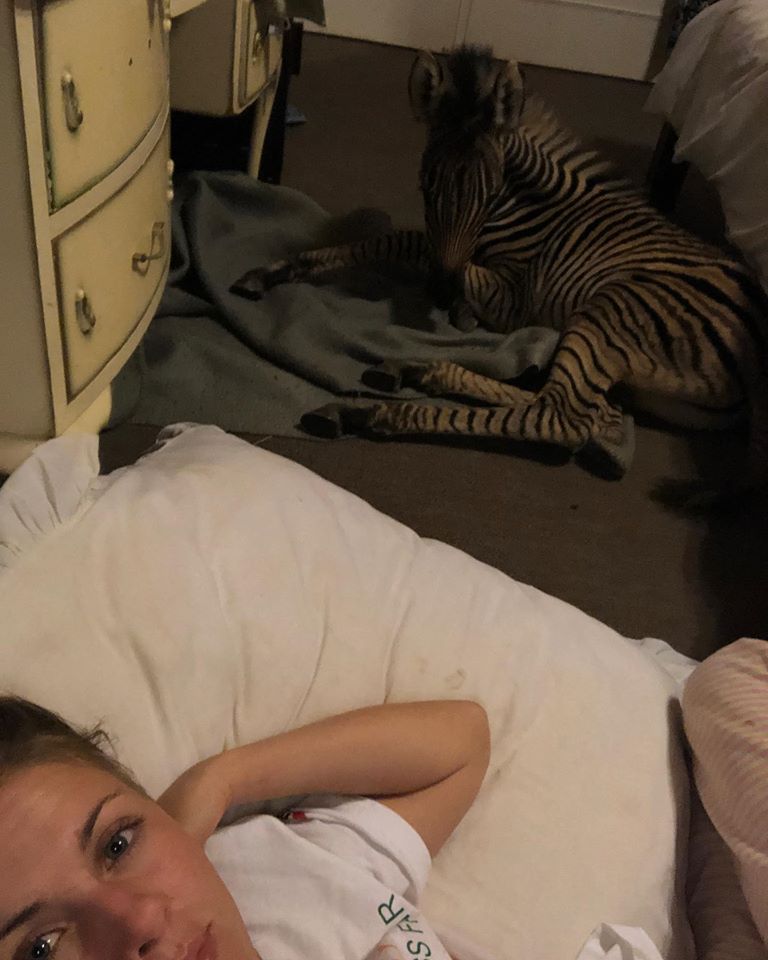 "With the shutdown, the army and police are on the roads in full swing. Without the correct papers, no one can move around meaning we were the only hope of getting help for this baby.
"As I was leaving the house to head to town and find petrol, just the beginning of the challenges we would face, my baby girl picked up a wasp and got stung. Delayed. I felt awful for having to leave her but our window to collect the zebra was so short.
"Eventually finding petrol I started the 200 km journey to collect Khumbu (one of the sanctuary's wildlife carers) who is at our phase1. Five police roadblocks I finally get to him. Lunch tin packed by my mom, I forgot to eat the whole day.
"We head off another 200 km trip to the farm, we made it except the vehicle decided to suddenly triple fuel consumption. 4 pm. Seven more roadblocks. Zebra is loaded. Now we don't have enough fuel to get home and the closest town 50 km away has none. We find a man who kindly takes us to a village where we buy 15 litres for the price of 30 on the black market.
"6:30 pm we get to my parents' house; it's too late to continue the remainder of the trip home which is another 160 km.
"Thank the angels a friend dropped off some foal formula here for us this afternoon. We stop and get the foal settled in my old bedroom, it has a carpet so the safest place for him where it's warm and he can't slip. We make the formula and use 23 different bowls, pans and utensils to do so. Angry mom!
"He won't take to a bottle. But is so thirsty after much trying with no success we offer him a bowl. He drinks it right up. With no colostrum from his mom, we don't know if he will make it… all we can do is try.
I tried to leave the room to shower but he freaked out, so now it's 9 pm and I'm lying on the floor with him because he won't let me leave.
"I tried to leave the room to shower but he freaked out, so now it's 9 pm and I'm lying on the floor with him because he won't let me leave.
"He already lost one mom and right now just needs some security. I lay on the bed, he jumped on and peed everywhere. 10 pm is his next feed and every three hours from here.
"My head hurts and my heart worries. My baby is home with her dad. And I wait to see how the night goes. It's been a day! 🌺💜🦓"
This morning Baye shared the good news with SAPeople that the little zebra made it through the night and has eaten all his meals so far!
"He is a bit wobbily but has life in him," says Baye. "So fingers crossed he is a fighter!"
She adds: "He also doesn't have a name yet so we would love some suggestions?" Let us know if you have any ideas!
Free to be Wild is a wildlife rescue, rehabilitation and release centre, situated on the outskirts of Bulawayo. Baye founded the sanctuary after receiving her first orphaned baby baboon in 2013 and realising there was no local organisation geared to the rehab of primates with the ultimate goal of releasing them back into the wild. Free to be Wild is a non-profit organisation and relies solely on donations from the public. Follow Free to be Wild here.