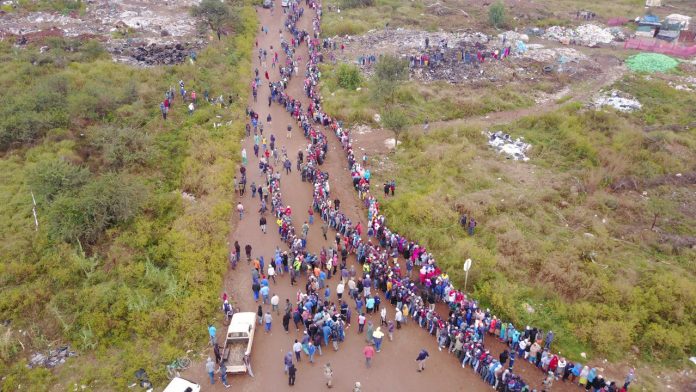 Video footage of thousands of people queuing for food parcels near Centurion, South Africa, on Wednesday has gone viral around the world, raising concerns that humanitarian aid is needed. (Watch video below.)
The aerial footage captures the desperate situation for many people in South Africa who have found themselves without an income or food during the country's lockdown, caused by the global covid-19 pandemic.
South Africa has recorded over 5,000 positive cases of coronavirus, and over 100 deaths.
The emergency food parcels were delivered yesterday to an estimated 12,000 families from Mooiplaas and Spruit, in Gauteng… the majority of whom are reportedly foreigners from neighbouring countries like Zimbabwe, who do not qualify for government aid.
Reuters said it had been informed by social cohesion advocate Yusuf Abramjee that about 90 percent of the inhabitants of these informal settlements are "foreigners or undocumented migrants from other southern African nations like Zimbabwe".
According to Operation SA, there were 8,000 food hampers distributed by the Tshwane Muslim Community and Sunderland Ridge Business Forum who have formed a charity coalition. The video of the queues in Mooiplaas Centurion was provided via Pro-Active Security, said Operation SA.
Peter Hain, a well known British politician and former anti-apartheid activist, said the footage shows the need in South Africa for humanitarian aid.
Abramjee, a spokesperson for the coalition, posted the video on Twitter saying: "People are hungry. It's a real crisis."
Abramjee told Reuters: "That just shows you the levels of desperation that we have. I've not seen anything on this scale, not these levels of poverty and hunger in South Africa. It's heartbreaking."
Abramjee said the queue was about 4km long at one stage.
WATCH VIDEO People Queue for Miles for Food in South Africa
The Gift of the Givers, and several citizen initiatives have been helping feed starving people around the nation.
The Department of Social Development says it is working tirelessly to ensure that no person goes to bed hungry. The department says that food parcels are being distributed to thousands of families in dire need of assistance across the country.
Addressing the media on Wednesday, Social Development Minister Lindiwe Zulu said over 58 000 households and about 250 000 people have already started receiving these food parcels through the Community Nutrition Development Centres (CNDCs) and Knock and Drop deliveries coordinated by provinces.
She said this was made possible by the National Departments that have allocated a sum of R20 million and R23 million from the Solidarity Fund to provide emergency food parcels to the value of R700 per household.
— Operation SA (@OperationSA1) April 29, 2020
Look at the queue pic.twitter.com/jIY2Po881N

— Operation SA (@OperationSA1) April 29, 2020
If you wish to donate or contribute to Operation SA, visit Sanzaf.org.za.