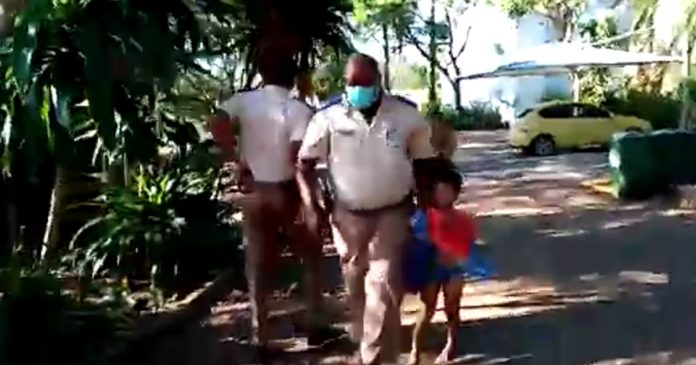 AfriForum's Private Prosecution Unit, headed by well known Advocate Gerrie Nel, is currently investigating the recent incident in Chaka's Rock, KwaZulu-Natal, involving a four-year-old child who was seen being manhandled by two officers in video footage that went viral around South Africa.
AfriForum said in a press statement that the organisation is investigating the "unjust and arbitrary behaviour by municipal peace officers of the KwaDukuza Local Municipality in Ballito".
According to AfriForum, the intention of the officers is not yet clear and forms part of the investigation.
Eleven people were arrested in the Chaka's Rock incident, including an 88-year-old man and his 81-year-old wife, for failing to comply with current Lockdown regulations which forbid South Africans to walk on the beach. (Some other countries have a similar regulation in place, in an attempt to stem the spread of coronavirus.)
The officers were apparently responding to a complaint after several families had been seen on Chaka's Rock beach at around 7.30am on Sunday.
The families with their children were already on their way home when the officers arrived to arrest them. A witness who filmed the incident, told the Courier: "We were nowhere near the beach when the police barged into the complex to arrest us in full view of our children who were completely overwhelmed when they saw their parents being taken away."
AfriForum's Private Prosecution Unit is currently in contact with various members of the public that were arrested during the incident, as well as with the attorney of the person who appears in the footage.
This special unit is also investigating other similar cases of peace officers and law enforcement officers in the country who have allegedly abused their power.
The focus is not exclusively on the question of whether the officers acted in accordance with the law, but also on the manner in which they treated members of the public in the execution of their duties, said AfriForum.
"These types of abuse of power by government officials, who are supposed to be protecting the public, are unacceptable," says Kallie Kriel, CEO of AfriForum.
"Law enforcement officials that are entrusted to enforce government's lockdown regulations (that are usually vague and open for interpretation) must remember that they are not interacting with hardened criminals when it comes to normal members of the public who are trying to make sense of these regulations.
"We simply cannot allow a precedent to be created where brutality (especially against children) is permissible by government officials."