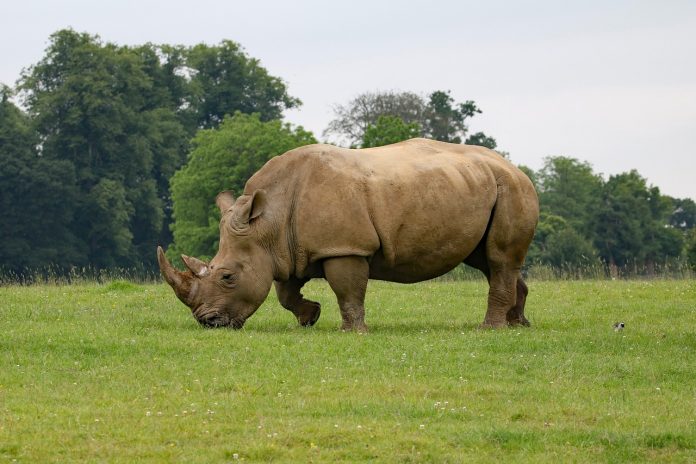 Rhino poaching in South Africa has (fortunately) suffered a significant decline during lockdown… although sadly it has not ground to an absolute halt, and could spike after the pandemic as poachers make up for their losses. But for now, the good news is that in April 2020 the Kruger National Park recorded the fewest rhinos poached in a single month since September 2013!
The Minister of Environment, Forestry and Fisheries, Minister Creecy, said in a press statement that "this could be attributed to the reduction in rhino poaching activities to the disruption of the supply chain resulting from the national travel restrictions, including limitations placed on movement across the country".
Because of the nationwide lockdown, SANParks has closed park entrance gates to tourists. This has had an impact on poaching as poachers are now unable to use drive-in and drop-off tactics they had previously utilised to kill rhino for their horn.
A total of 14 rhino were poached in the whole of South Africa during April – the first month of the national Covid-19 lockdown. A total of 46 rhino were poached nationwide in March 2020.
"We believe that the closure of our borders and the complete shutdown of international air travel removed the key way that syndicates use to supply horn to transit and consumer countries," said Minister Creecy.
In the Kruger National Park five rhino were poached during April 2020, compared to 46 in April 2019.
In KwaZulu-Natal six rhino were poached, two were killed in Mpumalanga and one in North West Province.
In April 2019, a total of 61 rhino were poached nationwide.
Significantly, not a single rhino has been lost in the Intensive Protection Zone of the Kruger National Park since the start of April. This has not happened in this particular part of the Greater Kruger area in a single month since 2007.
The sharp decrease in rhino poaching in the Kruger National Park last month comes after the park recorded that the number of births equalled the combined natural and poaching deaths for the first time in five years by the end of 2019.
But rhino poaching continues in SA
Despite the lockdown, incursions into the Park by rhino poachers have however continued.
There has been an increase in the effectiveness of the K9 unit using free running hounds supported by rapid reaction through air support and improved mobility.
Minister Creecy applauded Rangers who continue to apply technology to support early detection and follow-up operations.
Between January and April 2020, 33 poachers were arrested and 20 heavy calibre firearms confiscated.
Following an intelligence-driven operation, police arrested three suspects in Limpopo after they were found in possession of six rhino horn. The two men and a woman have been changed with trafficking of rhino horn. During the arrest, six rhino horn, a sizeable amount of cash, three vehicles and a number of hunting knives were confiscated.
Pertaining to bushmeat poaching, rangers continue to remove between 80 and 150 snares from especially the western boundary of the park, said the statement, noting that poaching for bushmeat in the Kruger National Park has not increased because of the lockdown.
"The dedication of essential staff, particularly our rangers, anti-poaching and canine (K9) teams who remain on high alert in all our national parks during the Covid-19 national lockdown, is to be commended," said the Minister.
"Poachers will need to kill more animals to be able to pay their debt"
Experts have warned that poaching could sharply increase after lockdown and that COVID-19 will have a devastating effect on wildlife. LW van der Merwe, security manager at Tswalu Kalahari Reserve, says: "My current thoughts are that the poachers are extremely busy. They are recruiting now. The lockdown and 'lay off' of staff have created the 'perfect world' for the poachers to build new networks of informants, and this is unpreventable.  My predictions are that we will experience the 'perfect storm' once they find a way around the restrictions.
"There are rumours that the price on Rhino horns has dropped a lot.  It is a double-edged sword.  The poachers will need to kill more animals to be able to pay their debt or get money to put bread on their tables."
Dr Duncan MacFadyen, Head of Research and Conservation at Oppenheimer Generations, says instead of security operations focussing on "essential training for essential services", it's important right now for anti-poaching operations to gain a better understanding of the modus operandi of poaching syndicates during the pandemic.
If you haven't watched it yet – don't miss the award-winning STROOP – Journey into the Rhino Horn War which traces the rhino poaching journey from South Africa to Asia. STROOP is currently available on Showmax in SA and overseas (in most countries). Watch the trailer below.
WATCH Stroop: Journey into the Rhino Horn War