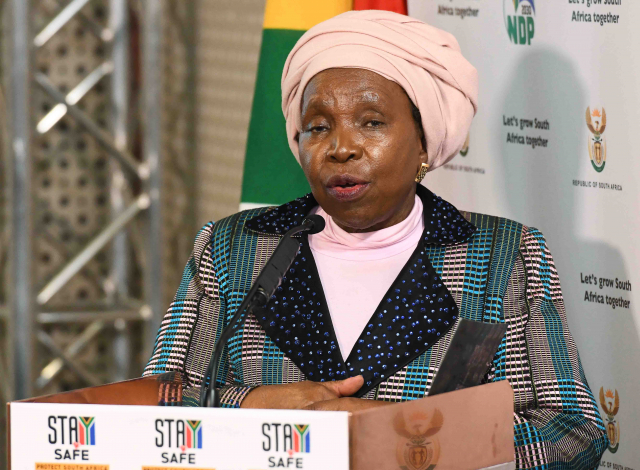 COGTA Minister Dr Nkosazana Dlamini-Zuma's Level 3 regulations for South Africa, released today, have been met with frustration and widespread shock and horror. The keyword in response seemed to be "irrational" with the DA adding that the regulations "lack scientific basis" and AfriForum demanding  the Minister recall them. The DA said it will use all means necessary, including heading to the courts, to fight the regulations.
Haniff Hoosen – DA Shadow Minister of Cooperative Governance and Traditional Affairs – said today's announcement confirms that the government is more focused on undermining South Africans' freedoms than fighting the coronavirus pandemic.
"These regulations once again are illogical, irrational and lack any scientific basis," said Hoosen. The regulations are due to be implemented from 1 June 2020, as SA eases from Level 4 to Level 3.
Level 3 regulations that raise the DA's concern include:
Churches will re-open but other businesses and institutions (like restaurants) are deemed unable to operate with the same levels of safety;
"We do not believe that the continued ban on the sale of cigarettes is justifiable after the reasons offered by Minister Dlamini-Zuma in her court papers. Cigarettes should be sold which will bring an end to the booming illicit trade which is costing us billions of rands and harming millions of consumers," says Hoosen;
Although Government has removed the curfew from the Level 4 regulations, they continue to restrict the times at which people may exercise, from 6am to 6pm. "There is simply no rational argument why anyone cannot exercise at any time, and how doing so, will contribute to the spread of the virus.";
"It also makes no sense whatsoever, why a single parent must endure lengthy court applications and apply for a permit to transport their child, when ordinary South Africans are allowed to visit a liquor store from 9am to 5pm, from Monday to Thursday. This provision is a huge and costly inconvenience for single parents and it is our view that this should be removed entirely from the regulations";
The continued restriction on hair salons and personal care services is "disappointing and will have a massive impact on the thousands of small businesses in this sector, many of whom are being forced to operate illegally 'underground' or have already closed their small businesses permanently," says Hoosen. "There is no justifiable reason why government finds it acceptable to allow dozens of commuters to travel on planes and taxis, yet a salon cannot operate with five persons with the same levels of safety and sanitation protocols.";
"The sale of liquor for only four days in the week will not contribute in any way whatsoever towards the mitigation of the spread of the virus. In fact, it is likely to have the opposite effect as this provision will promote massive queues at liquor stores on Thursdays."
Hoosen says the DA rejects the "heavy-handed authoritarian manner in which government is handling the lockdown regulations and we will continue to use every means necessary, including the courts, to fight for our hard-won freedoms that remain secured in our Constitution."
Minister must recall irrational risk level 3 regulations
AfriForum called on Dr Dlamini-Zuma to recall the "irrational regulations announced for risk level 3".
Hotspots
The organisation pointed out that Tshwane and Ekurhuleni metros which have been classified as "hotspots" have 3,7 and 4,5 Covid-19 cases per 100,000 people… which is less than the five active cases that Health Minister Dr Zweli Mkhize had set as the bar.
"People are tired of being treated like subjects. We are not children; we can make our own calculations. It is unacceptable that one minister announces a guideline, only to be contradicted the next day by another minister," says Barend Uys, Head of Research and Development at AfriForum.
The reasons for using five cases per 100,000 people as guideline was also not explained to the public, says AfriForum.
Game Reserves, Museums and Beaches
AfriForum said the minister must also recall the regulations according to which game reserves, open air museums, beaches and parks remain closed.
"It is irrational because it is easy to maintain social distance at such places and good circulation of air is a given. There is no rational reason for the continued closure of museums – the same social distancing and other measures applicable can be followed, as is the case with other places," said the organisation in a press statement on Thursday.
AfriForum also said that exercise being restricted to the hours of 6am to 6pm is an "unnecessary violation of people's freedom".
"It is worrisome that churches are singled out. The number of people allowed for a whole working day within a working environment is determined by the floor space of the building, while church gatherings, no matter the size of the building, are limited to a maximum of 50 people," Uys concludes.
EFF leader Julius Malema did retweet a comment by Sentletse in which he points out that the more tests conducted the more cases of coronavirus are being detected, and "this shows that there is greater prevalence of the virus than the reported figures suggest. Opening up everything without capacity to test large numbers is irresponsible."