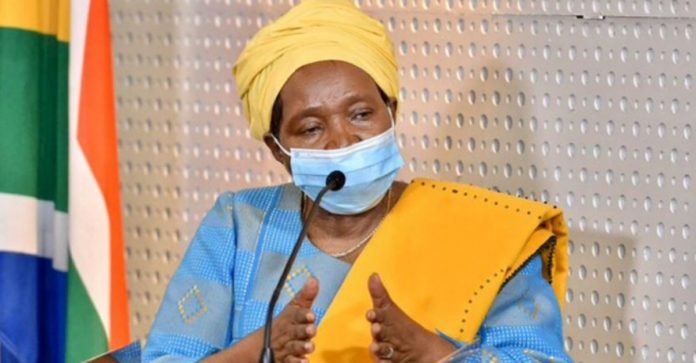 The ANC Caucus says that "unwarranted racist and misogynistic attacks" on COGTA Minister Dr Nkosazana Dlamini-Zuma have continued unabated despite several condemnations by the ANC leadership and progressive sectors of society.
This comes after a Western Cape social media user posted a morphed photo depicting Dr Dlamini-Zuma as an ape.
The ANC says: "We will leave no stone unturned to ensure that the likes of Danie Herselman and his lunatic ilk face the consequences of their vile actions."
The man, who is reportedly from George, was responding to a post by another social media user who had said: "How did we get another Zuma? Did she get South Africa in a divorce settlement?"
He answered with the offensive picture, saying: "Daars jou antwoord" (There's your answer)
In a statement on Saturday, the ANC accused the mass media, particularly on social media, of deploying an "orchestrated campaign" to discredit Dr Dlamini-Zuma's "good work".
The Minister has come under attack for banning the sale of cigarettes in South Africa during lockdown, as well as for the reasons she cited for the ban. Yesterday SA's opposition party, the DA said that the fact that "Minister Dlamini-Zuma took the decision to make up a number of alleged supporting submissions and then lie to the people of South Africa in her briefing should be grounds for immediate suspension from her position".
Today in the statement, issued by Chief Whip Pemmy Majodina, it said: "These latest attacks and caricatures on the person of Dr Nkosazana Dlamini Zuma are a continuation of similar attacks that were waged against her person as the former Minister of Health when she took on the tobacco lobby groups as well as pharmaceutical companies as we radicalized the primary health care sector decades ago.
"As a consequence of her bravery; our health system for years was able to focus on preventive measures that have now enabled the tertiary health sector to be in a better situation to deal with the COVID-19 pandemic."
The ANC Caucus said said it views these "frontal attacks as gross human rights and will join any legal action or class suit aimed at preferring charges against those actively engaged in these violations."
The Caucus called on law enforcement agencies and human rights bodies to investigate charges against those who have engaged in these "hateful acts" using South Africa's various anti–hate speech and anti–racism laws.
The ANC Caucus reiterated its support for President Cyril Ramaphosa, Dr Dlamini Zuma as well as Health Minister Dr Zweli Mkhize and the entire Cabinet who have "continued to perform their national duties diligently in terms of the Disaster Management Act of 2002 whilst guiding the nation through various timely regulations issued consistently since the declaration of the State of Disaster."