South Africans stranded in Mozambique will be allowed to return to SA during a three-day period, the Department of International Relations and Cooperation (DIRCO) announced on Tuesday night.
Dirco said in a Facebook message: "[ANNOUNCEMENT]: DIRCO is pleased to announce that following discussions with our Mozambican partners, all South Africans stranded in Mozambique can return home through all borders."
Using the hashtags #RepatriationSA #COVID19, the post included an image on which it was written that the South Africans will be allowed to travel back home from Mozambique through all borders for three days, from 12-14 June 2020.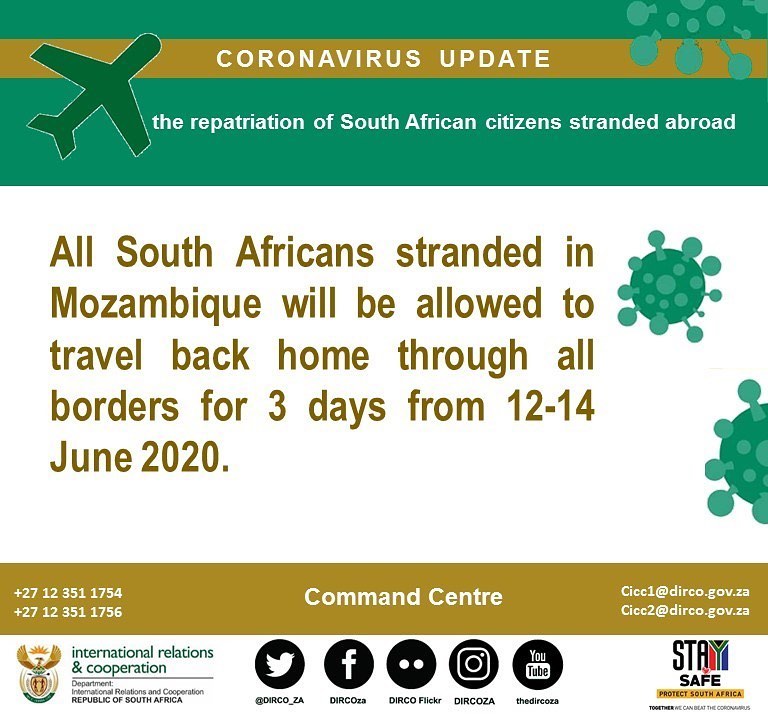 The post did not clarify whether those South Africans returning from Mozambique would be required to go into quarantine, nor whether they'd be permitted to fly between provinces to get back home.
Over the weekend, DIRCO also announced the successful repatriation of six people from Dakar, Senegal 🇸🇳, 35 people from Lilongwe, Malawi 🇲🇼, and 51 people from Luanda, Angola 🇦🇴.
Meanwhile today, one happy mother of a seafarer posted the following joyful message:
My beautiful girl is coming home! Thank you #royalcaribbeaninternational#celebritycruises#canyonranchatsea#hafh#dirco , but mostly THANK YOU GOD and to all that had prayed with me!

Posted by Annemarie Thiart on Tuesday, June 9, 2020