While the Eastern Cape is going through a health crisis, unable to deal with the COVID pandemic, the ANC's "delusional" health MEC has been showing off 100 scooters that won't be able to handle rural roads, according to the Demoractic Alliance.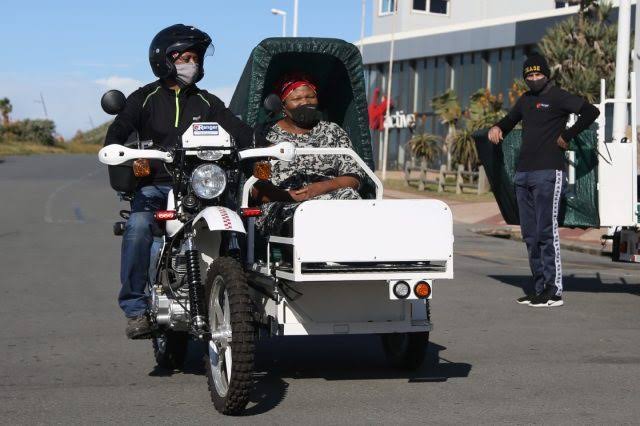 Instead of focusing on the crisis at hand, said Jane Cowley, DA Eastern Cape Shadow MEC for Health, the MEC of Health, Sindiswa Gomba, launched 100 1920's-style scooters, "parading up and down the East London esplanade, while her colleagues clapped and cheered." Cowley dubbed it "Scootergate."
It was reported earlier today that Eastern Cape hospitals are in crisis. According to a report on News24, "Floors covered in human waste, bags full of medical waste in the corridors, beds without sheets and naked patients covered in sheets being wheeled into theatres."
Visits to various hospitals in the province showed similar problems. Warnings have been sounded that the Eastern Cape could become a major hotspot for COVID-19 cases. By Friday, 8,615 people in the Eastern Cape had tested positive versus 8,781 in Gauteng; there were 208 deaths versus 57 in Gauteng.
"This entire Scootergate saga smacks of corruption!" said Cowley. "This at a time when the Department owed suppliers and service providers over R3 billion at the end of the last financial year and is factually insolvent with contingent liabilities of almost R30-billion!
"MEC Gomba is delusional to believe that these scooters will function for any length of time on our rural roads when off-road ambulances have been destroyed by them.
"The exercise has cost the Department a reported R10,1 million, for what has now effectively been downgraded to health education and awareness props.
"The money spent on scooters would have been far better spent on fixing the hundreds of ambulances that are standing still, waiting to be repaired, or better yet on ensuring that frontline workers are suitably equipped with Personal Protective Equipment (PPE)."
Cowley said she would be writing to the Minister of Health, Dr Zweli Mkhize, to request that the Eastern Cape Department of Health be placed under administration in terms of Section 100 (1) (b) of the Constitution (Act 108 of 1996) with immediate effect, to ensure that appropriate levels of accountability and competence are restored to the department in order to ensure effective health care delivery.
Eastern Cape government bought those scooter ambulance prams for R94 000 each and additional R6000 for maintenance for three years. The deal is worth over R10m pic.twitter.com/FgefvbS9Rs

— Peter Moyo (@petermoyo6) June 15, 2020