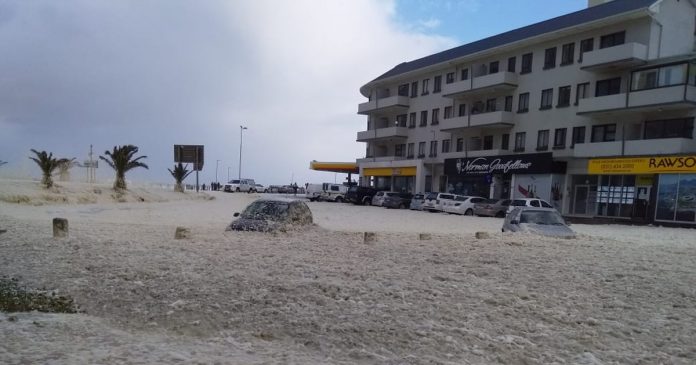 The Cape of Storms is living up to its name today as huge foamy waves have been crashing over the barriers in Sea Point, along the Atlantic Seaboard, as the predicted Cold Front hits the Western Cape of South Africa.
The SABC News Western Cape shared video and photos of the flooded scene near the Shell Garage in Three Achor Bay this morning, where waves were crashing onto the road.
Unfortunately the strong gale force winds in Strand have demolished several temporary classrooms at Nomzamo High School near the N2, said the SABC.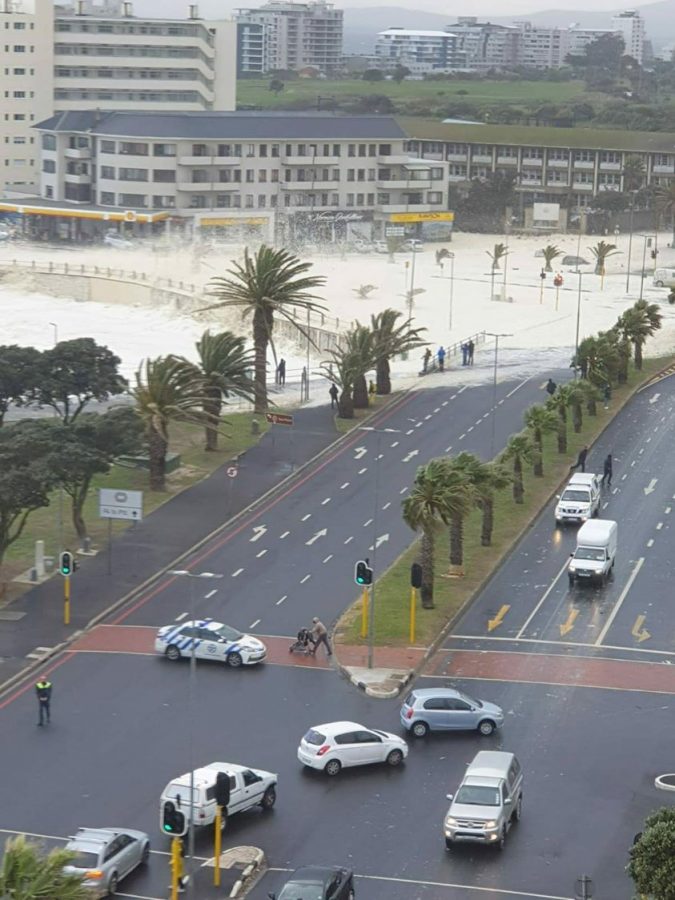 The SA Weather Service (SAWS) has posted satellite images showing a comparison between today's storm (13 July 2020) and the monstrous Cape Storm in June 2017 with an incredible resemblance. "Stay safe," said SAWS.
High to very high seas and storm surges are expected… and are being experienced. See below…
WATCH: It's snowing foam in Cape Town!
It's snowing sea foam in Sea Point, Cape Town @TimesLIVE @SundayTimesZA @SAWeatherServic @CapeTown pic.twitter.com/wPmCTg9l5t

— Esa Alexander (@ezaap) July 13, 2020
WATCH Huge foamy waves crash over the barriers in Sea Point, South Africa
WATCH: Huge foamy waves crash over the barriers in Sea Point along the Atlantic Seaboard.

Posted by SABC News Western Cape on Monday, July 13, 2020
Waves and wind in Three Anchor Bay #winterwaves #ColdFront #CapeTown #capetownweather pic.twitter.com/TnsNAdELN4

— People°s Weather (@peoples_weather) July 13, 2020
The South African national weather service has issued warnings of:
Gale to strong gale force winds (65-100km/h) are expected over most of the Western Cape, southern Northern Cape and parts of the Eastern Cape today (13 July 2020). Marine and coastal communities should especially take extreme precaution.
Disruptive snowfall expected on the SW high ground of the Northern Cape and the western mountains of the Western Cape. Snowfall accumulation of 15 to 25cm can be expected.
This morning in Cape Town:
No regular storm…crazy day ahead!#CapeTown sunrise at 7:49am.@Heart1049FM @lovecapetown #Capetownisawesome https://t.co/OcXvZibNo8 #storm pic.twitter.com/LJ9gjwyVXr

— Deon Bing (@deon_bing) July 13, 2020
Huge waves of foam at Three Anchor Bay, Cape Town, today. We're not sure who filmed this (let us know if it's you) – it's been sent a few times. Stay Safe!!! MORE: https://www.sapeople.com/2020/07/13/watch-huge-waves-crash-over-sea-point-barriers-cape-town-south-africa/

Posted by SA-People – for South Africans in South Africa and expats on Monday, July 13, 2020
Watch amazing snowfall in Lesotho, southern Africa, over the weekend.