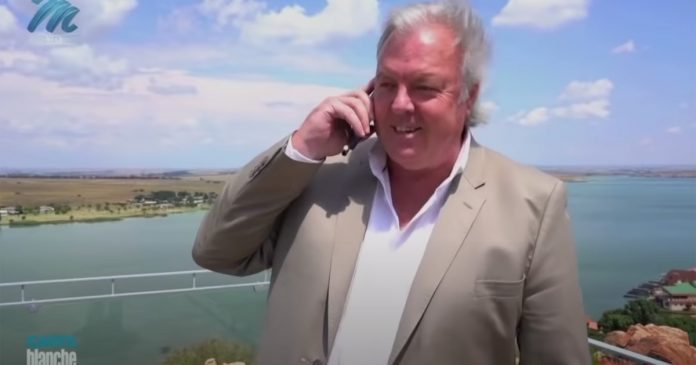 The Democratic Alliance (DA) says it has reported the "racist behavior of well-known diamond ponzi schemer, Louis Liebenberg" to the South African Human Rights Commission (SAHRC).
This comes after a video clip of Liebenberg, imitating "Cyril" (Ramaphosa), speaking crudely and inferring that being black gives you license to be corrupt, has been circulating on social media.
Liebenberg is no stranger to controversy. Just recently, in April, he conceded to his indirect involvement in uncut diamonds and liaison with the Sicilian Mafia on national television show, Carte Blanche. Presenter Derek Watts met Liebenberg at his home in Bronkhorstspruit where he found the Gauteng businessman was ready with a response for every accusation of running an elaborate diamond investment scam.
"We make it legal", says diamond trader Louis Liebenberg. #CarteBlanche pic.twitter.com/rbh6gzSUp4

— Carte Blanche (@carteblanchetv) April 12, 2020
Liebenberg has also been seen imitating an Afrikaans radio host in another anger-fueled video clip.
In a statement on Tuesday afternoon, DA Constituency Head of Kamiesberg, Veronica van Dyk said Liebenberg's latest venture seems to be his joining forces with controversial founder of the all-white Eureka community in Garies, Adriaan Niewoudt.
"Liebenberg also presents himself as a close ally of the Nama people," Van Dyk says in the statement. "He has been seen posing with well known Nama chief, Paul Swartbooi. He was also a key instigator in spurring on illegal diamond mining in Namakwaland, even posing as the business partner of the illegal miners, whom he claimed to support through the funding of legal battles against the state to acquire mining permits.
"There is no ethical validation for Liebenberg's actions and his skit is downright rude and racist and the DA deems it necessary to speak out against Liebenberg."
The DA says it hopes that the SAHRC will come out strongly against Liebenberg's offensive impersonation of South Africa's President.
"We also hope that all those whom he has tried to win over with his schemes, including the indigenous people of the Northern Cape, will have their eyes opened by Liebenberg's derisive attitude, and see that, as his own demeaning Facebook posts state, that he is in fact only using Namaqualand's illegal "mynertjies" (miners) for his own economic gain."
Liebenberg's Facebook posts have become legendary as he takes on his detractors regularly – from the media to disgruntled investors.
According to Carte Blanche, the controversial Gauteng diamond dealer has lured a string of investors to buy into his dreams of selling Namaqualand diamonds at vast profits of over 50 to 100%, but several unsuspecting South Africans, who invested millions into the mouth-watering scheme, were short-changed as the extravagant promises came to nought.
"There is no place for racism, in any shape or form, in South Africa," says Van Dyk. "There is also no place for the scamming of vulnerable indigenous communities by greedy, self-serving individuals who simply give "white" a bad name."
"All races matter and all those, regardless of their colour, who seek to sow hatred and division amongst different races, must be held accountable for their actions. This is essential for us to build a truly non-racial society, in which all South Africans can live together in harmony."
You can watch Carte Blanche overseas on Showmax International or watch in SA on DStv Now.
WATCH Carte Blanche interviews Louis Liebenberg