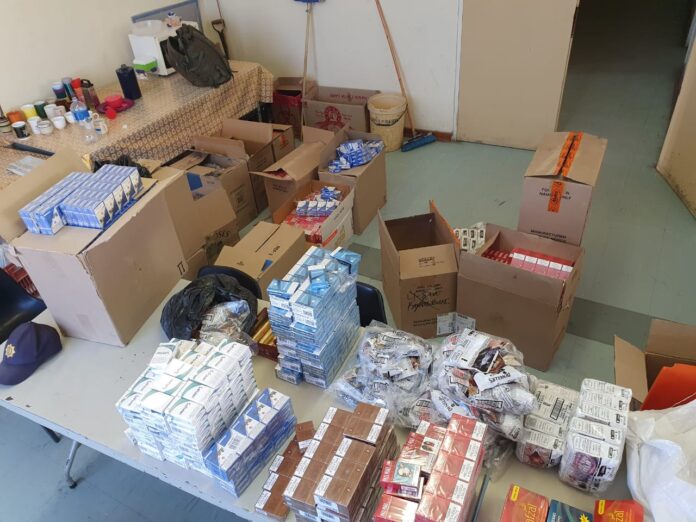 Two men have been arrested over the sale of cigarettes in the Northern Cape of South Africa, in contravention of the Disaster Management Act regulations. Meanwhile in Gauteng over 600 people were arrested over the weekend in a blitz on those breaking the #Covid19 regulations.
Members of Springbok Public Order Police arrested the first male suspect yesterday morning (Sunday), between Springbok and Okiep. His Ford Fiesta car was searched, and he was found in possession of R119,460.00 cash as a result of the sale of tobacco products. Further investigation led police to a business premise in Springbok where cigarettes amounting to R241,474.00 were confiscated. The second suspect was immediately arrested.
The tobacco products were allegedly transported illegally from Namibia to South Africa through the Orange River, as more illicit cigarettes pour into SA. Last week two suspects were arrested at Beitbridge Border Post (between SA and Zimbabwe) for the smuggling of cigarettes hidden in a petrol tanker.
According to current affairs show Carte Blanche, the illegal trade in cigarettes in South Africa has been booming for decades but since SA's lockdown regulations (believed to be the only country to ban the sale of tobacco), it has increased demand in the black market like never before.
"Overnight, furious smokers became blue-collar criminals illegally purchasing cigarettes from their neighbourhood dealers," the show said in a segment broadcast last night. "But small-time dealers lead to high-stakes criminal syndicates." In its special investigation, Carte Blanche tracked how the sale of illicit smokes continues to be the catalyst for cigarette smuggling rings and lifts the veil to reveal those who really benefit from this lucrative business. (If you live abroad, you can watch the show from tomorrow by streaming it on Showmax International.)
The Directorate for Priority Crime Investigation says it will be investigating the Northern Cape case.
Meanwhile in Gauteng, over 600 people were arrested over the weekend, many for #COVID19-related crimes.
A member of a bereaved family was arrested for having more than 50 mourners at the funeral, in direct contravention of the Disaster Management Lockdown regulations. (In many other countries only 10 were allowed at a funeral during Lockdown before cases had plateaued.) Police said the arrest came after numerous attempts to "sensitise and caution the bereaved family to guard against contravening the regulations during the week and on the day of the funeral, were ignored".
A 32-year-old man was arrested at the same funeral in Ekurhuleni for discharging a firearm in a municipal area.
Two suspects were arrested for selling liquor, bringing to 150 the number of arrests in Ekurhuleni for contravening the Disaster Management Act, and others for crimes that include possession of an unlicensed firearm, possession of drugs, dealing in dagga, possession of police uniform and assault.
In the West Rand 110 suspects were arrested for various Covid and non-Covid crimes, more than 200 were arrested in Tshwane for possessing illicit cigarettes and other crimes, 78 in Sedibeng for contraventions and other crimes, and another 80 in Johannesburg.
SAPS said all 600 and more arrested suspects are expected to appear in respective magistrate courts across Gauteng in due course.