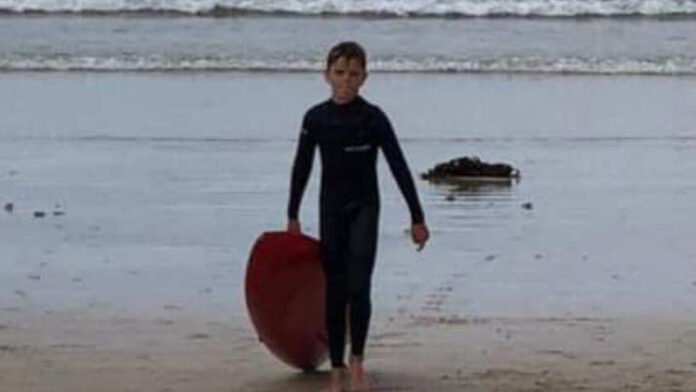 An 11-year-old lifesaver in training in Fish Hoek, Cape Town, this weekend took it on himself to paddle out to two men hundreds of metres offshore who appeared to be panicking on their inflatable mattress and he helped them back to the beach.
Braedon Powell, who is with the Nippers division of Fish Hoek Surf Lifesaving Club, noticed two men on Sunday playing in the surf on an inflatable mattress. They were slowly being blown out to sea by a gentle breeze, according to a Facebook message posted by the Club about the incident.
"Braedon grabbed a knee-board and paddled 150m-200m out to sea. He informed them of the potential seriousness of their situation," said Fish Hoek Surf Lifesaving Nippers. It turned out that neither of the men could swim and that the mattress was sinking, which had caused them to panic.
After discovering that the men could swim, Braedon managed to calm them down, got them to lie down in a stable position, and used the nose of his knee-board to push them safely back to shore.
In a radio interview today with Pippa Hudson, his father, Sean Powell, said that Braedon had been nervous of the ocean as a child, so they had enrolled him in the Fish Hoek Lifesaving programme when he was nine. The club takes children as young as four, he said, to teach them about the ocean, the dangers of the ocean, ocean safety, and how to be competent swimmers.
He said the club's programme brings in boys and girls from all walks of life, who are then taught by passionate coaches on how to deal with the ocean and its dangers.
Well done, Braedon!