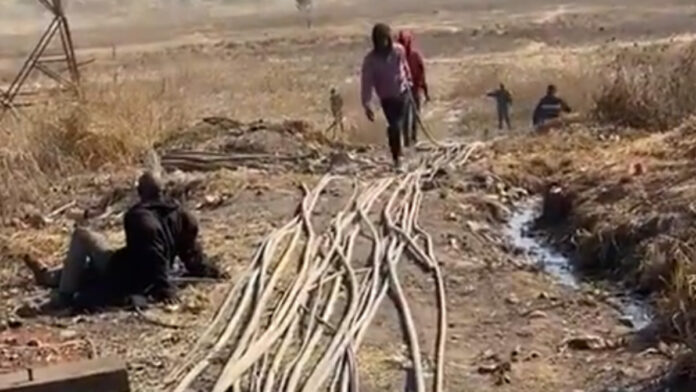 Six men were arrested west of Johannesburg today, after a combined force of PRASA and the police caught them with railway assets worth R5.5 million, as well as equipment used in illegal mining.
"This is fuelling suspicion that elements involved in illegal mining, known as the zama-zamas, are now targeting rail infrastructure," PRASA said in a statement.
The railway equipment found in the men's possession was mostly copper cables and signalling equipment.
PRASA – who recently started insourcing its security personnel, after contracts dating back to 2009 to private contractors were found to be questionable – said that the operation between SAPS and PRASA was part of ongoing efforts by the rail agency working with the police and other stakeholders to curtail the economic sabotage against its network, which had been ramped up during the lockdown period.
🚨Economic Sabotage🚨

Large amounts of PRASA's copper cables being recovered at New Canada.

More details to follow #FixingPRASA pic.twitter.com/w3nuWm6Nfz

— PRASA Group (@PRASA_Group) August 27, 2020
PRASA has called on the National Prosecuting Authority to prosecute the suspects under economic sabotage charges.
"The sabotage against PRASA's infrastructure is an attack on the country and its economy and it mostly affects low-income earners and the poor, who rely on passenger rail for affordable transport to and from work.
(Read more about PRASA's attempts to turn the rail network around.)
– Additional reporting by SAnews.gov.za