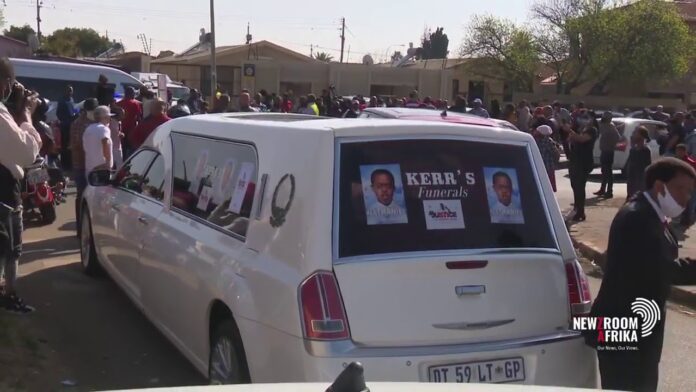 South Africans have laid to rest the tragic teenager, Nathaniel Julies, who was allegedly gunned down by police officers in Eldorado Park, Johannesburg.
With some disruption between EFF supporters and local residents, who accused the EFF of trying to hijack the funeral for their own party promotion, a service for the slain 16-year-old was conducted on Saturday morning at his home in Eldorado Park.
Following the service a Guard of Honour was held to pay respects to the youngster before his body was taken to Klipspruit West Cemetery. Some have called for Eldorado Park to be renamed after the innocent teen, who had Down Syndrome.
Within days of his death last week, two police officers appeared before the court charged with the teenager's murder while a third officer was taken into custody. The suspects will next appear in court on 10 September, charged with murder, possessing prohibited ammunition, discharging a firearms in public, and defeating the ends of justice.
Furious at the futile killing of Nateniël – described as a humble, beautiful boy by neighbours – the community is now baying for blood, and will be featured on Carte Blanche on Sunday night. Presenter Derek Watts says: "It was emotionally difficult interviewing the family of Nateniël Julies and experiencing the anger of the Eldorado Park community."
Watts says that following renewed outrage over police brutliaty, the Police Minister has assured Carte Blanche that changes will happen to how South African Police Service officers are trained, with focus shifting to being protectors. (You can watch the show on Sunday 6 September in South Africa on DStv Now or stream it overseas on Showmax International in most countries from Tues 8 September.)
WATCH Nathaniel Julius laid to rest
@Julius_S_Malema @EFFSouthAfrica @effjoburg @vuyanipambo EFF paying its last respect to the young life that was killed mercilessly. We live in a police state and the ANC police killed Young Nathaniel in Eldos pic.twitter.com/yszkWIwWcJ

— @effjoburg (@effjoburg) September 5, 2020
He was 16 years old.
He was a son, brother…
He had Downs Syndrome.
He was a boy from Eldorado Park.
He was unarmed, holding a biscuit in his hand.
A boy who had the right to live and be free.
He mattered. He had a name – NATHANIEL JULIUS.#JusticeforNathanielJulius pic.twitter.com/bi0X5UnDYy

— Sammy? (@SamiraAli108) September 1, 2020