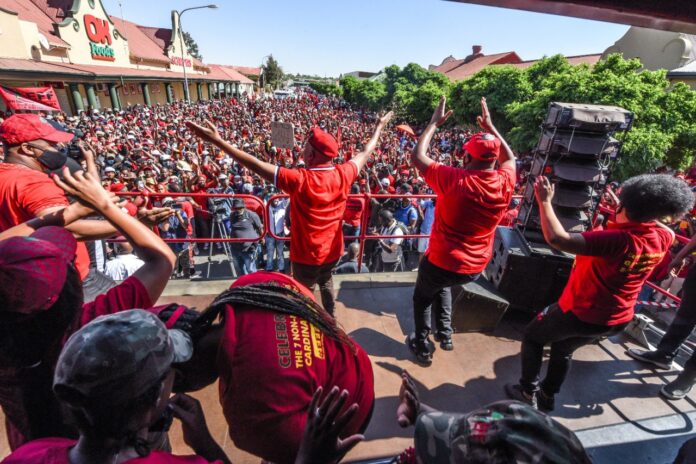 Protesters have been gathering on Friday morning in Senekal, South Africa, for the appearance of two suspects in the recent murder of 21-year-old farm manager Brendin Horner. (See videos below.)
After a violent protest last Tuesday when the suspects first appeared, today there is a far stronger police presence. All entrances to Senekal have checkpoints, with the South African Police Service (SAPS) stopping vehicles – including, amongst others, farmer-driven bakkies and busloads of EFF supporters – to search for firearms.
White Farmers Caught by SAPS trying to take guns to a protest in Senekal

|#EFFMustRise #FarmAttacks Afriforum #PutSouthAfricaFirst #Senekal #VoetsekANC Julius Malema #EFFinSenekal The EFF| pic.twitter.com/tpH4eBjw5N

— kasi–ZA⚙️ (@Kasi__ZA) October 16, 2020
[ REGSTREEKS] Swaar polisieverteenwoordiging in Senekal. pic.twitter.com/RULhG9Hbgy

— AfriForum (@afriforum) October 16, 2020
There have been concerns expressed in SA that a confrontation today between farmers and EFF supporters could lead to a civil war. Well known SA writer Max du Preez said Friday morning: "I don't recognise the society I live in – this red-versus-khaki spectacle in #Senekal today."
In a bid for a peaceful protest, AfriForum have deliberately chosen an area to protest that is removed from the EFF, and say they are gathering in Senekal to protest farm murders and violence. Meanwhile the EFF say: "We are not step-children in this country; white arrogance has no place in our democracy. Fighters in Senekal are here to ensure that the white minority respects state institutions and the rule of law."
Looking more joyful than angry, EFF leader Julius Malema danced on stage this morning as his followers sang, while on the other side some were dressed in old SADF army uniforms.
Tony Khoury from Acumen Media said in her latest seven-day report: "Here we sit on the morning of what might be the brink of #CivilWar.  #Senekal, a little-known town before last week, now becomes the scene of a Tarantino movie of political electioneering and diversion.
"#Malema, the same person who faces assault charges and wants it televised, the same person who, in an interview, said the civil war in our country was on women and children.  Malema, the man who did not appear when a high-profile member of the ANC and his stepson was accused of raping two 8-year-old black girls.  Malema who slammed #Sodi's arrest after a diabolical testimony that should have sent the man directly to jail.  Malema who chose to pick the race game in #Senekal as he played out a narrative where he professes to be protecting our courts and constitution.  I shook my head so hard as I watched the interview on Newzroom (still waxing lyrical about this great station) where Malema constantly referred to white racist farmers that are responsible for apartheid, he said they came with arms 30 years ago and that black people fought with stones.  He said that they would protect the court with their "bodies" and that they would fight back but he also said there were going to a peaceful protest.  He said he didn't need guns and showed us a "karate chop" as his examples of his "defence strategy".  Earlier he tweeted a pic of an AK47 for his "so-called" peaceful protest. Marra Julius, when you turned up at your peaceful protest at Clicks you left burning buildings in your departure and your payback was that a brand of shampoo left the shelves for 10 days.  Of course, YOU didn't do anything, you never do, you just take to Twitter to spread hate and more importantly to create diversion, then you turn up, stuff shit up and leave. What on earth is up with you Juju, are you just struggling to stay relevant?
"Afriforum joined the ring because you see they also profess to want peace.  Whatever!  Why don't you use your energy to put better security at the farms you profess to care about?  And just like that, our country stands on the brink of a race-related civil war.  Well it was time for the race issue to take the real foreground, isn't it? Clicks didn't quite do it see.  #BellPottinger keeps ringing in my head. Chris Roper put it perfectly in his article in the Financial Mail: "Both parties are playing the same game, posturing for profit and pushing violence, that Viagra for the revolutionary who can't get it up any other way."
WATCH protesters arrive in Senekal
The EFF have arrived in #Senekal. @TimesLIVE pic.twitter.com/Wdt4lT00tz

— Iavan Pijoos (@iavanpijoos) October 16, 2020
Thousands of @EFFSouthAfrica members outside of the #Senekal Magistrates Court, ahead of the appearance of Sekwetje Mahlamba and Sekola Matlaletsa this morning. #SABCNews pic.twitter.com/Ss64mrwxI6

— Abongile Dumako (@AbongileDumako) October 16, 2020
#EFFinSenekal we are waiting for @afriforum boys to misbehave pic.twitter.com/ol93r5oPUc

— Battalion 54 (@54Battalion) October 16, 2020
SENEKAL UPDATE:
Verbal confrontations outside the court:
#Senekal pic.twitter.com/xbby3OgDdc

— lydia van der merwe (@DerLydia) October 16, 2020
Protesters with anti-boer slogans:
'@MYANC members protesting outside #Senekal Magistrate's Court. Video: Oupa Mokoena/ @AfriNewsAgency pic.twitter.com/pE6KEoqNhx

— IOL News (@IOL) October 16, 2020
Stones apparently thrown:
#Senekal Stones lobbed by #EFF at #Boer bikers. Police now in position to separate the two. pic.twitter.com/EBLagukM4k

— Nickolaus Bauer (@NickolausBauer) October 16, 2020
Breaking | As sent to me

EFF advancing towards farmers then turn to the bikers#FarmMurders #FarmersProtest #FarmAttack #StopFarmMurders #BrendinHorner #VoetsekANC #VoetsekEFF #VoetsekMalema #Senekal #Senekal2 #SenekalProtest #Afriforum pic.twitter.com/yCyrdfKuXi

— Joe 'Rogan' Emilio (@joeemiliocomedy) October 16, 2020
Watch live: Big Daddy Liberty in Senekal
Don't Miss Carte Blanche on Sunday (or Tuesday if you live abroad)
See all the Senekal footage on Carte Blanche on Sunday 18 October in South Africa on DStv Now or stream it overseas in most countries from Tues 20 October.
Two men accused of murdering farm manager Brendin Horner in #Senekal, Free State are expected back in court this morning. @DerekWatts and the #CarteBlanche crew are on the ground keeping an eye on developments. Join us this Sunday at 7pm on @MNet for more. pic.twitter.com/1YsX3AnDYc

— Carte Blanche (@carteblanchetv) October 16, 2020
Update: Brendin Horner farm murder suspect claims innocence